Unesco recognition for Durga Puja would broaden its appeal
Unfortunately, the festival is increasingly being milked for political purposes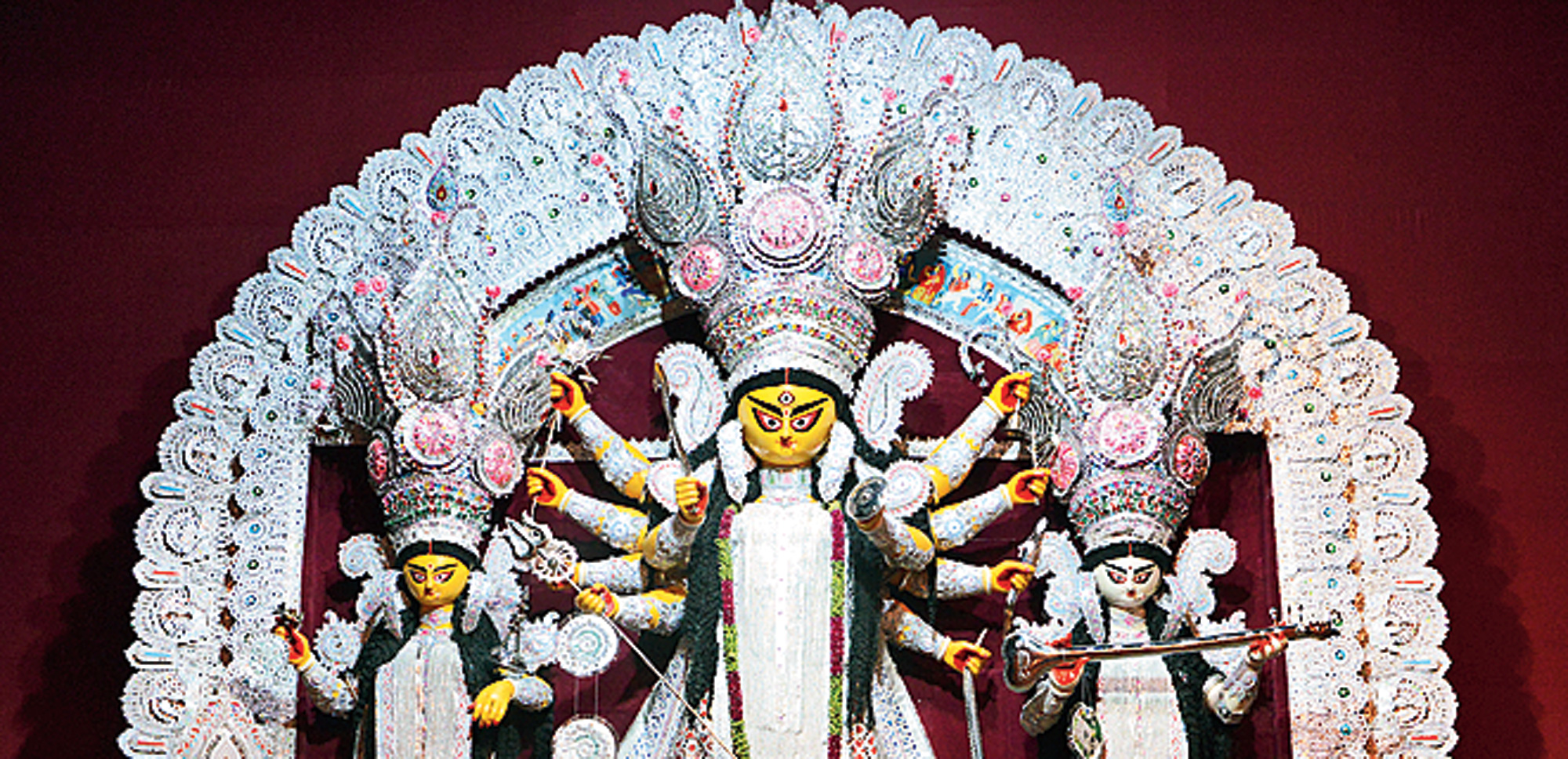 India has nominated Durga Puja for Unesco's list of cultural institutions that are in need of protection
The Telegraph file photo
---
Published 11.04.19, 10:09 AM
|
---
Sir — India has nominated Durga Puja for Unesco's list of cultural institutions that are in need of protection. If Durga Puja does make it to the feted list, it would be a matter of great joy and pride for Bengalis. Recognition from the United Nations could also widen the global appeal of the festival, thereby helping the Bengal government earn revenue and boost the tourism sector. In all the excitement, one should not lose sight of the fact that the Pujas are increasingly being milked for political purposes. Is this not an infringement? Or is it consistent with the idea of conserving the spirit of the Pujas?
Shalini Das,
Calcutta
United by worry
Sir — Eminent people from at least three different walks of life — science, theatre and films, and, a while back, the civil services — have appealed to the people of India to vote cautiously. Each time, the plea has been to opt for a secular, democratic and inclusive India, and to defeat divisive forces ("Surge of voices", April 8). Never in the history of independent India have people from such disparate fields been united in their opposition to the ruling party. But will the appeal motivate the vast number of voters who either do not have access to news media or cannot read? It would have been better if these people had actively campaigned for the cause.
Sukhamay Biswas,
Calcutta
Sir — The decision of scientists to urge citizens to vote wisely and reject those who encourage discrimination reflects the concerns that ordinary people have about the deterioration in the scientific and public discourse of the country. It is no secret that much of the misinformation in the public domain is concocted and spread by cyber cells maintained by political parties. Such misleading news is often aimed at hurting one's opponents and, worryingly, there have been instances when people have lost their lives on account of this.
India is still trying to rid itself of superstitious beliefs that are holding back its development. Ill-informed leaders making false and mythical claims are not helping India's cause. In the recent past, public discourse has plumbed new depths. Personal attacks and incivility are the order of the day. This is unfortunate since civility is what keeps a society running smoothly. One wonders what kind of a world we are leaving for the generations to come.
H.N. Ramakrishna,
Bangalore
More responsibility
Sir — The Congress president, Rahul Gandhi, has decided to contest the Lok Sabha elections from Wayanad as well as his traditional constituency, Amethi. There is nothing wrong in contesting from two seats. But the reason that was cited for Rahul Gandhi's decision — that it would improve the Congress's position in South India — seems bogus. One hopes that it is not Rahul Gandhi's fear of losing from Amethi that prompted him to move to greener pastures. Only time will tell whether or not this is a smart move. But if by any chance he wins in both constituencies, then the taxpayers' money will be wasted in conducting a by-election for whichever seat he chooses to vacate.
N. Mahadevan,
Chennai
Sir — The bhakts who are saying that Rahul Gandhi is running away from the fight in Amethi by contesting from Wayanad seem to have conveniently forgotten that even Narendra Modi had contested from two constituencies — Vadodara and Varanasi — in the last general elections. Modi himself has apparently forgotten this too. He stooped so low as to say that Rahul Gandhi has chosen Wayanad as the Hindu community is a minority there.
However, Rahul Gandhi has correctly pointed out that people in the southern states are unhappy with the Modi government, which has ignored the region. The Gandhi scion is thus contesting from Wayanad to show that he will stand beside this neglected lot if he wins. This is a masterstroke. Rahul Gandhi is likely to win from both Amethi and Wayanad with ease.
Tharcius S. Fernando,
Chennai
Parting shot
Sir — A global study suggests that India is set to replace China as the country worst affected by air pollution. One can add to the causes behind this situation that have been listed in the report, "India set for worst air pollution crown" (April 4). Stubble burning, emissions from factories, dependence on fossil fuels are some of the other reasons for India's poor air quality. It is a matter of concern that pollution does not seem to be a priority for either the administration or any other political party. Given the gravity of the problem, it should be in every party's manifesto.
Asit Kumar Mitra,
Calcutta