Unbroken spell
STATE OF PLAY | The fabled event manager is at work, once again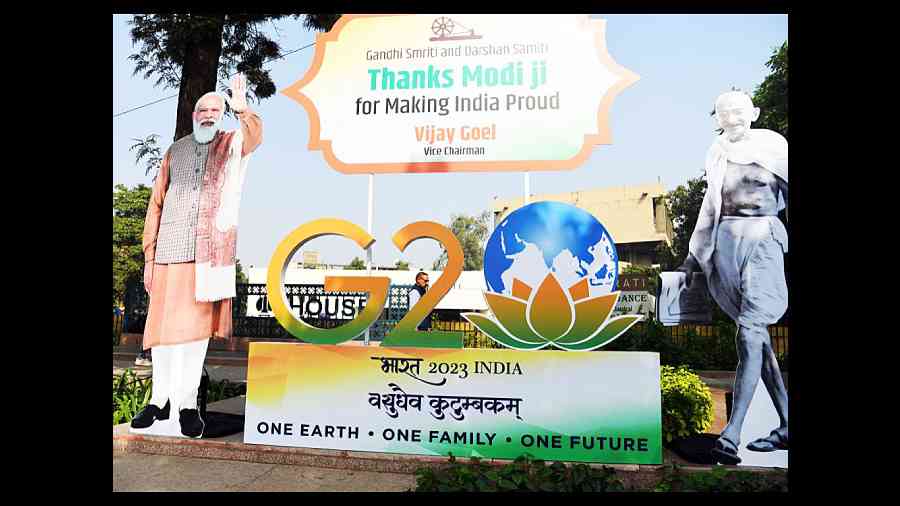 ---
Published 09.03.23, 04:08 AM
|
---
There are two G20 tableaux rolling along if you'd care to look carefully. There's the one that, as the group's name suggests, involves the affairs of 20 nations that together account for 80% of the global GDP and 99% of global trade in addition to representing two-thirds of this planet's human population. There's the other one, rippling vibrantly and barely bothering to conceal its interloper aspect, which doesn't bother addressing itself to 19 of those involved nations and is dedicated to the purposes of the remaining one: Narendra Modi's India.
The first G20, as is becoming increasingly evident, is a bit knocked up and dishevelled at the moment; it's riven by the bloody gnashing over Ukraine, its visage is so splintered it does not even pretend to be a group. Nobody was surprised that the recent summit of G20 foreign ministers did not even become the stage for a ceremonial photograph of the gathered eminences. 
The second G20 is chiming along sweetly to the clockwork choreography of our fabled event manager. By the time its elaborate and pervasive rites are done, in excess of 200 events would have been staged in more than 50 cities and towns across India's geography, all of them propitiating Narendra Modi as vishwaguru, all of it at public expense — a lavish vaudeville that would get seamlessly dovetailed into the campaign for 2024.
Hand it to Modi for thinking ahead, and thinking with precision. His G20, what was always going to be a G20 tailored to his ends, was wired to become part of the armoury for 2024. India was to have assumed the rotating presidency of G20 towards the end of 2020, but India pleaded at the Argentina summit in 2018 that it be slotted to take the presidency in the 75th year of its Independence, which would be 2022. But thereafter came another request for another postponement, that time with a claim to take over on the eve of 2023. No reasons proffered this time, but the reason should have been plain enough — Modi would seek a third term in 2024, and what better way to arrive into the year than at the head of the G20 table? So in between India's originally planned turn at the presidency, the G20 summit travelled to Italy and then to Indonesia. And voila! Modi got handed the baton just on the final lap to the next general election.
But let's call India's current presidency of G20 just what it is, let's annotate this vishwaguru burlesque wearing the Modi logo with plain fact: the G20 presidency is not something Modi has been bestowed with for his grandiose international helmsmanship as is being made out by his ecosystem — party, government and votaries all included — but something that rolls around the list of member nations by clerical custom.
Modi is the master of populist subterfuge; we often behave like a slavish confederacy of dunces. He has amplified a routine turn at a multilateral table into a thing of rare recognition and reward and we have allowed ourselves to turn even headier in Modi worship. The official theme of India's presidency year is: 'One Earth, One Family, One Future'. The way we are meant to read it is: 'One Earth, One Family, One Future, One Leader — Vishwaguru Modiji'. Onward to 2024 on a new global high! Who cares that the G20 is a torn and tattered entity in India's presidency year? What matters is who chairs those tatters. Internationally, G20 lies torpedoed by differences; domestically, it has been turned into a cracker of a campaign slogan for Modi and we are in the throes of celebration.
For a fair and regrettable length of time now, it has not been about what Modi does or does not do, it has been about what we do or do not do in response. It is hard to imagine a leader or a dispensation that would have been forgiven the hardship, even atrocity, wreaked by the demonetisation guillotine dropped on the citizenry. We rewarded that wanton act, not once but multiple times; we seemed to care not a whit what dubious claims had been trotted out to justify the decision, we seemed to care not a whit what it reduced this entire nation to.
We applauded the abrogation of Article 370 and reduction of the status of what used to be the state of Jammu and Kashmir in August 2019. We continue to swing and swagger over what was done without caring to examine what has followed in the wake of that decision. Did it — like it was also claimed after demonetisation — stamp out extremism and secessionist militancy? Was it able to throttle the inflow of menace from the western side of the fence Jammu and Kashmir sits along? Examine just one simple question: who has the Kashmir Valley become a safer place for?
We banged our utensils and shut off our lights and in all the clamour and the darkness we buried the untold misery and tragedy that were brought upon ourselves through two rounds of the coronavirus affliction. We lent our ears to being told how many vials of vaccines we sent abroad, we turned amnesiac on the derelictions that left us gasping for oxygen.
We bought into the cult's 'red-eye' and '56 inch' braggadocio without caring to examine just what a sham it continues to be. We have suffered aggression and numbing losses of personnel and territory. The prime minister is on record telling the nation nobody came in. The prime minister is not on record telling China off for its ingress and offences. His government is yet to counter the Chinese claim, made by their ambassador who sits within stone's throw from the prime minister's residence, that the Galwan Valley is Chinese territory, period. His foreign minister is suitably informed of the line on China which suggests neither red-eye nor 56 inches; China is a bigger economy, he says; India can't pick a fight with it. Translation: we can't do much about what the Chinese are doing along our borders. It is probably fair to recall here the events of 1971 around the creation of Bangladesh. It is probably fair to recall the size of the Indian economy at that time and how paltry it was in comparison to the Americans who were threatening to send the Seventh Fleet up the Bay of Bengal so Indira Gandhi would back off.
It will not do for us to mesmerise ourselves into believing whatever we are began in 2014, that nothing happened before that. Or, if it will do, we shall only travel further down this perilous road of grand delusions such as our phantasmagoric imagination of G20 2023 is.
sankarshan.thakur@abp.in