UN terrorist label for Masood Azhar: jubilation, yes, but also an hour of reflection
India will have to keep working on the international community to push Pakistan to dismantle its terror factory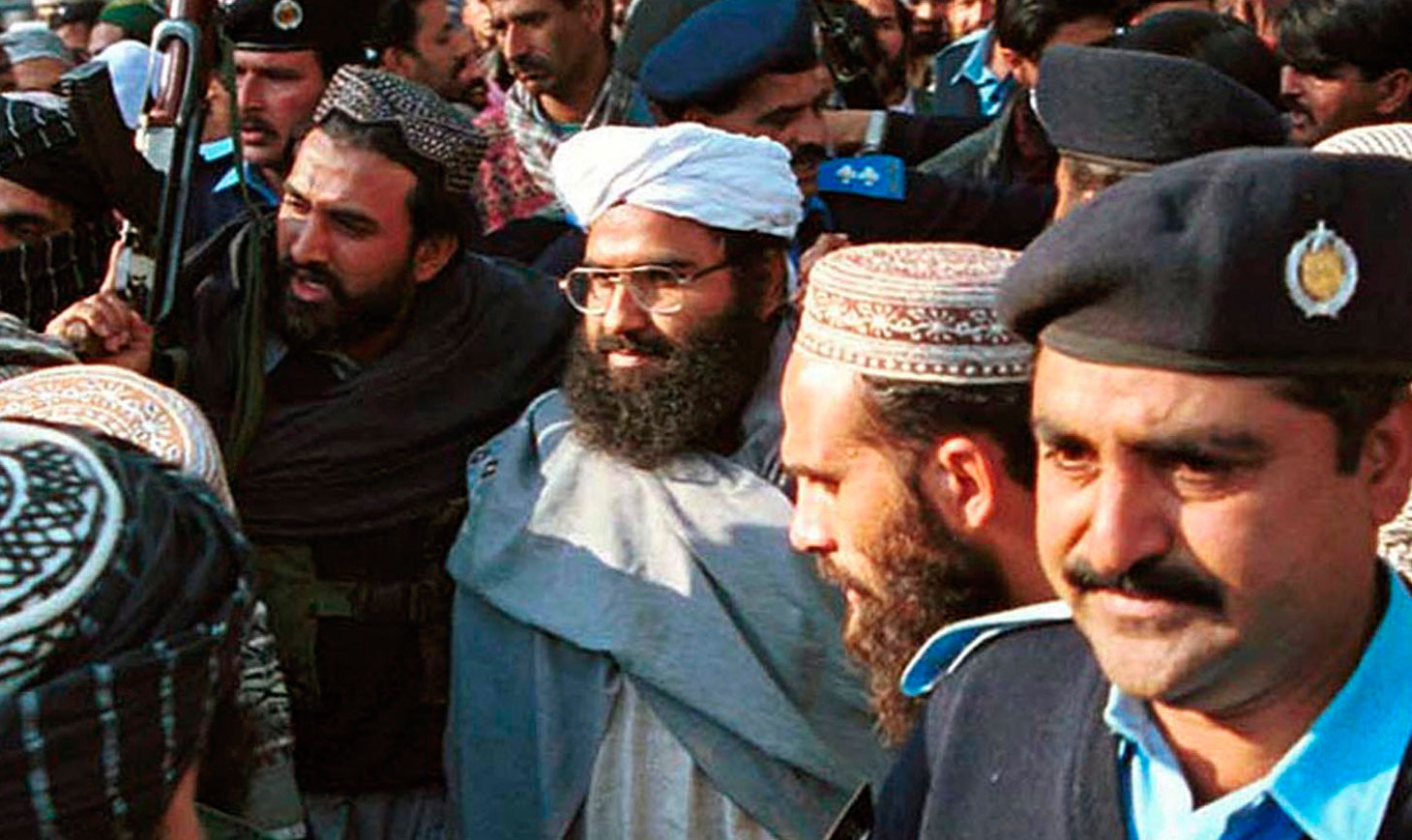 Masood Azhar (centre) in Islamabad, Pakistan, on January 27, 2000. Pakistan has already announced a freeze on Azhar's assets, but such interventions may not be enough.
(AP)
---
Published 06.05.19, 02:35 AM
|
---
Does Masood Azhar's listing as a global terrorist by the United Nations security council under the 1267 sanctions committee signify the closure of a long and difficult chapter in the history of Indian diplomacy? The Bharatiya Janata Party, on whose watch Azhar had been pawned in a bid to secure the lives of Indian hostages in 1999, certainly thinks so. The BJP, desperate to reap electoral benefits in what is turning out to be an unpredictable election, has declared China's reneging of its veto on an international proposal for Azhar's enlistment to be a 'victory', hastening to add that the Opposition is unwilling to rejoice in this hour of celebration. The Narendra Modi government and India's diplomacy corps deserve to be thanked for their perseverance in breaking the Chinese deadlock and bringing a terrorist under the ambit of deterrence. But it must be remembered that the nudge to Beijing by the United States of America may have played a decisive role. Moreover, other dispensations, the Congress-led United Progressive Alliance is an example, had also achieved success while acting against terrorist organizations and their leaders. The UN sanctions against Hafiz Saeed, the leader of the Lashkar-e-Toiba, had been implemented in less than a month after the LeT had struck Mumbai in 2008.
The jubilation notwithstanding, this is also an hour of reflection. The UN enlistment pertains to restrictions on travel, the freezing of financial resources as well as an embargo on arms. Pakistan has already announced a freeze on Azhar's assets. But such interventions may not be enough to neuter the fangs of Azhar and the Jaish-e-Mohammad that has been responsible for several devastating strikes on Indian soil. Saeed's fate sets a precedent in this context. Saeed and the LeT seem to have suffered minimally in spite of the sanctions that have been imposed against them. New Delhi would have to continue working on the international community so that the latter pushes Pakistan to act decisively to dismantle the terror factory that it has nursed over the years. It would be a good idea for international donors to extend monetary assistance to Pakistan on the basis of the evidence of concrete action taken by Islamabad against terrorists. China's willingness to remove the technical hold that had kept Azhar off the UN hook comes before the second informal summit with India. The gesture provides New Delhi and Beijing with an opportunity to improve their bilateral ties. Azhar's embossment as a global jihadi thus opens — instead of closing — a chapter on several fronts.