Trump's wish to buy Greenland brings to mind colonial conquests
Political leaders rarely discuss their desire to claim autonomous territories in public any more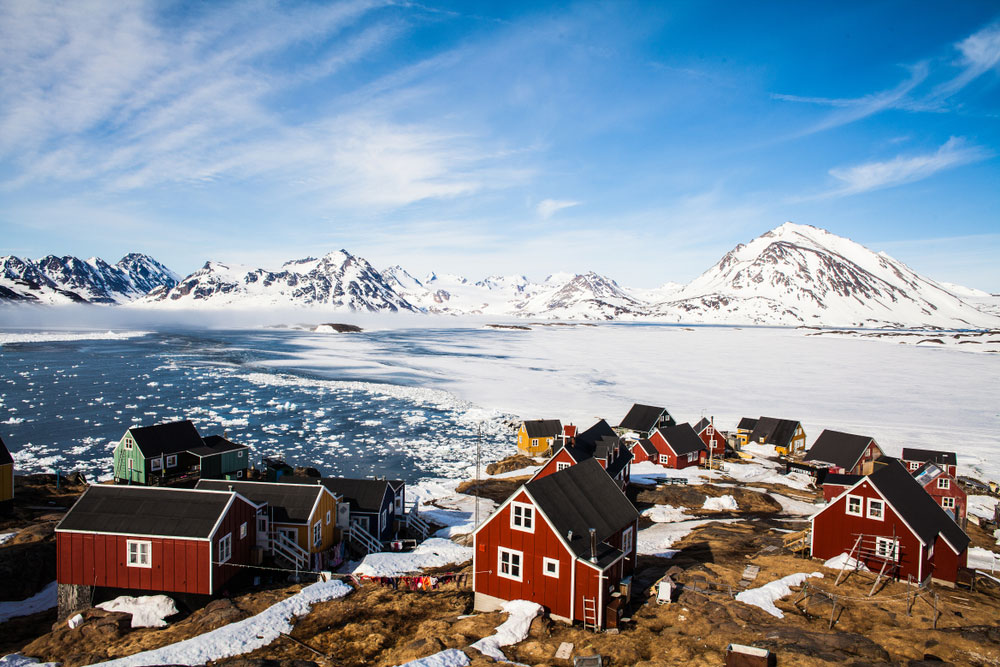 Kulusuk village, Greenland. How does Trump propose to administer Greenland or understand its people and their needs when he can barely do so with a vast section of Americans?
(Shutterstock)
---
Published 28.08.19, 06:43 PM
|
---
Sir — When the president of the United States of America disclosed his interest in buying the island of Greenland, most people thought he was joking. After all, political leaders rarely discuss their desire to claim autonomous territories in public anymore. Donald Trump's desire brought to mind the colonial times when geographical conquest was considered normal. Typically, the greed to conquer new territory is not accompanied by genuine consideration for the people there. How does Trump propose to administer Greenland or understand its people and their needs when he can barely do so with a vast section of Americans?
Baijnath Trivedi,
Calcutta
Fast and fatal
Sir — The death of two Bangladeshi tourists in a hit-and-run case raises questions about the rule of law in West Bengal and the lack of accountability of the administration ("Jaguar triggers death of bystanders", Aug 18). One is forced to believe that the incident could have been averted had the police kept a close eye on CCTV footage and apprehended the errant vehicle after it jumped the red lights. Many such cameras have been installed across the city to check rash driving, but evidently these do not have much of a positive effect in reality.
This was not the first time that the car belonging to the Arsalan family had flouted traffic rules. It had violated the speed limit on many previous occasions, according to police CCTV footage. But the police failed to take concrete action. Is this laxity not indirectly responsible for the death of the two tourists? An inquiry commission should thus be set up against police officers who shirked their responsibilities. Unless strict action is taken against offenders — both police and civilian — such accidents will recur.
Jayanta Datta,
Hooghly
Sir — The manner in which Arsalan Parwez was presented to the police in place of his elder brother, Raghib Parwez, who was apparently the one driving the car that killed two Bangladeshi citizens, seems to be inspired from a Bollywood crime thriller. Does the family think it can hoodwink authorities by using its immense wealth? The police should ensure that Raghib and those who tried to save him are thoroughly investigated and, if found guilty, imprisoned.
Naushad Shahid,
Calcutta Downward spiral
Sir — The incisive analysis on the state of the Indian economy in "Wobble trouble" (Aug 21), reinforced its swift deterioration under the Narendra Modi government, which is in denial. Surprisingly no substantial corrective steps have been taken yet to arrest this downward spiral. As a result, unemployment is rising, which, in turn, may adversely affect the socio-economic order.
There has been a decline in demand and production worldwide. The trade war between the United States of America and China, too, has had a ripple effect on the Indian economy. But Modi has stuck to his strategy of making grandiloquent claims — where previously he sold dreams of "achchhe din", he has now begun making exaggerated statements about building a five trillion dollar economy. How will this be realized if the economy continues to slow down?
Paramananda Pal,
Calcutta
Sir — The Central government is more interested in strengthening its vote bank through the abrogation of Article 370 and 35A than the sorry state of the Indian economy. In his piece, "Another game of dice" (Aug 14), Anup Sinha pointed out Centre's reticence on this matter. Worse, some of its actions will only tax the treasury further. Will not the deployment of the huge number of defence personnel in Jammu and Kashmir drain out India's limited resources? Such ignorance on financial matters may spell doom for India's development.
Benu Kumar Bose,
Calcutta
Mysterious death
Sir — It is hardly surprising that 'no one killed Pehlu Khan'. Have we not heard this before when 'no one killed' the pavement dweller in Mumbai? Perhaps the car of the film star who was accused in the latter case crushed the man by driving on the footpath by itself. One cannot, of course, prosecute a car. William Shakespeare was thus right in saying, "There are more things in heaven and earth, Horatio, Than are dreamt of in your philosophy."
Kajal Chatterjee,
Calcutta
Sir — The editorial, "Killed again" (Aug 20), reminds one of the film, No One Killed Jessica. The movie is based on the Jessica Lal murder; the model was shot dead in 1999 but all nine accused were acquitted in 2006 for lack of evidence. The acquittal of all six persons accused of lynching Pehlu Khan is an indictment of the investigation and the prosecution processes. It also raises questions about the conduct of the Vasundhara Raje-led Bharatiya Janata Party government.
S.S. Paul,
Nadia