#TroubledWaters
Tradition demands access to a water body for the ritual prayers of Chhath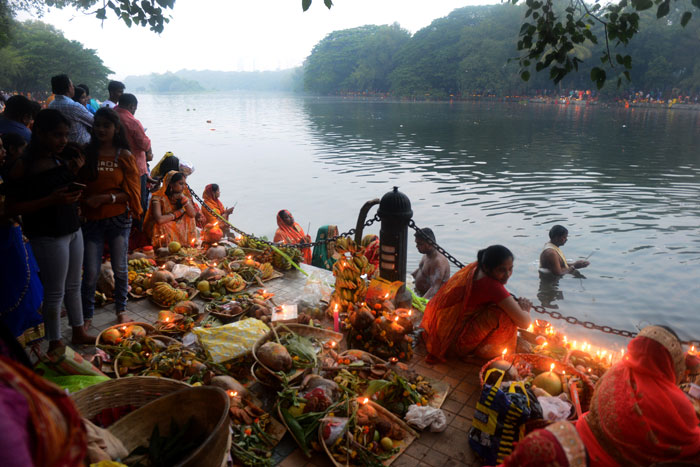 ---
---
A festival in its broadest sense in these scattered times is less about faith, more about identity. Chhath is a pre-Vedic festival of Bihar, which has now travelled out to every part of India wherever Biharis are. As there is a good number in Bengal, it has come to be a festival of a certain scale in the state. Tradition demands access to a water body for the ritual prayers of Chhath. Last week, therefore, devotees entered Rabindra Sarobar or the Lakes in south Calcutta. Thing is, this happened notwithstanding the ban by the National Green Tribunal (NGT), in keeping with the Plan for Conservation of Aquatic Ecosystem, notwithstanding followup measures by the Calcutta Metropolitan Development Authority (CMDA) that administers the Sarobar, and notwithstanding the fact that the CMDA had readied 15 ghats as alternatives.
#Pained #ChhathPooja
How did the devotees enter Sarobar? The lock on the main gate was broken. Whose hands forced the gates? Specifics not known. The festival was observed and then everyone around burst into righteous indignation. At the outset, chief minister Mamata Banerjee had said: "We accept the NGT order. But if 10 lakh people are going to congregate, are we expected to open fire on them?" Governor Jagdeep Dhankhar said he was pained to witness the NGT order flouted. Environmentalists brought up the dead turtle and fish, the littered waters and the birds traumatised by festive crackers. Trinamul MP Abhishek Banerjee tweeted: "... Let's not also forget that vandalism in the name of festival only makes the religion look dull. #Pained #ChhathPooja"
#PassingTheTurtle
The Opposition criticised the inaction of the Trinamul government. Mayor Firhad Hakim retorted, "Had we sent police to stop the worshippers, it would have led to a fight." No one called out the state for not engaging with its citizenry beyond posters, for not pulling up the miscreants in a way that others wouldn't dream of following suit, for preferring to flaunt its halo instead. No one brought up that no one called out anyone over the just-over long drawn Durga Puja and Kali Puja/Diwali, though the city is still recovering from the several types of pollution left in their wake. Instead, everyone said in hushed tones: "Them. Pollutants."
PS: Chhath essentially is not caste specific (Dalit, Bhumihar, Yadav, Brahmin join in), nor does it keep out other faiths (in some parts of Bihar, Muslims also join in.) There's no idol either, only a prayer to the elements.