Trial by fire
In Agnipath's case, a tried-and-tested system of recruitment has been replaced by a new scheme without even implementing it on an experimental basis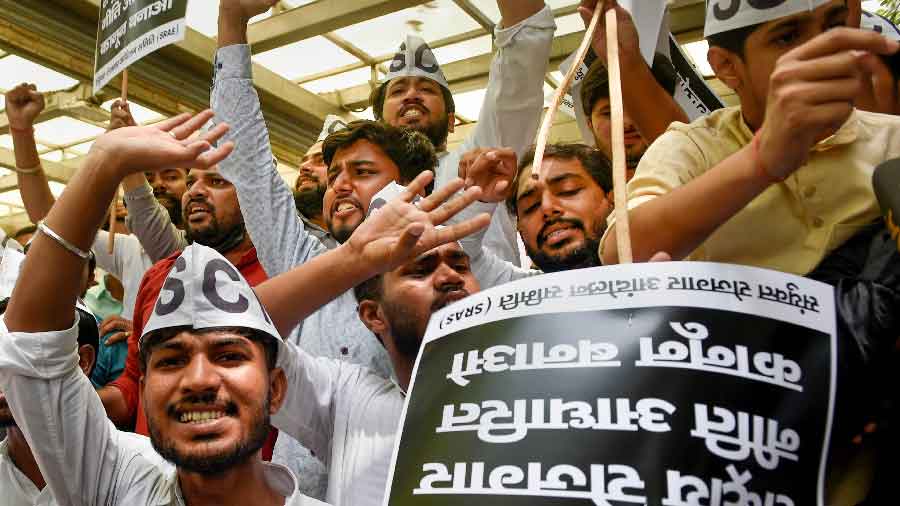 ---
Published 20.06.22, 02:54 AM
|
---
Implementing Agnipath, the new recruitment scheme for jawans, without test-bedding is a cause of concern for India, which shares disputed borders with not one but two nuclear powers. A policy change needs greater analysis and deliberation. Administrative feasibility and operational impact on national security cannot be ignored while working out the financial benefits of the scheme.
The army's recruitment system has worked well for decades. Our soldiers are always in great demand for UN missions. Other countries want to train their soldiers with us because of our rich operational experience in varied terrain. There is no denying that there is always resistance to change and that policy must be reviewed and updated continuously. However, in Agnipath's case, a tried-and-tested system of recruitment has been replaced by a new scheme without even implementing it on an experimental basis. There are merits in all proposals, but implementation has to be in a manner that does not impede the fighting capability of the unit.
Agniveers will have six months of training and will avail some leave; so their effective tenure in units will be less than three years. In this duration, depending on the move schedule of the units, Agniveers will have to serve in two different locations in different terrains with varied operational roles. Short tenures are likely to dilute the capability to operate in varied terrain. The Indian army has to be prepared at all times for combat in the world's highest battlefield, Siachen, the high-altitude areas of Leh, Uttarakhand, Sikkim and Arunachal Pradesh, the sweltering deserts of Rajasthan, swampy riverine terrain along the Punjab-Jammu border, the mountainous forests of the Northeast as well as the marshes of the Rann of Kutch.
At present, the army has regiments/units based on a single class, mixed class, and all-India class composition. Turning recruitment entirely into an all-India class composition in one stroke needs reconsideration.
There will never be a shortage of manpower wanting to join as soldiers even for the shorter duration due to the lack of job opportunities. But subsequent non-retention after four years will lead to frustration. These well-trained youth can easily be lured, recruited, and exploited by anti-national elements, creating new challenges in the internal security dimension.
A better exit policy must be framed to make the scheme lucrative. The new concept of recruitment wherein 75 per cent will not be retained will create new challenges. The system and process of screening for retention and rejection will be strongly contested. Those discarded will be forced to take a legal course, creating new dynamics for the military-justice system.
The recommendations of the A.V. Singh Committee and of pay commissions regarding the absorption of armed forces personnel after military service into government jobs/ CAPF /police /PSUs where their unique skills and training can be purposefully used have been ignored by successive governments because of bureaucratic hurdles and sustained obstructions from ministries.
Taking lessons from the poor execution of the new system of centralised pension disbursal, SPARSH, it is essential to run Agnipath on a trial basis. SPARSH was a major fiasco, with over 58,000 ex-servicemen not getting their pension. It is critical to decide the percentage of soldiers to be recruited under the new scheme. Initially, on a trial basis, not more than 20-30 per cent should be recruited and retention should be maximum which can then be reduced after analysis.  
National security is a fundamental need for any nation. No price can be pegged for sovereignty. The financial burden of security has to be shared by everyone.  
(Gyan Bhushan is a former army commander and member of the Armed Forces Tribunal)