Trading dreams for debt
What are the assumptions that underlie the ushering of a loan-economy in the educational sector, and how exactly do they fare?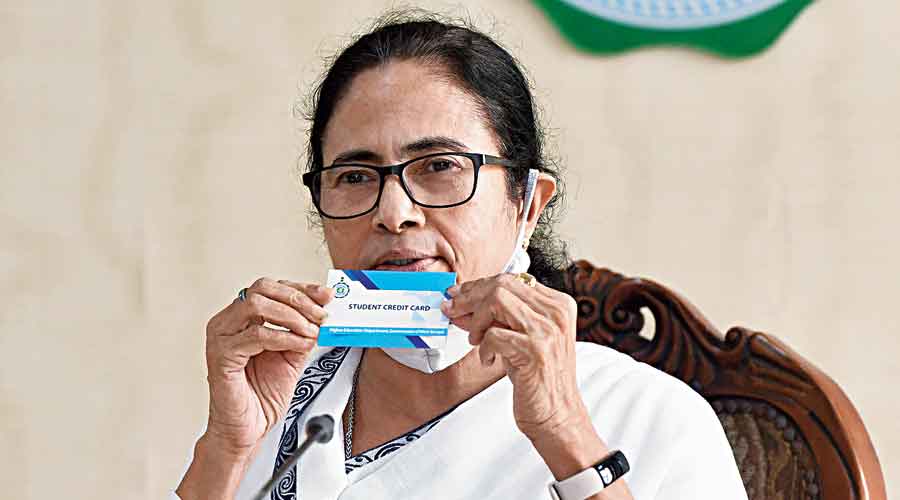 Mamata Banerjee launches the student credit card scheme at Nabanna.
File photo
---
Published 03.08.21, 01:41 AM
|
---
When the ministry of education released the All India Survey on Higher Education 2019-20 report, the only detail that caught the fancy of media commentators was the marginal surpassing of men's enrolment ratio by women. The fact that professional streams of education still remained hugely over-populated by men at all levels went unnoticed. And, therefore, despite the fractional increase in overall access, a professional career — one of the declared aims of tertiary/post-tertiary training — was to remain as unlikely an opportunity for women as before. Another damning aspect borne out by the report is that the average enrolments in every private unaided college dropped by nearly 4 per cent in 2019-20. Every government college continued to enrol more than double the number of students than its private counterpart — a figure that even registered a moderate increase in the latest survey period.
Against such a backdrop, the decision by Bengal's Trinamul Congress government to make good its electoral promise of starting a higher education loan scheme for students belonging to the state might seem to come as a policy-antidote. Claiming to address inequities of reach within advanced stages of formal training, the 'student credit card' — officially notified on June 30 — would allow a higher education aspirant to draw a security-free loan of up to Rs 10 lakh on an annual simple interest rate of 4 per cent, to be repaid within 15 years from the conclusion of study. With the state government standing as guarantor to the debt, the amount may be used for funding any course of study — from private coaching centre fees to admission into private colleges or institutes of national importance to study-abroad programmes.
Although self-appraisal bulletins have hailed this scheme as a first of its kind in India, it portends a regime of structural policy reform that is neither new nor innocent. The shift towards a loan-assistance model of educational provisioning implies that affordable quality education is not the right of all, but an entitlement of a 'deserving' few who must keep proving their credit-worthiness on the basis of means or merit. Ranged against a subsidy-model of social spending (in non-profit goods like education or health), State support is no longer made to apply to public institutions but to private individuals. This, in effect, is an insidious form of privatization of public resources.
A corollary of the West Bengal government's policy-imagination has already been seen in the Centre's push towards institutional loans (as opposed to 'grants') from the Higher Education Financing Agency set up in 2017. Just as institutional debt is to be serviced through internal fee-revenue, the Mamata Banerjee government's student credit-policy will also bring in its wake a hike in student fees across public and private institutions — with the caveat that whoever cannot afford these higher costs may avail the benefit of the loan scheme. The American higher education system has brought itself to the edge of a 'financial catastrophe' — with an overall student debt default of nearly 1.6 trillion dollars and more than half of college-goers still labouring under unpayable debt burdens — through identical measures.
So what are the assumptions that underlie the ushering of a loan-economy in the educational sector, and how exactly do they fare with regard to contemporary trends in the field? First, to insist that a student completing a course of higher study will necessarily land a job proportionate to his/her skills and guaranteeing a dignified wage is not only an outrageous fantasy but also an obstinate denial of historical fact. The latest AISHE data, when pitted against the government's periodic labour force survey for the quarter of April-June 2020, reveal that if 27 adults of college-going age indeed enrol in higher education, nearly 35 of a similar age group have remained unemployed — even informally. The number is even higher for women. Given the lack of data on how many of the enrolled 27 per cent actually complete their courses of study before seeking a job, this is already an index of alarming levels of near-zero-to-negative employment within the college-educated sector of student-populations. It comes as no surprise that even the National Education Policy 2020 makes a veiled reference to this 'gig economy' of informal labour-contracts insofar as it aims to prepare students not just "for one's first job, but also for one's second job, third job, and beyond."
Second, the AISHE report pegs the yearly expansion of private universities at 46 per cent and of private unaided colleges at a staggering 76 per cent of the total institutional growth in higher education. Contrast this with the revelation that the former accounts for only 25 per cent of student enrolments, and the latter claims around 45 per cent student admissions despite its fourfold spread. Furthermore, enrolment and completion rates for undergraduate courses in engineering and technology, which are largely the preserve of private institutions, have seen a steep annual decline. A student-loan scheme of the kind envisioned by the Bengal government will only serve as a bail-out provision for steadily dwindling enrolments within the private sector.
Third, the scourge of online teaching in the shadow of the pandemic and the University Grants Commission's mandate for compulsorily digitizing curriculum (in the name of 'blended learning') have made way for unprecedented incursions of private ed-tech capital into public-funded colleges/universities. The student credit-card will become an excuse for these public institutions to now levy user-charges for technological solutions/ infrastructures at market rates as integral to course fees.    
Finally, the loan application does not require any security-mortgage but implicates a "co-borrower" — typically, the debtor's parent or legal guardian — as bound by the obligatory terms of the debt. Not only does this re-erect an inter-generational economy of debt-peonage but it also activates a whole new continuum of structural violence. The presence of the State (as the final guarantor) in every loan contract automatically makes an appeal to the manifold violences of its punitive machinery in any event of defaulting.
At a time when the brick-and-mortar university is being carefully scripted into a theatre of disappearance, to pawn off the futures of students-to-be into debt-slavery is to prescribe the disease for its cure.