Tone change: Editorial on Russia's military reverses in Ukraine & Putin's tarnished image
At the SCO summit, PM Narendra Modi bluntly told Russian President that 'this is not the era of war' in one of his more direct public criticisms of the conflict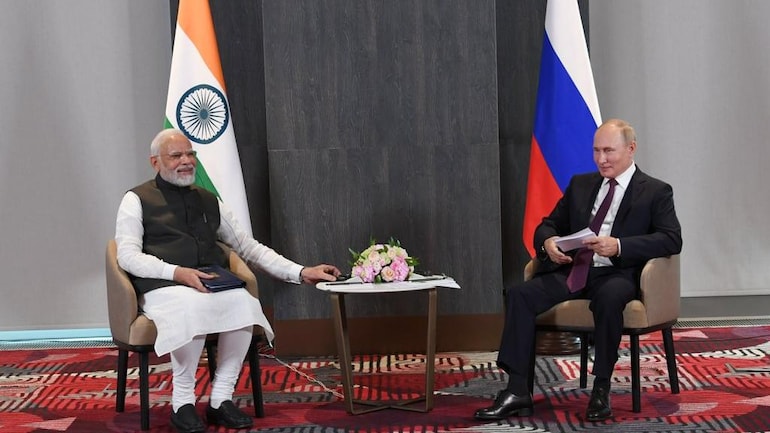 PM Modi meets Vladimir Putin on the sidelines of the SCO summit.
Twitter
---
Published 20.09.22, 03:39 AM
|
---
The Shanghai Cooperation Organisation summit was expected to serve as a platform to showcase that the Russian president, Vladimir Putin, treated as a pariah by much of the West, is still not isolated in Eurasia despite his war in Ukraine. But the conclave in Samarkand has, instead, underscored the dramatic fall in stature and credibility that Mr Putin is facing today as a cocktail of battlefield losses, diplomatic setbacks and economic struggles raise previously unthinkable questions about his future. In recent days, Ukrainian forces — armed with sophisticated Western weapons, training and guidance — have swiftly taken back large swathes of Kherson and Kharkiv provinces that Russia's invading army had painstakingly grabbed over several months. Against that backdrop, Russia's strongman leader appears to have lost some of his personal aura too. At the SCO summit, Prime Minister Narendra Modi bluntly told Mr Putin that "this is not the era of war" in one of his more direct public criticisms of the conflict in Ukraine. In his meeting with the Chinese president, Xi Jinping, Mr Putin acknowledged Beijing's "concerns" about the war. Meanwhile, Azerbaijan's president, Ilham Aliyev, kept Mr Putin waiting for their meeting, seemingly reversing a psychological tactic that the Russian leader has previously used on others.
Of course, what ultimately matters most for Mr Putin is how his fellow Russians view him. Unfortunately for him, there too, holes are appearing in the cloak of invincibility that he has worn for two decades. Prominent pro-war analysts from within his core support base are questioning the recent military reverses, with some suggesting that the war is as good as lost. There has been no direct challenge to his authority in Russia yet, but if the cracks in his edifice of support widen, his legitimacy would be scrutinised outside his country. Mr Modi's comments to Mr Putin, for instance, do not reflect a change in India's position on the war as much as they point to a shift in the power balance between the two leaders and their countries. Slowly, India must start preparing for a future where Russia will be led by either a much-weakened Mr Putin or by some other leader. Irrespective of what happens, ties with Moscow will still remain important for New Delhi. To insulate them from the effects of the outcome of the war in Ukraine, it cannot hurt to maintain a little distance from Mr Putin personally.