Time for strategic benevolence
Quad's inclusion of a goody bag of what the world needs is a necessary binding glue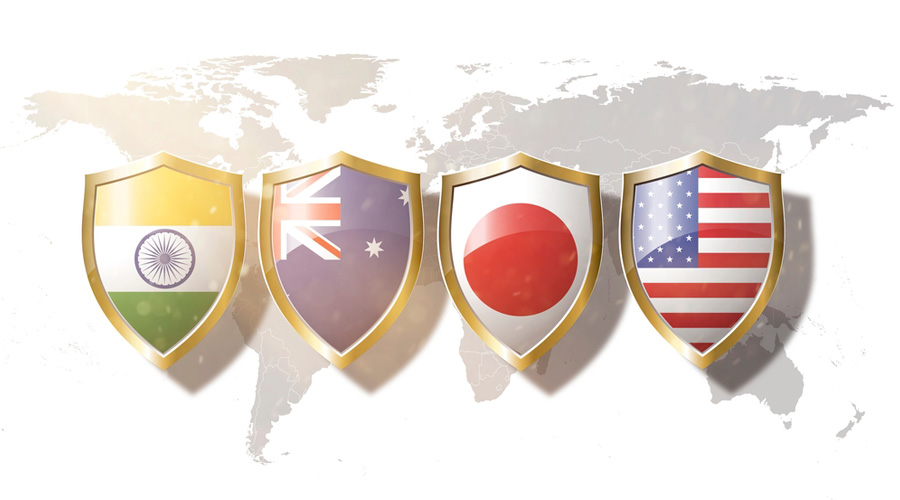 Representational image
Shutterstock
---
Published 13.04.22, 12:24 AM
|
---
What is Quad? China would like us to believe that it is an Asian NATO, driven by a Cold War-era mentality. Quad leaders say they are a group of like-minded democracies working together on a constructive agenda. The reality lies somewhere in between. Quad does not have the kind of military commitment shared by NATO's partners. Yet, containing a rising China is its binding glue.
Detractors of Quad, like the former Singaporean diplomat and strategic thinker, Kishore Mahbubani, mock the alliance for its measured diplospeak. At a seminar organized by the Quincy Institute, Mahbubani said that talking about 'vaccine diplomacy' in the name of Quad is "another layer of dishonesty" as Quad's real purpose is to form an alliance against China. So should Quad ruminate upon vaccines, climate change, and infrastructure funds? Or should it only be about a collective force posture against China?
The answer is that Quad's non-security agenda is an act of strategic benevolence, a collective reflex to Beijing's coercive diplomacy. Strategic benevolence implies the provision of public goods for strategic purposes. It is benign, as it increases the prosperity of the recipient without being extractive. It is, however, strategic. The patron expects certain geopolitical alignments from the recipients of its largesse.
The US's Marshall Plan was an exercise in strategic benevolence. After World War II, the Allied victors imposed devastating reparations on the defeated Axis powers. Soon, strategic sense prevailed over vengeance. By 1948, there was bipartisan support in favour of a reconstruction fund called the Marshall Plan to help Europe's economic revival. Washington was even willing to tide over those countries that it fought the war against or those that had remained neutral. Harry S. Truman was eager to extend an olive branch to Moscow. Joseph Stalin rejected the offer on seeing through its strategic motive. In response, the Soviet Union designed the Molotov Plan for its satellites.
Beijing is employing munificence for geopolitical goals. It is a leaf out of the US playbook. And the tragic tales of 'debt-trap diplomacy' are everywhere to see. According to AidData, a project that tracks global Chinese finance, over 42 countries owe China more than 10 per cent of their GDP. What does Beijing want by heightening the debtors' risk profile? Subservience, strategic real estate, influence in multilateral organizations and pliable leaders amenable to Beijing's diktats.
Even vaccines are weaponized. After the Philippines requested for more Chinese vaccines, the vaccine shipments brought in a parallel intrusion by Chinese maritime militia swarming the Whitsun Reef, whose sovereignty Beijing contests with Manila. Paraguay was offered vaccines with strings attached: breaking off ties with Taiwan. Hungary, reportedly, blocked an unfavourable resolution against Beijing's actions in Hong Kong for Chinese jabs.
Vaccine diplomacy with coercive strings is a reality, something that has not evaded the Quad's attention. As the global theatre of conflict moves to Asia, so does vaccine diplomacy. No wonder the top four recipients of American and Chinese jabs happen to be South or Southeast Asian countries.
Public goods provision — vaccines, climate finance and infrastructure funds — will as much shape the emerging global order as the freedom of navigation. It will not be enough for Quad countries to sing paeans to democracy and the liberal international order. The inclusion of a goody bag of what the world needs is a must.
Chirayu Thakkar is a joint doctoral candidate with the National University of Singapore and King's College London