Thuggish behaviour in the name of Lord Ram
In India, every citizen has the constitutionally guaranteed right to practise the religion of their choice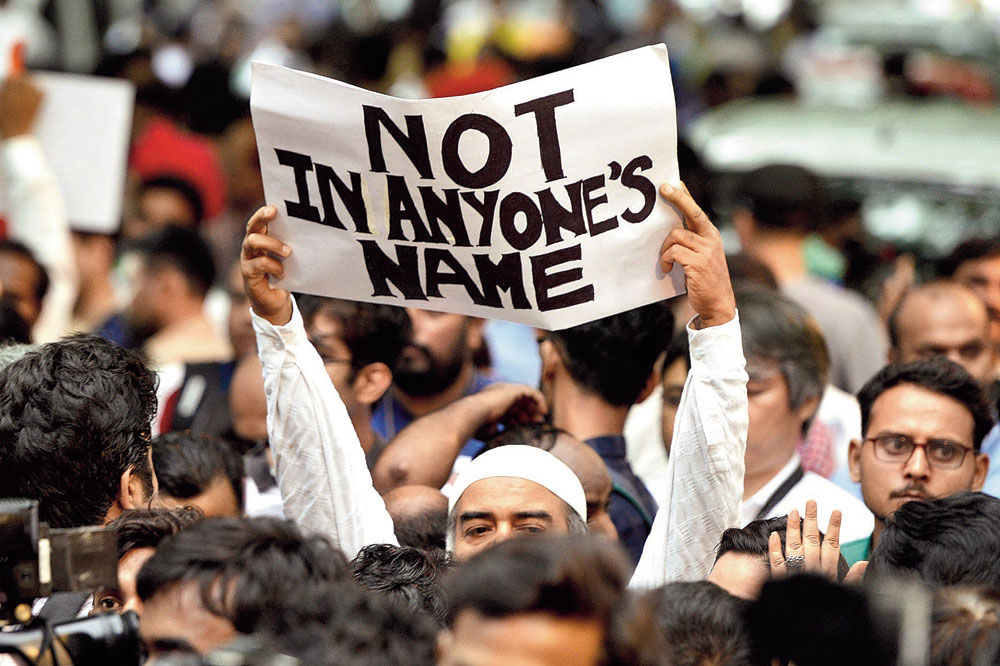 ---
Published 04.07.19, 11:32 AM
|
---
Sir — The mob lynching of a migrant worker, Tabrez Ansari, near Jamshedpur has left the country in shock ("Lynch mob to victim: Chant", June 24). It is a matter of concern that in a democratic country like India where every citizen has the constitutionally guaranteed right to practise the religion of their choice, members of certain communities are continuously being targeted and forced to chant 'Jai Shri Ram' and 'Jai Hanuman'. This is a stain not just on the Indian democracy but also on humanity. Such incidents are painful as they give birth to fear, insecurity and hatred in society.
If this situation is allowed to prevail owing to the government's reluctance to take strict steps to curb such heinous crimes and the failure of the police to carry out their responsibilities impartially, communal harmony will be destroyed and the country's progress will receive a severe jolt.
Khalid Saifullah,
Calcutta
Sir — The Narendra Modi-led government does not seem to have changed its stance on the lynching of citizens in its second term. The incident of a minority citizen being beaten up for nearly 18 hours and being forced to chant 'Jai Shri Ram' and 'Jai Hanuman' bears out the report of the state department of the United States of America, which found that India's "history of religious freedom has come under attack in recent years".
It is unfortunate that the police did not come to the help of the man on time. Should this be the state of affairs in a civilized country? The huge mandate received by the Modi government for its second term does not mean that people approve of everything that has gone on in the country in the last five years. One wonders if the prime minister does not take stern action against those accused of lynchings because he is keen to appease the majority and keep the Opposition parties from coming to power.
Shovanlal Chakraborty,
Calcutta
Sir — Soon after the lynching of a 24-year-old youth, Tabrez Ansari, in Jharkhand, a madrasa teacher was allegedly pushed out of a train for refusing to chant 'Jai Shri Ram' in West Bengal. Residents of Bengal feel ashamed that such an incident has taken place in this state. It is all the more disturbing that no one apparently came forward to help him.
Ram was supposed to be just and the epitome of grace. Bullying people in his name amounts to disrespecting him. It is unbelievable that thuggish behaviour seems to have become acceptable across the state since the Bharatiya Janata Party won 18 seats in the recently-concluded Lok Sabha polls. The biggest challenge before the government is how it will address this issue of misdemeanour by the rank and file of the party and other supporters.
Khokan Das,
Calcutta
Sir — It is disturbing and shameful that a madrasa teacher was manhandled in West Bengal for refusing to utter 'Jai Shri Ram'. Such reports are disquieting because they violate the basic principles of democracy. None has the right to force anyone to chant any slogan or practise any religion against his or her will. It is inhuman to do so and such acts need to be condemned by the political leadership of the nation.
Manas Kumar Majumdar,
Barasat
Elusive slumber
Sir — Not everyone is as lucky as Joe from The Pickwick Papers, who was always sleepy. The article, "Say no to pills" (June 19), mentions some useful ways of beating insomnia. It is often found that elderly and retired people, among others, have trouble sleeping. The reason for this is not far to seek. During the time when one is employed, he or she gets, to some extent, exhausted at the end of each day's toil and thus falls asleep at night. But, on the other hand, when the same person is retired and gets too much of free time, falling asleep can be a tough ask.
Experience says that sleep comes easily to those who do not nap during the day. This, though, is easier said than done. For a person with little to do, it is as difficult staying awake during the day as it is falling asleep at night. It is toughest to overcome sleep in the period between lunch and teatime. Reading books or watching television are good ways of avoiding daytime naps.
Sanjit Ghatak,
South 24 Parganas
Changed tack
Sir — Punishments rarely change offenders for the better. But there are some refreshing exceptions to this. A student in Rajasthan was recently asked to look after five trees in the school campus for three months and help maintain cleanliness in the school as punishment for beating a classmate. This is a novel corrective action. It is high time that penalties, especially as far as children are concerned, are devised keeping in mind the long term goal of making the child responsible. Corporal or other stringent but meaningless punishments cannot achieve this. These are likely to make the child either angry or fearful, neither of which is desirable.
Partho Banerjee,
Calcutta