The people's discontent with TMC
Mamata Banerjee's success as a leader depends on her ability to keep her finger on the pulse of their concerns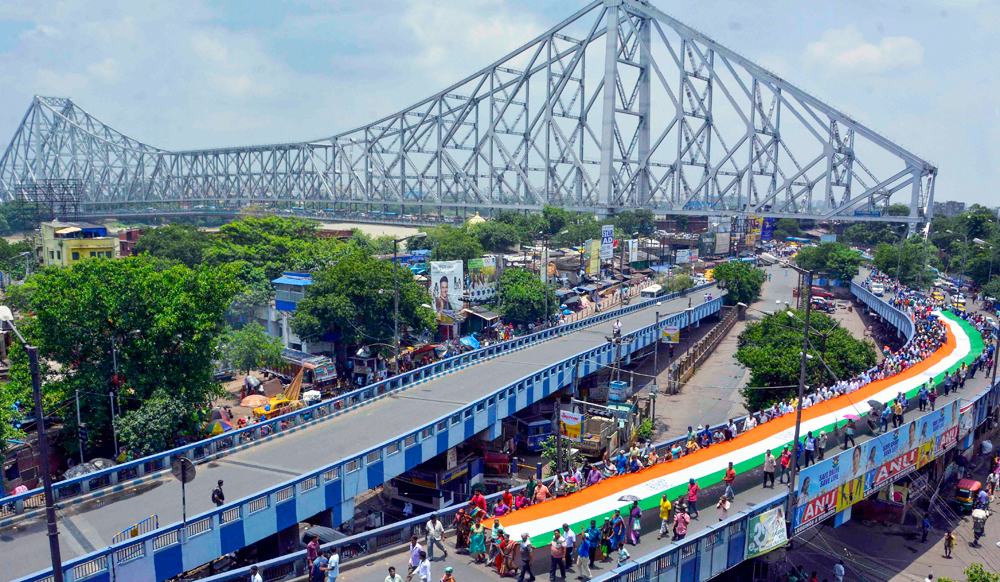 TMC workers participate in a march to attend the Martyrs' Day meet in Calcutta on Sunday, July 21, 2019.
(PTI)
---
Published 24.07.19, 04:07 AM
|
---
As political gatherings go, the attendance at Mamata Banerjee's Martyrs' Day meet in Calcutta on July 21 was certainly impressive. But the chief minister of West Bengal is known to have conducted even larger meetings on the same occasion — the Trinamul Congress set its own benchmark — and from that point of view, there has, as certainly, been a thinning. Loyalists have pointed to the rains in North Bengal that may have prevented many from coming, and to the threats of Bharatiya Janata Party workers, a first-time phenomenon. That is the elephant in the room. The Lok Sabha elections that gifted the BJP with an unprecedented number of seats in the state also indicated the people's discontent with the TMC. This could not but have had an effect on the numbers at Ms Banerjee's meeting. Did that result in the comparative tepidity of the chief minister's speech? The fire and brimstone evident just before the elections were remarkably toned down. Whether this had been advised by Prashant Kishor or was a reflection of Ms Banerjee's awareness of the frequency with which TMC members are changing parties, or of the fact that the TMC is one of the three parties likely to lose its national status because of its poor show in the Lok Sabha elections is not clear, but what could be discerned was a defensive tone. Countering the 'cut money' concept — one which Ms Banerjee had handed to the BJP on a platter — with the BJP's presumed 'black money' is an example of this shift in approach.
The problem lies within the TMC. The perception of unaccounted for gains by individuals within the party has seriously damaged its image. It is urgent that the chief minister show that she is going to change this. Although her direction to her party to reach every household is important, damage control will need firmer moves against rapacity within the party. The emphasis on 'Bengaliness' to trump the BJP's perceived North Indian ethos might help too, but those fighting the BJP could be more energized by their leader's show of a determination to win. Ms Banerjee's success as a people's leader depends on her ability to keep her finger on the pulse of their concerns. The Lok Sabha elections have indicated that those include corruption and violent bullying.