The Nordic connection
The second summit's goal was to examine whether the ambit of cooperation could be expanded to include New Delhi's major programmes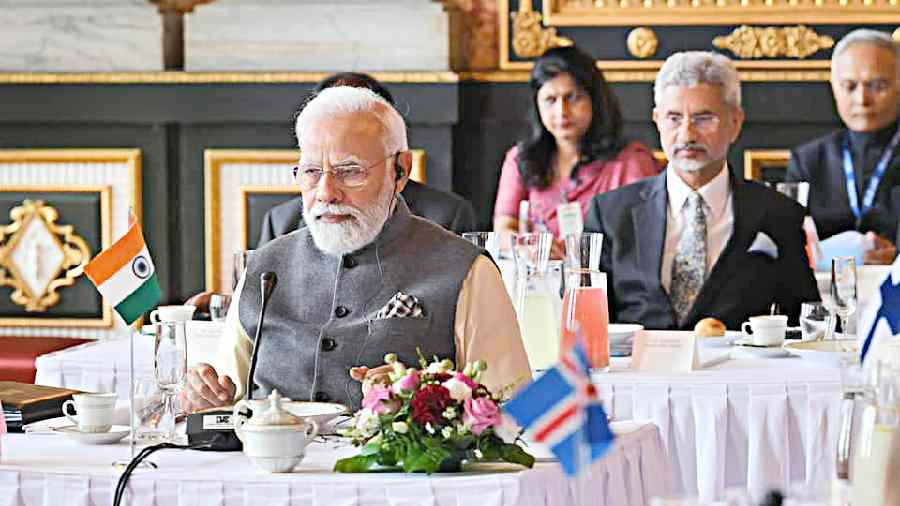 The prime minister of India, Narendra Modi, at the second India-Nordic Summit
---
Published 04.08.22, 04:11 AM
|
---
Participants discussed strategies to strengthen bilateral ties and exchanged perspectives on regional and global trends on the fringes of the second India-Nordic Summit. India's bilateral relations with Nordic nations was not free of strain — Swedish business was connected with Bofors; an extradition case involving a Danish individual implicated in an arms' dropping case in Purulia, West Bengal, had tainted India's ties with Denmark; India and Norway had disagreed over a childcare dispute involving an Indian couple.
It is politically and economically prudent for Nordic nations to cement their relationship with India, the world's fifth largest economy with an annual GDP growth of 7.4% in 2022-23. The Nordic countries collectively represent an economy of more than $1.6 trillion and trade a total of $13 billion in goods and services with India. Green partnership, digital and innovation economy, trade and investment links, sustainable development, and Arctic engagement are five areas of interest that can be explored mutually. These nations rank among the best performers in innovation, clean energy, green technologies, and education and, thus, present a chance for India to benefit from their expertise. Climate change is melting the Arctic ice caps and causing recurrent floods in the Himalayas. Scientific cooperation on the Arctic and the Himalayas could can play a significant role in India's bilateral relationship with Nordic countries.
India has also urged Nordic firms to invest in the 'blue economy', particularly in the ministry of ports, shipping and waterways' Sagarmala Seaplane Services project. India's Arctic policy also provides a solid foundation for expanding IndiaNordic cooperation in the Arctic. The Nordic nations have reciprocated by reaffirming their support for India's permanent participation in a revamped and expanded United Nations Security Council.
The second summit's goal was to examine whether the ambit of cooperation could be expanded to include New Delhi's major programmes, such as 'Make in India', 'Startup India', 'Digital India' and so on. 
In recent years, Nordic countries have outsourced their information technology services to companies outside Europe, with India being the most popular destination. One of the primary motivations for this is cost. The fact that the majority of the people in the Nordic countries can communicate in English alleviates a key logistical barrier for multinational businesses wishing to set up shop there. Nordic nations are also providing subsidies to foreign organisations in order to facilitate this.
India and the Nordic nations reviewed the destabilising effects of the Ukraine war as well as its regional and global ramifications and resolved to keep working together on the matter. The Nordic prime ministers reaffirmed their strong criticism of Russia's aggression against Ukraine and emphasised the importance of an immediate ceasefire.
New Delhi, however, has opted for a calculated neutrality toward Russia, despite its strategic ties with the Nordic democracies. It abstained from the vote on Russian aggression at the UNSC, the UN General Assembly and the Human Rights Council and also declined to publicly name Russia. The Nordic countries may be disappointed by India's neutrality.
With China's participation in geopolitical and geoeconomic issues becoming increasingly dubious, the Nordic nation states realise the need for a trusted, credible, and robust partner. They may find that in India. 
Abhinav Narayan is an advocate and columnist. Ashraf Nihal is a student from Delhi University