The maker and the masks
A virus has come in between faith and a mass following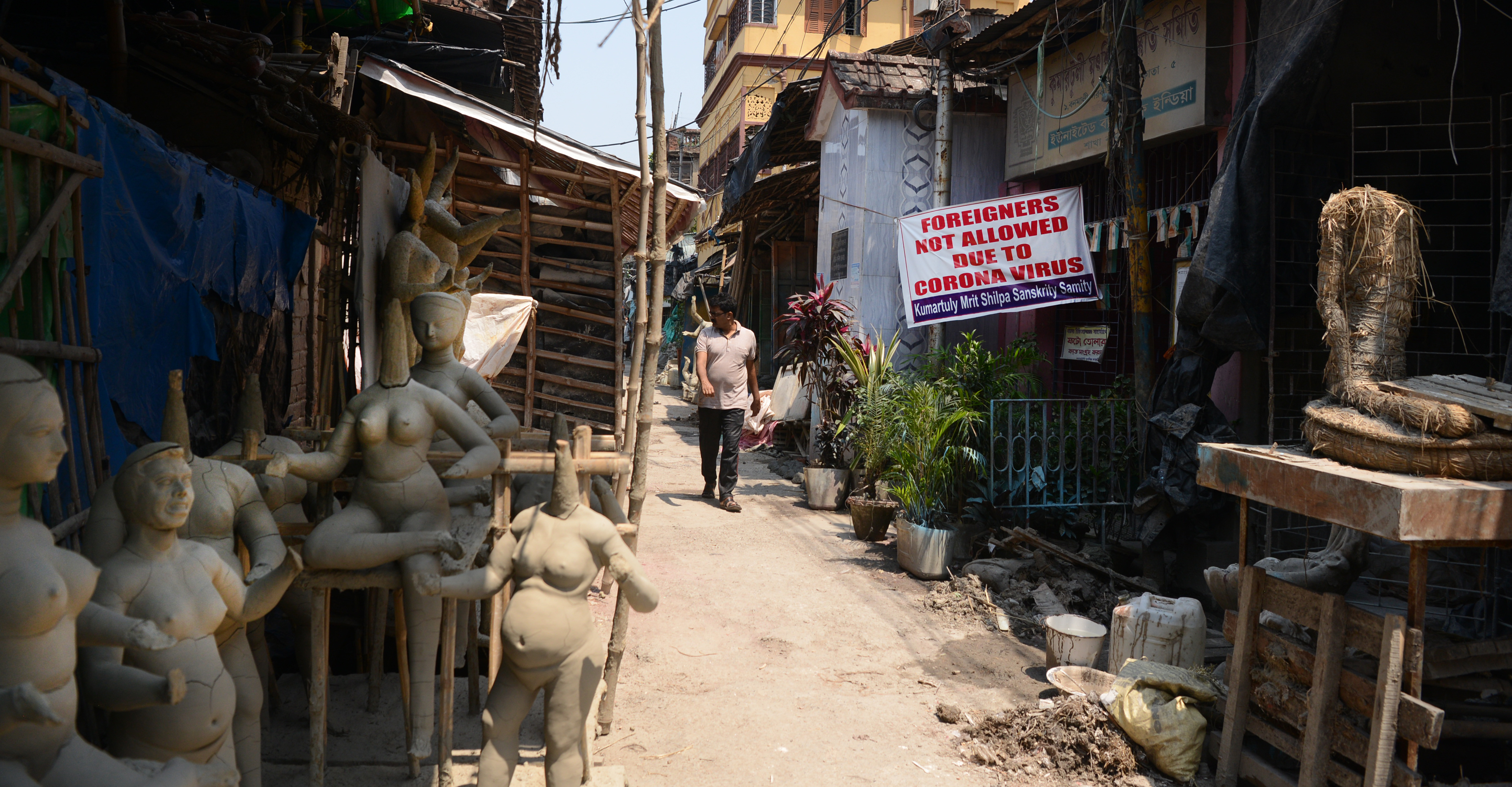 ---
---
Ping. Ping. Ping. A slew of images land in my WhatsApp chat from an unknown number. Images of deserted lanes. A straw-and-bamboo frame of a donkey. Headless clay idols, about two dozen of them, herded together. I am not done swiping to the last of them when the phone rings.
The voice at the other end belongs to Mala Pal, an artisan from Kumartuli, the potters' hub of Calcutta. With its 200 shops, this place supplies the city and beyond with gods with clay feet all through the year. About 12,000 idols are made every year for Durga Puja by the potters of Kumartuli alone. In 2019, there were 58 orders from abroad. Artisans from here also go to other states to make idols as it is not possible to transport clay idols to all places.
I know Mala from my schooldays, when my father used to take me to the area every Saraswati Puja for my pick of an idol. Mala is only in her early forties, but she started work when she was 14. She learnt the craft from her father, Dulal Chandra.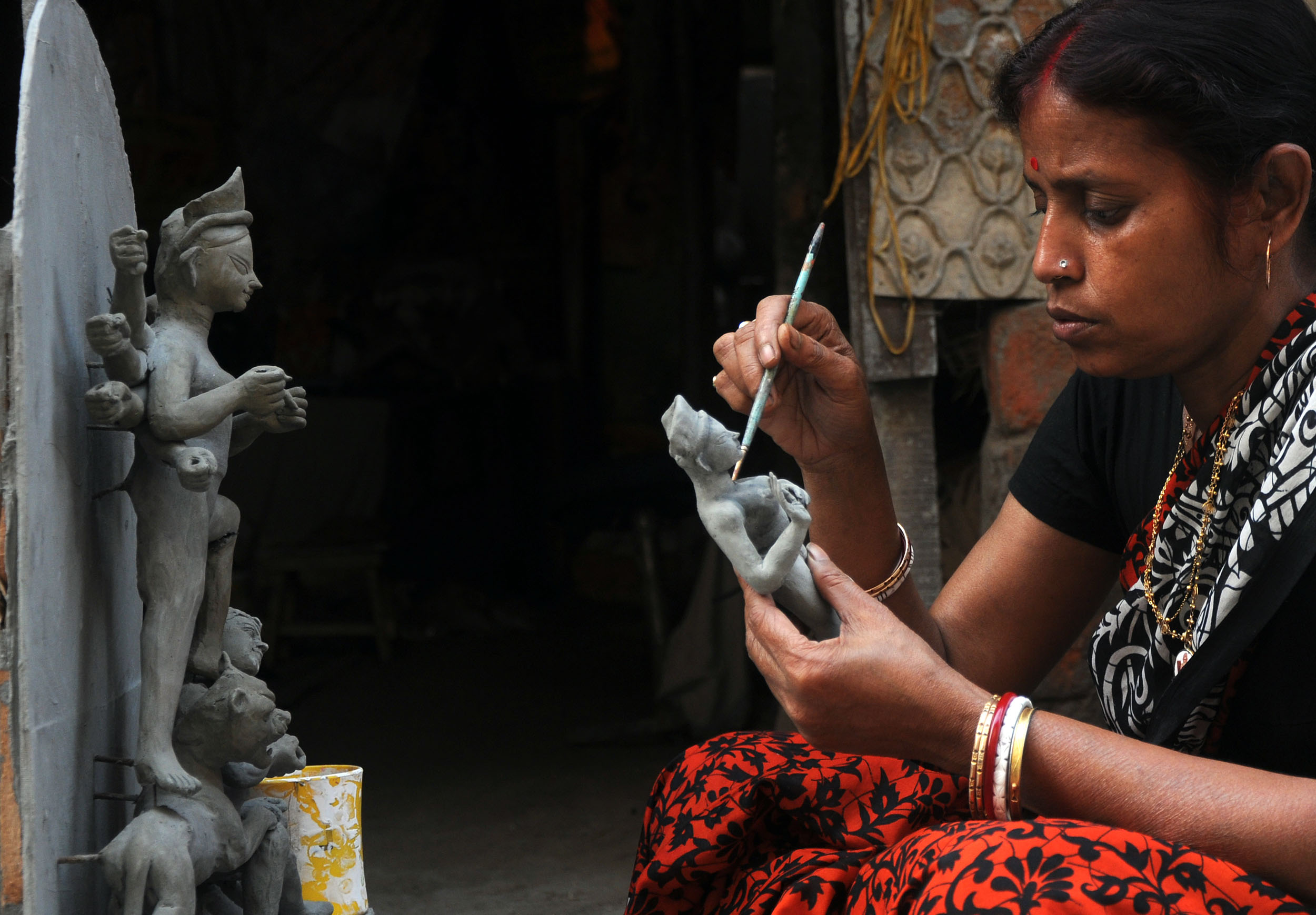 She picks up from where the forwarded images had left me wondering. "On Poila Baisakh (Bengali New Year's Day) I got a cancellation call from Canada. It was for an order that was worth more than Rs 1 lakh."
For Kumartuli, the month of April is crucial. On Bengali New Year's Day and 12 days later, on Akshay Tritiya, the Durga Puja committees place their orders and pay the advance money to the potters so they can start work on the idols. Says Mala, "As for the orders from abroad, we have to deliver by July as they are transported via ships and it takes over three months to reach the destination." She makes 20 to 22 Durga idols every year of which four to five orders are from abroad, and another dozen from Maharashtra, Gujarat, Chennai, Mumbai, Pune, Bangalore. She adds, "This year, no orders for Durga Puja have come through so far."
Will the lockdown continue till Manasa Puja, Mala asks me. In August, the serpent goddess, Manasa, is worshipped widely across villages and mofussils in the eastern parts of India.
Mala counts her gains and losses, assesses her good times and bad in terms of idols sold and unsold. It was Basanti Puja a couple of days after the lockdown started, and while most of those idols found takers, the Lakshmi-Ganesh idols made for Poila Baisakh did not. Even the Annapurna Puja idols made for April 1 remain unsold. And no one came to pick up the Sitala idols; the day of the puja was within the lockdown period. In his 1917 book, Faiths, Fairs, And Festivals, C.H. Buck says of this goddess: "Sitala or Mata was actually the chief of a group of seven sisters, who caused pustulous diseases and has to be propitiated regularly by women and children."
Initially, the artisans of Kumartuli had objected to Mala joining the business. Women do not make idols, is what she had to hear often. Dulal Chandra, however, did not stop teaching his little girl. He used to make giant idols and she would make little replicas. After her father's death, Mala moved to Delhi to work with the National Crafts Museum. When she returned two years later, Kumartuli had had a change of heart.
Mala soon came to be recognised for her distinctive artistry, her idols stood out for her attention to detail. From the very first year, Mala started selling her murtis in the international market. Her first sell happened when an American tourist visiting Kumartuli bought from her a small Durga idol. He took it back to the US — and soon after she got her first order from a Durga Puja committee there. Since then, Mala has received orders from Nepal, Malaysia, Australia, the US, Canada, the UK, Germany.
This year, not just Mala, other much-sought-after artisans such as Monty Pal, Ramesh Pal and Babu Pal also say they are yet to hear from regular clients. Mala says she has it from the secretary of Kumartuli Mritshilpi Sanskriti Samity, Babu Pal, that big-ticket Puja committees are reworking their budget. "Ei holo byapar... That is that," she says, and with that hangs up as abruptly as she had begun.
I am about to put away the phone with a sigh when there is a single ping. This time it is a selfie. Mala is posing in front of a shelf full of trophies and gods. She is wearing a red-and-blue sari, her hair is parted in the middle, sindoor blazing. Her expression is forlorn and what is that patch beneath her chin, climbing up to her ears? I zoom in and zoom out. A mask.
Surely, the gods of Kumartuli have enough immunity?