The idea of Cambridge University in India
EYE ON ENGLAND | Art historian and professor Partha Mitter's book -- 20th Century Indian Art -- has just been released in the United Kingdom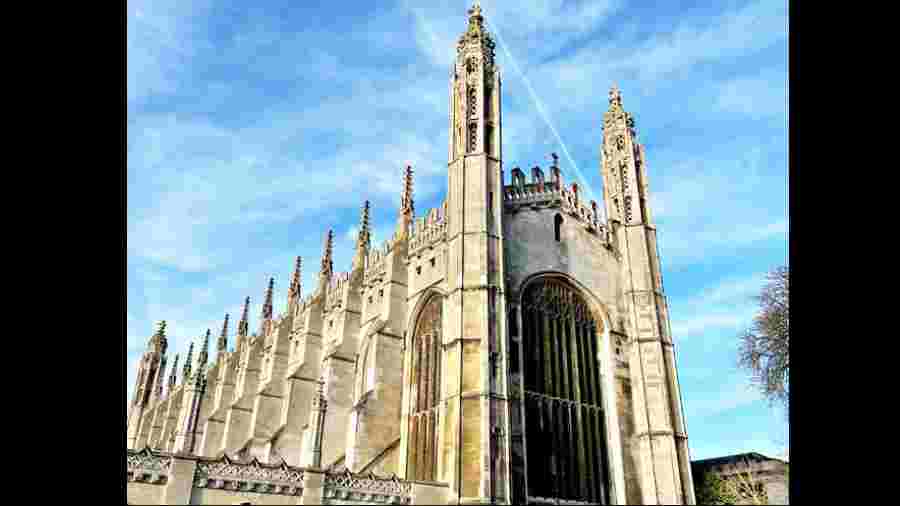 Cambridge University: Home base?
Sourced by The Telegraph
---
Published 23.07.22, 04:33 AM
|
---
Home away from home
Could there one day be a Cambridge University campus in India — possibly even Calcutta — where students could get a full-fledged degree without the expense of having to come to the United Kingdom and pay £40,000 a year for three years? Surprisingly, the answer might be yes. Cambridge has long pursued a policy of not diluting its brand by opening overseas campuses as more than 30 other British universities have done. But a review is underway. I heard this from Yusuf Hamied, the head of the Indian pharma company, Cipla, who has maintained close links with Cambridge since he did his undergraduate chemistry degree and PhD at Christ's College between 19541960. The entire chemistry department at Cambridge was formally renamed after him recently when he made a generous gift. At the unveiling ceremony, the vice-chancellor of Cambridge, Stephen Toope, confirmed this was "a first" and thanked Hamied: "The difference you've made will be felt for many generations to come." On whether Cambridge might establish a physical presence in India, Hamied told me: "Cambridge is right now debating it. We are going to have brainstorming sessions in the next couple of months. And then they're taking it forward from there." Pointing out that the Tatas have persuaded Harvard Business School to open in India, he said: "What I would like to do is to bring Cambridge University to India and see what they can do, particularly in science and technology. Cambridge is developing an advanced vaccine for future variants of Covid. So can that knowhow come to India?"
Sweet idea
The lawyer, Som Mandal, has put his ambitions of becoming a Bharatiya Janata Party member of Parliament on hold and thrown his weight behind the Bengal Business Council. He held a dinner at his London residence where he explained that the council wanted to encourage the Bengali diaspora to invest in West Bengal, which seems to be a very good idea to me. I suggested two-way traffic and export of Calcutta sandesh to London. But another leading light, Meghdut RoyChoudhury, was thinking big: "We will make the sandesh in London."
Old connections
A new book on Sir Charles Wheeler will include a section on the years between 1958 and 1962 when he was based in Delhi as the BBC's correspondent. He covered the Dalai Lama's arrival in 1959 and the visit by the Queen and Prince Philip in 1961. He didn't think covering royal visits was real journalism and was overheard referring to the Queen as "that bloody woman". He was persona non grata on his return to England. However, all was forgiven and Wheeler was "a little shame faced" when the Queen knighted him in 2006 and told him "how much she admired his work".
In Delhi, he met and married a Sikh woman, Kuldip Singh, with whom he had two daughters, Shirin and Marina. The book on Wheeler, Witness to the Twentieth Century, has been written by Shirin Wheeler, who was herself a BBC correspondent in Brussels. Charles was sent back to India in 1977 to cover Mrs Gandhi's Emergency and the election that year. In December 2012, Shirin and Marina collected the lifetime achievement award given posthumously to their father by the Indian Journalists' Association. Marina, a barrister, has written an engaging family history, The Lost Homestead: My Mother, Partition and the Punjab.
Shirin and Marina were among friends at a dinner hosted in a Fleet Street pub by the journalist, Rahul Singh, who is related to them. That's because Kuldip's brief first marriage, an arranged affair at 17, was to Khushwant Singh's younger brother, Daljit. Rahul and his partner, Niloufer Bilimoria, who run the Khushwant Singh Literary Festival, hope to bring it live to London next year after two years of virtual events.
Cause for celebration
Meanwhile, at Oxford, the art historian and professor, Partha Mitter, is a very happy man despite undergoing a serious operation. First, his major book, 20th Century Indian Art, which he has put together with Parul Dave Mukherji and Rakhee Balaram, has just been released in the UK. The book has been 14 years in the making, says Mitter, adding, "From the beginning, I decided to have a team. And this book is the achievement of the team." There is another reason for his happiness. His son, Rana Mitter, professor of the History and Politics of Modern China at Oxford, has been made "interim Master of St Cross College from October 2022 for a period of up to a year". St Cross is an Oxford college "dedicated solely to graduate students and Fellows". Rana, a Fellow of St Cross since 2001, tells me: "Should be a nice chance to do something good for our college community!"
Footnote        
Anjan Chatterjee's restaurant in London, Chourangi, which offers 'Calcutta cuisine', was heaving with diners last week, many of them from the Gulf. Anjan appeared for a quick chat and mentioned that Sourav Ganguly had been in a couple of nights previously. What did he have? "He is completely vegetarian since his heart problems," said Anjan.