The Father and the Assassin: Reviews of a play on Gandhi & his killer
EYE ON ENGLAND | Late British PM Margaret Thatcher's role in Falklands War in 1982 and her controversial legacy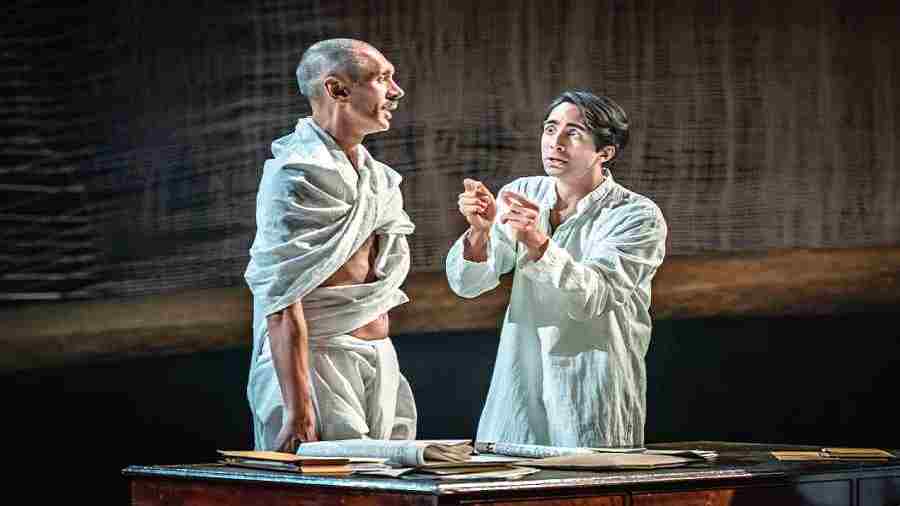 Paul Bazely as Gandhi and Shubham Saraf as Godse in the play The Father and the Assassin at the National Theatre in London.
File Photo
---
Published 28.05.22, 03:27 AM
|
---
  Among Indians who have come to London for their summer holidays, the hottest ticket in town is The Father and the Assassin at the National Theatre, questioning why Nathuram Godse killed Mahatma Gandhi, especially so among the Calcutta set. Positive comments about the play on social media have increased the demand for tickets. I noticed a dissenting voice, though, from the Global Hindu Federation, which called it "an anti-Hindu biased play", and alleged that The Father and the Assassin "targets Hinduism, paints patriotic enslaved Hindus as savages... Hinduphobic theatre now joins colonialist Academia and supremacist religions". But this view is countered by comments such as those of Stella Kanu, who said, "The Father and the Assassin is by far the best play I've seen in a long long time." Another typical tweet was from Andrzej Łukowski: "Years if not centuries can go by with nothing good in the Olivier and then you get a play like The Father and the Assassin which would probably actually justify building the Olivier purely to stage it in." On the first night I got rightly ticked off by a veteran critic who said it wasn't the done thing to discuss plays at half-time but then began doing just that. Among the reviews, The Guardian called it a "gripping tale of the man who killed Gandhi". That was my view, too. But others thought there was a bit too much history. "The play is heavy on exposition but oddly short on dramatic substance," the Evening Standard summed up.
Chequered past
 The Royal British Legion is marking the 40th anniversary of the Falklands War in 1982 when the British prime minister, Margaret Thatcher, sent a task force 8,000 miles away to recapture the islands after the Argentine dictator, Leopoldo Galtieri, had occupied them. Among the 255 British personnel who lost their lives was an Indian — Pradeep Kumar Gandhi. He was a "sapper" with the 59 Independent Commando Squadron, Royal Engineers, who died, aged 24, on May 27, 1982, when British positions were strafed by Argentinean Sky Hawk Jets. In the British military tradition he was buried on the island along with other fallen comrades but his devastated mother and elder brothers back in the UK demanded his remains be repatriated to London for a Hindu funeral. And there, despite my best efforts to find out more over the years, his story ends. Thatcher was considered a heroine after regaining the Falklands. But her legacy is controversial and earlier this month her statue was "egged" when it was put up in her hometown of Grantham in Lincolnshire.
Need for speed
 Driving in London isn't cheap. There is a daily £15 congestion charge, with an additional £12.50 pollution fee for older vehicles. The other day I paid £34 for parking. Indians coming to London should be aware that it is much better to take public transport, especially now that the Queen has inaugurated the new £20 billion "Elizabeth Line" named after her. It is an East-West railway that stretches more than 100 kilometres from Shenfield and Abbey Wood in the east through central tunnels across to Reading and Heathrow in the west.  Journey times from Abbey Wood to Paddington will be cut by almost half to 28 minutes; Liverpool Street to Woolwich will be halved to 15 minutes; and Liverpool Street to Paddington will be cut from 18 to 10 minutes. The new line opened to the public on May 24, with train enthusiasts flying in from across the world. I think the innovation in London is a blueprint for how a similar development could transform lives in West Bengal.
Painful history
 The sorrows of Indian indentured labourers who were cruelly treated in South Africa is the background of Joanne Joseph's powerful novel, Children of Sugarcane, which I have just finished reading. The central character is Shanti, who is 14 when she runs away from her village in Madras to Natal to escape an arranged marriage. She is finally sentenced to death for killing her white master in self-defence during rape. In between we get the story of what happened to thousands of Indians in South Africa. From her home in Johannesburg, the author tells me: "I knew little about my great-grandmother, Athilatchmy Velu Naiken, who was actually the inspiration for this book. I discovered that she had arrived in the Colony... as a young woman of about 21 from the town of Salem in the Madras Presidency in the late 1800s. Sadly, the experiences of Shanti, her friends and compatriots are based on actual case studies drawn from several verified historical sources."
Footnote
 Rahul Gandhi's meeting with Jeremy Corbyn would have given him a better understanding of the fundamental changes that have taken place inside the Labour Party in its thinking on India. Labour is no longer the automatic choice for Indians. Sir Keir Starmer devotes much of his energy trying to convince voters he is radically different from Corbyn, who remains an MP but has had "the Labour Whip removed". That means he is not considered a Labour MP, having once been party leader. On India, Corbyn is silent, so attacking Rahul for meeting him doesn't make any sense.