Crossed lines
The classroom is more than just a space for textbooks and grading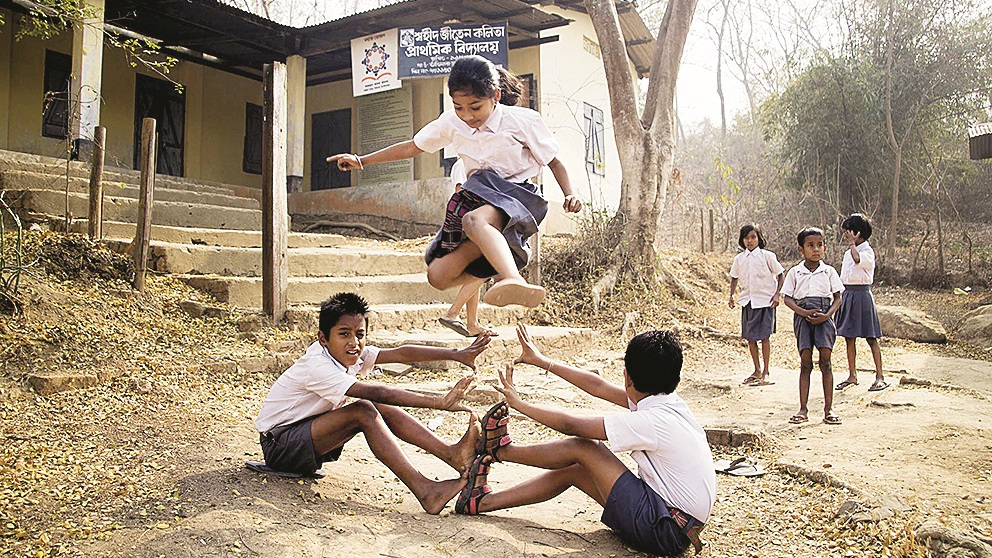 Representational image.
File picture
---
Published 28.05.21, 01:24 AM
|
---
The mayor of New York City, with an eye on the winding down of the pandemic, has announced that teachers and children shall come back to school in September, the beginning of the new school year. He found online teaching to be distinctly inferior to classroom teaching. Besides, underprivileged families, among many of whom Covid-19 took a heavier toll, have found it difficult to give children regular access to remote learning. In such cases it has proved disastrous, particularly for pupils with disabilities. This widened the education gap, according to the mayor as well as the governor of New York, because online learning worked well only for better-off households, while others had to pay a heavy price.
The emphasis, rightly, is on a practical aspect that could ultimately defeat the end of education. But there is another, as important, facet. The mayor mentions the superiority of classroom teaching, which the governor, too, underlines when he says, "[B]y no stretch of the imagination is remote learning a substitute for in-class participation." In this approach, the classroom is central to education, irrespective of technological advances and higher standards of living. In a piece by Katie Reilly in the Time magazine last August, a teacher in New York City expressed his discomfort at virtually meeting his new class for the first time. They would not get to play games or plant the garden as they normally did each year — activities central to the classroom community that built trust between teacher and student. Trust develops through contact and functions on multiple levels. In the "Ischooley Lockdown" series, a blog run by Ebong Alap, a voluntary organization, one teacher not only notices the absence of his adivasi students from his online classes, but is also distressed by the quality of his only in-person contact with them when he calls out their names and roll numbers to deliver their weekly midday meal rations. Will our relationship now only be through these numbers? their eyes seem to ask.
The classroom is a space of parity, away from the inequalities and enforced roles of home and immediate social group. It is a unique community where learning happens not through textbooks and grading alone but also by relating to others, making friends, planning pranks, quarrelling and playing together, competing and creating, understanding other ways of life and different histories. There can be no education without this. Children learn as much from their teachers as from their peers: young brains take fire from one another, sparking new interests, fresh ideas, other dreams. Also, as one teacher points out in the blog, school is not just a place for studies; teachers keep a watch on their students' physical and mental health, stop them from dropping out and prevent minor marriages. The rise in the number of minor marriages while schools were closed last year is proof of this. Mentoring is a matter of daily kindness and understanding, something that cannot be inserted into digital packages of learning material.
Since it is the pandemic that has interrupted normal school life, children may hope to return to classrooms when it recedes. The spread of foundational education in India has been slow, so the classroom is especially precious. While both teachers and students would like to return to it, there are also areas of concern. For some children, the disruption has been great, if not total. Talking about a couple of villages close to Siuri in Birbhum, a friend said that most children have no access to a smartphone, and even if there is one available, the father takes it to work. There is no question of online classes for them; he, together with many teachers, is worried that children will forget much of what they have learnt, particularly as many households rely entirely on the school for education. Teachers from different areas refer to the trauma children are going through, of isolation and fear, exacerbated by the tragedy of losing their closest relatives. Covid has left orphans — that is in itself a matter of acute concern. Those who do have access to devices for lessons — girls mostly have to beg it off their father or brother —  may not get a stable internet connection for the length of the classes, or may have to get on to the roof, go outside or even climb a tree to hold on to the connection. If they can concentrate at all on a class through the screen of a phone, that is. For many, the atmosphere is seldom conducive to classes at home, riven with insecurity, want and hunger, their guardians' stress and, frequently, violence. These children cannot walk back into school and pick up where they left off. Academically and emotionally, they have to be nurtured back into the system — will governments create scope for such adjustments?
The other area of concern is of a different kind. The Centre is pushing determinedly for online higher education: the University Grants Commission has now 'allowed' universities to teach 80 per cent of non-technical academic courses online. This is in spite of strong protests from college and university teachers when the UGC 'allowed' 40 per cent of virtual lessons with ready-made material last year, as well as schoolteachers' accounts of their pupils' difficulties during school closure. Although the government has not recommended virtual classes for schools, how would the problems be different? Older students may have somewhat better access to online routes but uncertain connectivity would remain the same. A young teacher in a college in Purba Medinipur has found that many of her colleagues do not have computers, and the know-how required to record lectures on the phone and upload them onto a specific platform eludes many. Exchange in class is limited at best, and innovations dependent on technological familiarity alone can substitute for the use of the board — in mathematics, for example. Inequality is built into the online system, as is the stifling of dialogue.
All this is apart from the deprivation of collective college or university life in which friendships blossom, adventures begin, talents burst out and horizons expand to take in the world. Those who know this in India are privileged; with 80 per cent of classes online, they stand to lose it too. Instead of opening up higher education to those who opt for it, this system will gradually exclude capable students from disadvantaged economic backgrounds or locations who dream of greater learning. This inequality is one of the major reasons behind teachers' objections. Besides, virtual lessons can supplement classroom teaching, they cannot replace it. A decline in standards of learning and research would be inevitable, especially if, as is being suspected, universities and colleges funded by the government are forced to adopt the new system under UGC and State pressure.  
Online teaching would mean a reduction in overheads. This government seems unaware that education is dynamic, born through the contact of minds, not through screens and figures. It is not interested in higher forms of knowledge. Only those who can afford it would be able to go to private universities with in-person classes, thus deepening inequalities further. The National Education Policy, 2020 lays emphasis on maximizing enrolment and aims at full literacy and numeracy. It also opens up the route to vocational training very early. Marketable skills are certainly welcome, and the NEP clearly leans that way, if only routes — none obvious yet — are found to fulfil its glorious promises. But the path to higher education, to intellectual enquiry and research, is becoming narrow. Is India aiming at a literate population with no outstanding philosophers, scientists, historians, linguists or mathematicians?