The demand for 'vikas' has trumped the bogey of Hindutva
No amount of tweaking of growth rate figures has compensated for the festering problems on the ground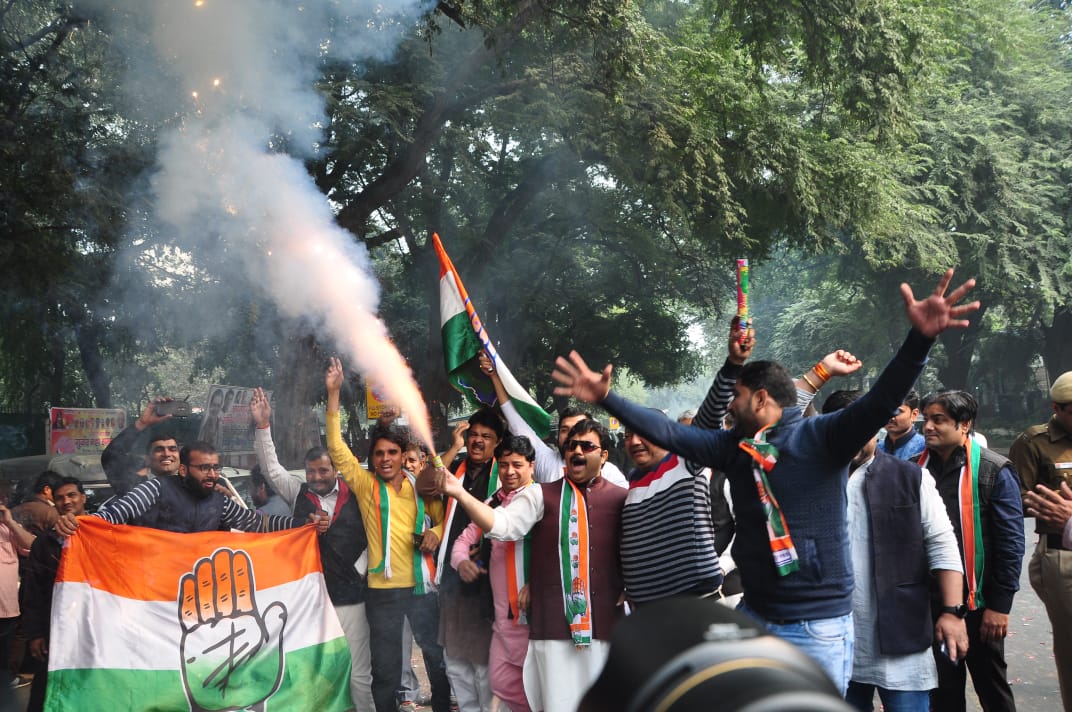 Congress workers celebrate their Assembly election win at its headquarters in New Delhi on December 11, 2018
Prem Singh
---
Published 12.12.18, 02:34 AM
|
---
Change is fundamental to the health of a democracy. One of the factors that propel citizens to usher in new governments in a democratic polity is their conviction in change being an agent of betterment. The people of Rajasthan, Chhattisgarh and Mizoram have spoken in favour of change comprehensively, voting out, in their perception, the old with the hope of ushering in the new. In Chhattisgarh and Rajasthan, where the Bharatiya Janata Party was in power for 15 and five years, respectively, the Congress has wrested the sceptre from its principal rival, souring the mood of those who had been smug in their belief that India would soon rid itself of the Grand Old Party. However, in Mizoram, the Congress has been shown the door by the Mizo National Front; Madhya Pradesh witnessed a tight contest between the Congress and the BJP, while in Telangana, the people decided to return the Telangana Rashtra Samithi to power. These mixed outcomes, one party triumphing in some states only to lose in others, confirm the beauty of democracy, a celebration of a franchise that can often confound the pundit.
Yet, it is possible to derive certain broad inferences from the verdicts. The mandates would come as a jolt to the BJP that has been beaten resoundingly in two of the three states that were under its watch. It has performed poorly in Telangana and Mizoram as well. These defeats would contribute to the waning of the myth of the BJP's political invincibility. Narendra Modi, the BJP's poll mascot, no longer appears to be the colossus that he was made out to be. A number of factors can explain the growing public resentment against the prime minister and his party. Agrarian India and India's poor are in turmoil with demonetization — Mr Modi's Waterloo? — being cited as one of the chief causes of the distress. No amount of tweaking of growth rate figures has compensated for the festering problems on the ground. The BJP's hope of neutralizing its stark economic failures by taking out, once again, the Hindutva chariot — Yogi Adityanath was unleashed this electoral season too — did not save the day either. That the demand for vikas has trumped the bogey of Hindutva must deepen Mr Modi's frowns. The Big Test — the general elections — are only months away.
These are not the only worries confronting Mr Modi. These results would help Rahul Gandhi, the butt of the BJP's insensitive jokes, gain in political stature and acceptability. The Congress would be hoping that the fledgling Opposition would pivot itself around Mr Gandhi and take the battle to Mr Modi and the BJP in 2019. The 'semi-finals' — the clutch of assembly polls — may have turned the 'final' — the Lok Sabha elections — into an open contest.