Tweets that returned to haunt the BJP after Assembly election results
Narendra Modi had seen the beginnings of a 'Congress mukt Bharat', a prophecy that is in tatters now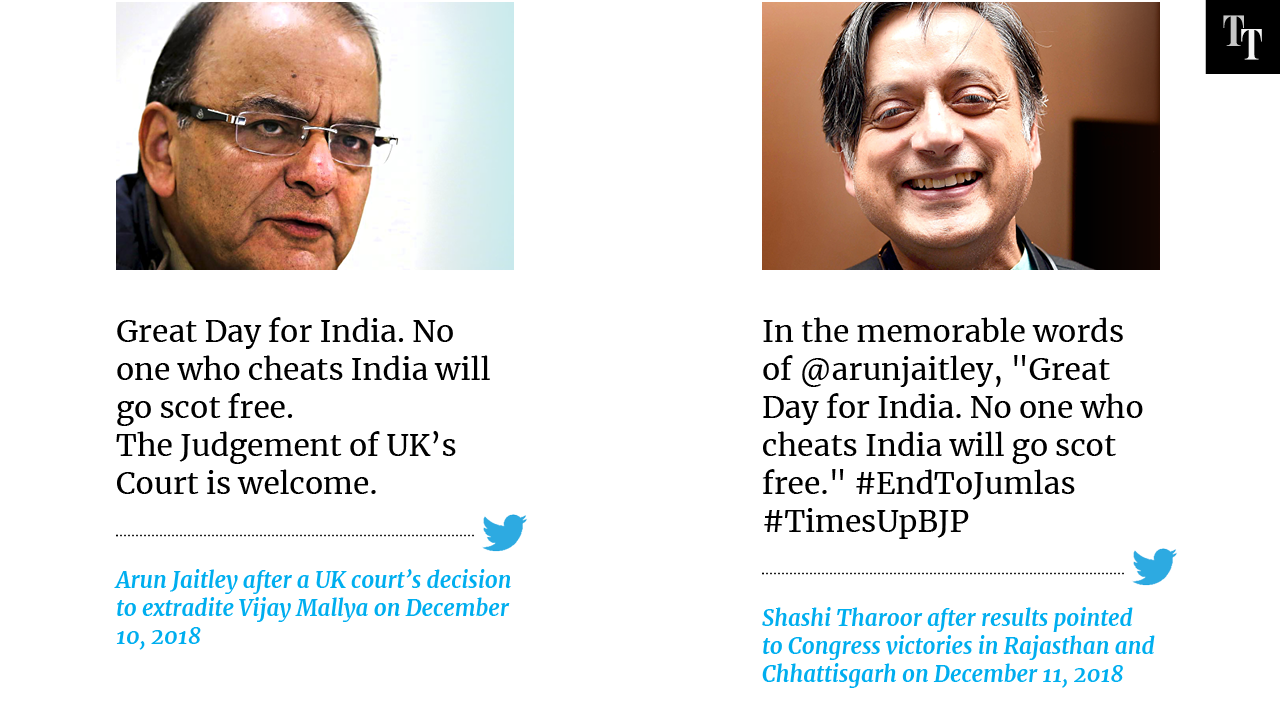 ---
New Delhi
|
Published 11.12.18, 02:07 PM
|
---
On December 15, 2013, a tweet went out from then Gujarat chief minister Narendra Modi's handle @narendramodi_in. 'Results of 5 states are out and it is clear which way the wind is blowing. It is beginning of Congress Mukt Bharat: Narendra Modi.'
Results of 5 states are out and it is clear which way the wind is blowing. It is beginning of Congress Mukt Bharat: Narendra Modi

— narendramodi_in (@narendramodi_in) December 15, 2013
Five years later, the tweet has acquired a different meaning. The first part of Modi's observation, if it holds true till 2019, would mean that the BJP should now be ready for more heat from the Opposition in the coming summer. The second part of the tweet - the ambition of a 'Congress Mukt Bharat' that became a BJP election slogan in 2014 and after - was proved wrong as it became clearer by evening that the Congress was on course to win Madhya Pradesh, Rajasthan and Chhattisgarh.
In 2013, Chhattisgarh, Rajasthan, Madhya Pradesh, Mizoram and Delhi had voted. The three big heartland states had gone to the BJP. The reverse played out in these states today.
The Congress seems certain to rule Chhattisgarh, and it is within shouting distance of majority in Rajasthan and Madhya Pradesh.
Call it the curse of the digital medium that everything you write can come back to haunt you. And so it happened with the BJP today.
One of the early birds on Twitter who poked the BJP with its own tweet - to be precise, Union finance minister Arun Jaitley's digital bite - was the Congress's Shashi Tharoor.  
On Monday, Jaitley had patted the government on the back. The occasion was a UK court's order that fugitive businessman Vijay Mallya should be extradited to India. 'Great Day for India. No one who cheats India will go scot free,' he wrote. 
Tharoor, a Congress Lok Sabha MP from Kerala, could not resist taking a swipe today. 'Wonderful news pouring in from #Elections2018. In the memorable words of @arunjaitley, 'Great Day for India. No one who cheats India will go scot free,' he wrote at 11.17 am, just when it was becoming clear on TV channels that the BJP was going to lose Chhattisgarh and Rajasthan and was neck-and-neck with the Congress in Madhya Pradesh.
Many of the comments in Twitterverse today directed venom at Yogi Adityanath, who was one of the BJP's star campaigners in these elections. The Uttar Pradesh chief minister's penchant to rename cities and facilities that sound Muslim came in for heavy attack. 
But beyond these jokes were serious concerns about the 'mandir'. A section on Twitter said that the BJP lost the election because it did not build the Ram temple in Ayodhya. 
But several tweets pointed to a common fear: that the cry for a temple in Ayodhya would become shriller in the run-up to the 2019 Lok Sabha election.  

ज़ोर का झटका हाय जोरो से लगा age ka haal 😁😁😁 #elections #congress #bjp #elections2019 #modi #adityanath #yogi #funny #uttarpradesh #rajasthan #memes #trolls #bakchodi #harami #pun #bihar #MadhyaPradeshElections2018 #Results2018 #ElectionResults2018 #MadhyaPradesh pic.twitter.com/AxjGBKoZRV

— Gangs Of North (@GangsOfNorth) December 11, 2018
After today's result do you think BJP will go further down from here in their hate and violence Cow and Temple politics? Or will they take a step back and focus on real issue, take action against saffron terrorism and show real communal harmony? #AssemblyElections2018

— Sanjukta (@sanjukta) December 11, 2018