The artists whom we will forget too soon
The government should realise the worth of Kumartuli and its idol-makers, and declare the place a heritage site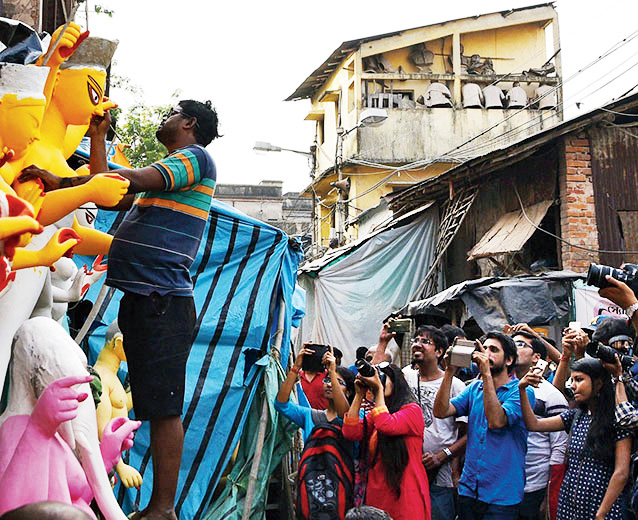 ---
---
Sir — Every year, just before Durga Puja, people feel the urge to visit Kumartuli. The idol-makers there, however, painstakingly go about their business all year round, working in conditions that are far from ideal. But nothing dampens their spirit. Once Durga Puja is over, the place and the artists are quickly forgotten. Few visit the place even though idols of other deities are manufactured at different times of the year. It is up to the government to realize the worth of Kumartuli and declare it a heritage site. People, too, should learn to honour the hard work of the master craftsmen even when they are not making Durga idols.
Sudipta Sur,
Calcutta

Wrong picture
Sir — The report, "Seen in new light: Tenderthal" (Oct 5), is interesting. Neanderthals, who existed about 40,000 years ago, were, so far, believed to be savage beings with little feelings whose survival depended on their ability to wield a spear. Recent studies, however, have revealed that these assumptions are incorrect. Neanderthals apparently took care of the wounded and the ill. This finding shows that the behavioural patterns of Neanderthals have been widely misunderstood. They were not the dumb brutes they were made out to be.
Ranesh Chandra Dey,
Calcutta
Sir — Most people would bridle at being called a Neanderthal, a species generally known to be wild and stupid. But recent research suggests that calling someone a Neanderthal might be a way of offering a compliment. Neanderthals took care of their own. Instead of looking at Neanderthals as inferior, underdeveloped beings, modern man can perhaps learn a lesson or two from them. Take, for instance, their use of medicinal plants. One can adopt the ways of healing used by Neanderthals by opting for natural remedies which do not have any side-effects.
Abhinav Banerjee,
Ranchi
Unsafe habits
Sir — The sharp spike in the number of road accidents since 2013 is worrying. The latest government data reveal that 48,746 two-wheeler riders and 20,457 pedestrians died in road accidents just last year. ("India's deadly roads cannot be fixed without political will", Oct 8). There is no doubt that laxity in the implementation of road safety rules is part of the problem. But common people, too, are at fault.
People openly flout traffic rules. Young men driving motorcycles at high speed without wearing helmet is a common sight. They are not just risking their own lives, but also those of others. Apart from the authorities, it is also the duty of parents to educate their children about road safety and the advantages of following rules. This could help curb the problem to some extent.
Saikat Sinha,
Calcutta
Sir — It is saddening that road accidents are increasing in India; killing some 400 people die every day. Many of these people lost their lives because of the inaction of bystanders. One of the reasons why people shy away from helping victims of road accidents is the legal hassle that might follow. The authorities should try and make people aware of the Good Samaritan Act which provides legal protection to bystanders helping accident victims.
Additionally, people should be encouraged to give first aid to victims; this can be life-saving. Organizations like The Bharat Scouts and Guides should be more proactive in their efforts to popularize first-aid training. Road safety measures can stop some but not all accidents.
Ziyaur Rahman,
Hyderabad
Sir — What could be the reason behind the growing number of road accidents in the country? Could it be because the number of vehicles on the roads have increased exponentially? Perhaps separate roads for four-wheelers and two-wheelers could help reduce the risk of collisions.
For instance, a man and his son were killed last month in Sambhal district after their motorcycle was reportedly hit by a truck. Such incidents expose the threats to those with small vehicles or two-wheelers. A separate lane for them would undoubtedly reduce the risk that they face regularly.
A.S. Siwani,
Hyderabad
Parting shot
Sir — Medical complications associated with dengue are often mishandled by doctors as they do not have requisite expertise to treat the disease. The death of the 10-year-old girl, Parismita Ghosh, from Maniktala who was suffering from dengue is a case in point. She allegedly received a transfusion that was not required.
Like previous years, this year, too, several deaths owing to dengue have been reported in the city. Even though the state government took up various measures and conducted awareness campaigns to prevent vector-borne diseases, several pockets in the city remain affected. The authorities should be extra rigorous and keep a check on places where stagnant water is collecting and spray the areas.
Moreover, it is important that patients avoid self-medication and visit the doctors as soon as symptoms of dengue present themselves. One should also keep his or her surroundings clean. The authorities should enlist the help of common people to fight vector-borne diseases.
Kiran Agarwal,
Calcutta