Tall tale: Obfuscation of Chinese incursion
The evidence of satellite images and comments from retired senior armed forces personnel flatly contradict the prime minister's statement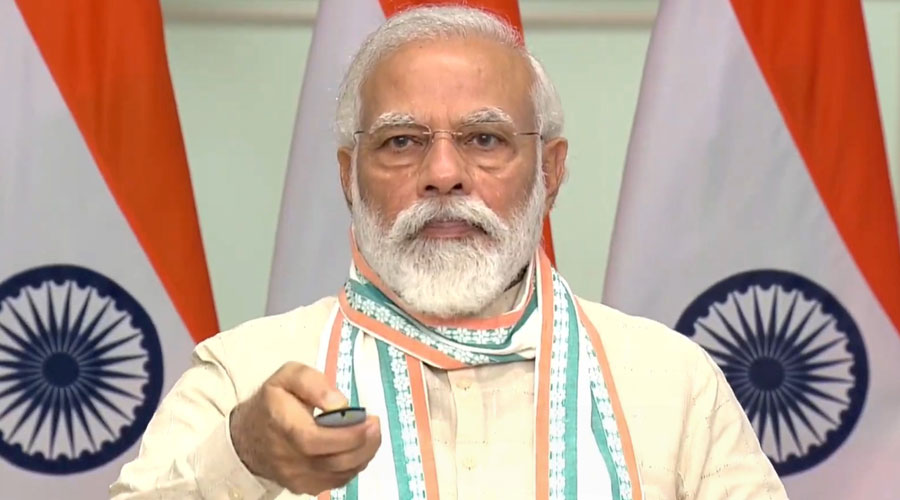 Prime Minister Narendra Modi addresses the launch in New Delhi, Friday, June 26, 2020.
PTI
---
Published 01.07.20, 12:47 AM
|
---
The present Indian government is one of a kind. Usually, no government would befuddle the people with contradictory messages when the borders of the country are being eyed by a neighbour. Yet the Bharatiya Janata Party-led government has been doing just that regarding the 'stand-off' with China at the line of actual control in Ladakh. Central to this programme was the prime minister's statement on June 19 that no one had entered Indian territory and no Indian post was taken over. A prime minister is expected to base such a definite assurance on facts. But 20 Indian soldiers had died already during a clash with the Chinese at Galwan Valley on June 15. The prime minister's office therefore hastened to 'clarify' that Narendra Modi referred to the situation in the valley after that date. The confusion so created suggests that either the people are being taken for fools or that the Indian government has something to cover up. In stark contrast to Mr Modi's assurance, his own ministry of external affairs has repeatedly indicated that China has hindered India's patrolling since early May, has been trying to breach other points of the LAC since mid-May and erect structures on the Indian side after June 6.

The evidence of satellite images and comments from retired senior armed forces personnel also flatly contradict the prime minister's statement. Yet the government's leading lights continue to fob off the Opposition's question: is China occupying Indian territory? The Union home minister fences with repartee while the defence minister, after having let slip that there was a Chinese presence this side of the LAC, has since been charmingly evasive. The BJP's harping on the charge that the Congress accepted Chinese funds for the Rajiv Gandhi Foundation seems either frantic or silly; the Congress has pointed to very recent — and much larger — donations from China to the PM-Cares fund. Meanwhile, a defence ministry official has reportedly said that China is not willing to 'pull back' from Galwan Valley, Hot Springs and Pangong Lake — three named spots — even after two discussions about disengagement. Yet there is no institutional or public pressure to hold the prime minister and his government accountable for irresponsibility, obfuscation, falsehood and playing to the gallery when the security of the country's borders is being threatened.