Symbol of pride: Editorial on Modi's Har Ghar Tiranga campaign overdrive
Demonstrative rituals can be powerful, but they are most effective when they are a means to an end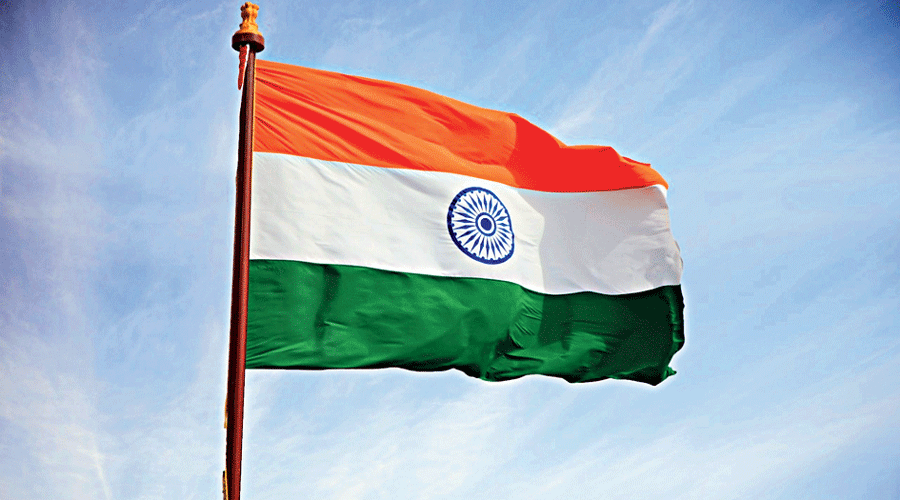 Representational image.
File photo
---
Published 13.08.22, 03:18 AM
|
---
Flags are powerful representatives of identity — whether of nations, political groups, religious organisations or sporting bodies. They can unify people. But as India approaches its 75th Independence Day, its national banner is also being used to extort from vulnerable people and communities and to politicise patriotism. In Haryana, at least one public distribution system dealer has been caught demanding that the poor recipients of the state's welfare pay up Rs 20 to buy the Tricolour if they want their rations. In Jammu and Kashmir's Anantnag district, families of school children were pressurised to buy flags by the local administration. Other reports suggest that businesses in the pharmaceutical sector are being asked to buy flags. Meanwhile, India's education ministry and its regulators are leaning on universities and schools to promote the  Har Ghar Tiranga  campaign — the pitch by Prime Minister Narendra Modi to get every home in the country to hoist the flag on August 15.
Demonstrative rituals can be powerful, but they are most effective when they are a means to an end. For instance, the success or failure of the worldwide decision by  sportspersons  to take the knee in protest against racism will be tested, for instance, by the impact the act makes (or does not make). In the case of the Indian government's campaign, however, the symbolism of flying the flag is itself the ultimate stated goal. There is no evidence to suggest that performing an act under peer pressure will make Indians more patriotic in a country  whose citizens, irrespective of caste or faith, have unquestionable pride in and respect for the Tricolour. Significantly, there is a vast body of research that has found, over the years, that flag-waving nationalism often ends up polarising society between those that participate in the act and others who do not. In a 1998 experiment in the United States of America, an American flag on the wall led to an increase in a sense of national superiority (nationalism) but not necessarily love for the country (patriotism).
This is important to remember at a time when national flags are increasingly falling prey to partisan politics. In Britain, the ruling Conservative Party is trying to fuel a national movement to fly the Union Jack from public spaces. In the US, the Stars and Stripes — once common outside the homes of many Americans of all political shades — is now increasingly associated with conservatism. And in India, the debate over the Har Ghar Tiranga campaign makes it clear that Mr Modi's Bharatiya Janata Party sees the drive as a vehicle to project itself as the fountainhead of nationalism in the country. Each individual or family has the right to decide to display a flag at home without the decision being interpreted as a test of their fealty to the nation. When the government prescribes flag-waving as a pill of patriotism, it is important to probe its intentions. India's Tricolour inspires respect and pride naturally. It must not be allowed to become a weapon to sow divisions and spread fear.