Summer exhibition at the Royal Academy
EYE ON ENGLAND | Duchess of Cornwall's favourite author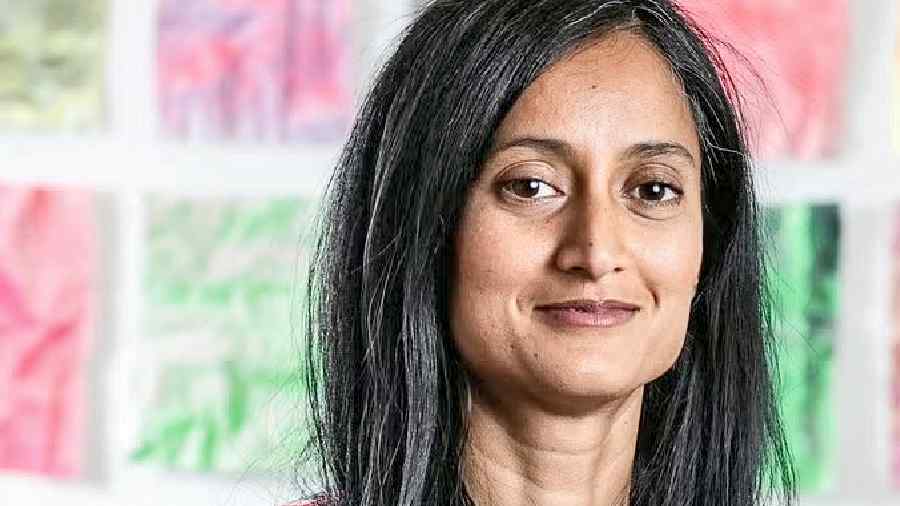 Rana Begum: Artistic vision
Sourced by The Telegraph
---
Published 25.06.22, 02:31 AM
|
---
Art and life
This year's Summer Exhibition at the Royal Academy, which has been going for 254 years — I have long argued that India should have something similar — focused on "climate". Of the 15,000 submissions, 1,400 artworks were selected by nine Royal Academicians, including the Bangladeshi-origin artist, Rana Begum. She invited the Bangladeshi artist, Marina Tabassum, to build Khudi Bari, a mobile modular house made from bamboo, metal joints, corrugated steel sheets and film. "What's amazing is how this construction can be flat packed and moved, depending on the way the landscape changes," Rana told me.  Also invited was the New York artist, Kathleen Ryan, to submit Bad Lemon, which is foam decorated on the surface with "aventurine, serpentine, agate, quartz, Ching Hai jade, red malachite, hematite, jasper, rose quartz, carnelian, onyx, mother of pearl, freshwater pearl, bone, acrylic, glass, and steel pins on coated polystyrene". The green represents the rotting part of the lemon, and also "what is happening with the planet in a way, doesn't it? It's so precious — and we're trying to find ways to save it," added Rana. I made a note of the British Asian artists — Ashwin Patel, Vikash Prabhat Patel, Piali Das Gupta and Jhuma Sharma Roy. The work by the Singh twins, Rabindra and Amrita, has been hung prominently by Grayson Perry, another committee member. 
Right choice
Camilla, the Duchess of Cornwall, has just revealed that Vikram Seth is her favourite author. Camilla, who will become Queen when her husband, Prince Charles, succeeds his 96-year-old mother to the throne, is known to be a bookworm. Her literary taste came out when she was recording a podcast looking at the poetry from all 54 Commonwealth countries with Gyles Brandreth, a well-known British broadcaster and witty after-dinner speaker. Camilla spoke of her travels across the Commonwealth and meeting book lovers in Lagos in Nigeria, before remarking being "in places like India, Pakistan, they are very special, so full of culture. Everywhere you go, there's something new and exciting to see". Brandreth enthused: "Well, in India, they're incredible book readers..." Camilla recalled her trips to India: "I've been lucky enough to see a lot of these wonderful old manuscripts and these illustrated books, you know, these ancient illustrated books, which are completely fasci- nating and, of course you've got so many good authors there. My favourite is Vikram Seth…" She appeared to be referring to Vikram Seth, the author, rather than the poet, although he is, of course, both. Apart from his novels, The Golden Gate (written in verse), A Suitable Boy (which has rhyming couplets) and An Equal Music, he has published eight collections of poetry. Camilla has probably seen Mira Nair's BBC TV adaptation of A Suitable Boy.
Popular voice
Shashi Tharoor is so impressive when promoting his books that I had to ask a Calcutta friend whether the author could become the prime minister one day. If Boris can, why can't Shashi? My friend steered me away from the idea: "He's prime ministerial material but doesn't have a mass following." Tharoor has been promoting The Struggle for India's Soul: Nationalism and the Fate of Democracy. He was given what few Indian authors are: a whole hour on LBC, a London radio station, by Iain Dale, its best presenter. For someone who has made his name by savaging the raj, first in his Oxford Union speech in May 2015 and then with his book, Inglorious Empire: What the British Did to India, Tharoor was surprisingly upbeat when Dale asked him: "How do you see the relationship between India and Britain at the moment?" Tharoor said: "At the moment, I would say it's not bad. It's had its downs as well as its ups." He was optimistic about negotiations for a UK-India free trade agreement, which he added were "moving along rather nicely".
Slice of history
Shashi Tharoor also appeared at the India Club, which is trying to fight off an eviction notice from its landlords, Marston Properties. I do wish the Indian government would step in and do everything possible to save the place because of its historic links from 1928 with VK Krishna Menon and the India League's fight for independence. Tharoor recalled his father, Chandran Tharoor, whose photograph hangs in the India Club: "Dad came here as a student. Krishna Menon took this young Malayali student under his wing. And my dad helped him: he (Krishna Menon) was really the moving spirit in creating a club where Indians could gather and feel at home. That is the spirit in which it was founded… it was already in the 50s, when the Indian population was miniscule, a significant gathering place. Now, of course, the Indian presence in London has come a long way. So you've really got a history of an Indian presence here."
Footnote
Ten Indian vineyards, a record number, took part in the prestigious London Wine Fair earlier this month. They are hopeful of marketing their wines through the 8,000-10,000 Indian restaurants in the UK. I was intrigued by the pomegranate fruit wine, Anarkali, brought by Pradeep and Omkar Pachpatil, father and son, from the 'boutique' family firm, Soma Vine Village.