Starved of support
State governments must consider allocating greater funds to sustain NLUs and improve their standards of independent research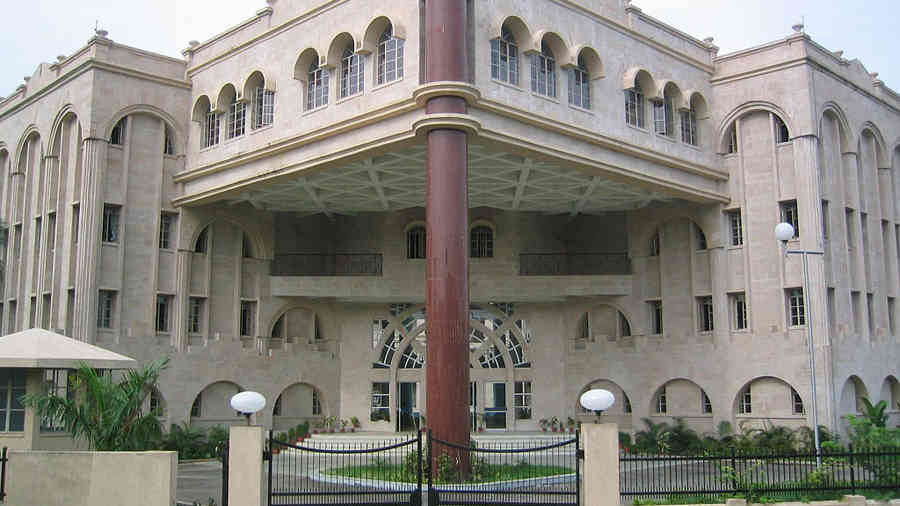 National University of Juridical Sciences, Calcutta.
Wikipedia
---
Published 22.10.21, 01:50 AM
|
---
On September 11, 2021, President Ram Nath Kovind laid the foundation stone of the Uttar Pradesh National Law University at Prayagraj. The total number of NLUs in India, including the UPNLU, is 24. These institutions were envisaged as a catalyst to set a new standard of legal education in the country. They have succeeded in this role to some extent. This reflects in the National Institutional Ranking Framework 2021. Six NLUs are among the top 10 institutions in law. However, there are numerous problems that confront these institutions.
NLUs get abysmally low grants from their respective states. For the academic year, 2020-21, NLSIU's funding was cut from Rs 2 crore to 50 lakh. Nalsar, Hyderabad receives state funding of about Rs 3.5-4 crore. However, this is followed by constant pressure to increase domicile reservation to an unacceptable 85 per cent from the current 20 per cent. The government grant for NUJS varies: there was no funding in 2011-12, 2013-14 and 2016-17. In 2015-16, it received Rs 40 lakh. NLU Jodhpur received Rs 50 lakh this academic year. It has since consented to a domicile reservation of 25 per cent, perhaps in the hope of receiving more capital grants. Only GNLU, Gandhinagar and NLU, Delhi are the outliers. GNLU received over Rs 10 crore, including grants from the UGC and other bodies. Similarly, NLUD got approximately Rs 10 crore from the Delhi government. NLUs have to rely on fees and funds collected during such entrance exams as CLAT and AILET. These funds are collected by the CLAT consortium and distributed among NLUs.
Low income affects the quality of education. These institutions rely on contractual employment and cannot sustain a permanent faculty. In 2020, NLSIU invited applications for permanent faculty after 12 years. Both issues can be resolved, to some extent, if salaries and allowances are taken care of.  
In order to be self-sufficient NLUs charge high fees. The fee, approximately, is Rs 2.5 lakh per annum. This leads to the exclusion of students from socially and economically weaker sections.
There is also the question of poor infrastructure. MNLU, Mumbai operated from the campus of the Tata Institute of Social Sciences for the first two years and now operates from the Centre for Excellence in Telecom Training and Management. Similarly, MPDNLU, Jabalpur and MNLU, Aurangabad function from campuses of other institutes. Around six NLUs witnessed protests: poor infrastructure formed a significant part of these protests. NLUs also lack disabled-friendly infrastructure and medical aid is substandard.
The NLUs were formed to groom professionals with a commitment to social justice, strengthen the Bar and the judiciary, and lift the standards of legal education. There is a need for immediate reforms. However, these would not be possible unless the institutions are provided adequate budgets. State governments must consider allocating greater funds to sustain NLUs and improve their standards of independent research. Instead of opening new NLUs, bettering the quality of the existing institutions should be the priority of governments.