Spreading the message of brotherhood
114 years ago, Hindus and Muslims tied rakhis on the wrists of one another as a sign of unity against the partition of Bengal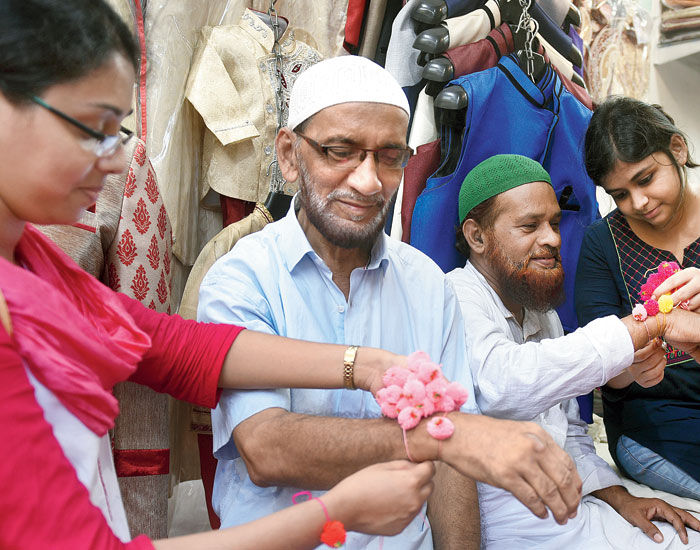 Could there be a better occasion for us to rise above religion and spread the message of brotherhood, especially during a year in which the festival coincides with Independence Day?
The Telegraph
---
Published 14.08.19, 08:39 AM
|
---
Sir — India will observe Raksha Bandhan tomorrow. Many women will presumably fast, praying for the long lives of their brothers. But given the restive political situation in India at present, one is reminded of how Rabindranath Tagore gave the festival a new meaning 114 years ago, when Hindus and Muslims tied rakhis on the wrists of one another as a sign of unity in the face of the partition of Bengal. Could there be a better occasion for us to rise above religion and spread the message of brotherhood, especially during a year in which the festival coincides with Independence Day?
Paramita Sarkar,
Calcutta
Speak louder
Sir — In his article, "Threats to speech" (Aug 3), Ramachandra Guha justifiably questions the pride we take in calling India the largest democracy in the world in spite of the ruthless manner in which dissent in the nation is quelled. This was recently seen when a group of film-makers and scholars, including Aparna Sen, Shyam Benegal and the author himself, wrote a letter to the prime minister, imploring him to ensure that the lynching of people from the Muslim, Dalit and other minority communities is stopped immediately, and it was met with a response branding the writers 'anti-nationals'. Shockingly, even a criminal complaint was filed in a Bihar court, charging some of the writers with sedition and other repressive sections of the Indian Penal Code. Ironically, the sedition clause was also used against Mahatma Gandhi, who vehemently advocated the scrapping of Section 124A, used by the colonial rulers to suppress the Indian freedom movement. Guha's disappointment at the judiciary entertaining such complaints is also understandable. Interestingly, no political party seems intent on having the sedition clause revoked, because it would, if given the opportunity, be happy to use it to muzzle protests against itself. The prime minister's own opinion on the matter is still awaited.
Jahar Saha,
Calcutta
Sir — When there is no freedom to dissent, freedom of expression ceases to exist. Although free speech has been guaranteed by the Constitution, there is no longer any assurance that one's freedom will not be snatched away soon after one speaks freely against the government or other powerful entities. The ideas of free thinkers and rationalists might seem offensive to some orthodox sections of society, but the former must stick to their stand. After all, it is not necessary for one idea to be wrong just because another is right. 
K. Pradeep,
Chennai
Sir — Ramachandra Guha has rightly pointed out that the ruling party at the Centre is intolerant in all respects. One must understand that the party is not synonymous with the country. In a democracy like ours, there is space for dissenting voices too. Clearly, the Bharatiya Janata Party wants Indians to be the sort who will praise the government unconditionally. Incidents of violence against minority communities, such as mob lynching, abound. However, if citizens raise their voice against these crimes, they are dubbed 'anti-national'. Now the BJP has passed a bill in Parliament which will help the government mark any dissenter a terrorist. But if India is truly a democracy, we shall certainly overcome these threats.
Tapomoy Ghosh,
Katwa, Burdwan
No cheating
Sir — It is heartening that a new consumer protection bill has been passed by Parliament ("Fine for ad bluster", Aug 7). The bill seeks to establish a central consumer protection authority to safeguard the rights of consumers against unfair and unethical trade practices which lure gullible people into buying substandard products. The new bill has specific provisions to enforce the recall, refund and return of products which are subsequently found to be inferior to the promised quality.
Since the advent of large-scale consumerism in the wake of liberalization, celebrities and other influential people have been endorsing products without really being concerned about their quality. Many Bollywood stars indulge in misleading promotions of products. Common people are easily persuaded to buy these items, even for considerable amounts of money, if they see their favourite celebrities endorsing them. Thereafter, they end up feeling cheated. The new bill may make the brand endorsers, along with the manufacturers, accountable for the misleading advertisements and liable to pay hefty penalties. This will surely act as a strong deterrent. One hopes that the endorsers will stop using gimmicks and falsehoods while marketing brands, and stick to ethical trade practices.
Srikanta Bhattacharjee,
Calcutta