Spotlight on Private Eye's wicked humour
Eye on England | This year's Hinduja Diwali party had the customary mix of senior politicians and captains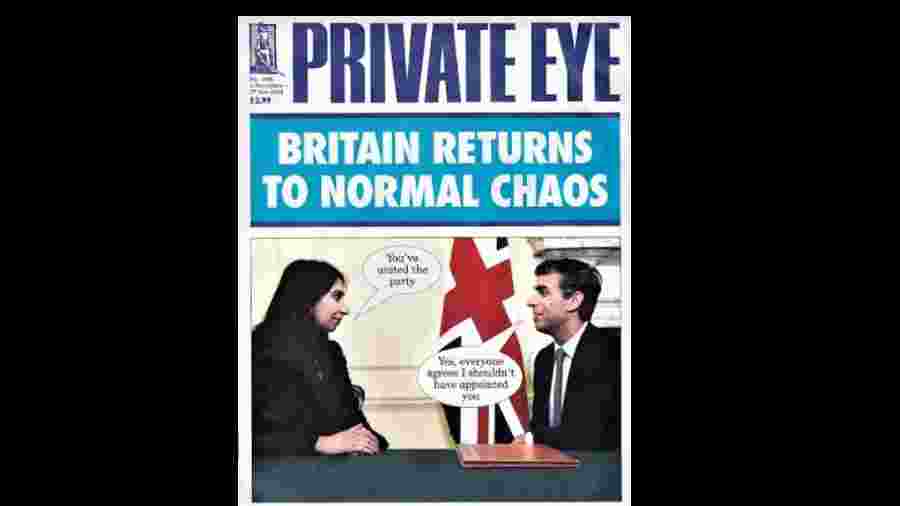 Humourous exchange?
Sourced by The Telegraph
---
Published 12.11.22, 04:10 AM
|
---
Wicked humour
Indians have arrived in British politics if Private Eye is anything to go by. In its 60 years, this is the first time the satirical magazine has featured two 'Indians' on its cover — the Punjabi prime minister, Rishi Sunak, and the Goan home secretary, Suella Braverman. There is so much about Sunak in the issue that it could easily become a collectors' item for Indians. Private Eye's wicked sense of humour appealed to Khushwant Singh. When he passed away at the age of 99 in 2014, his son, Rahul, said that his father's extensive Private Eye collection went to Vikram Seth at the author's request.
The section I always turn to first is the "Street of Shame", which informs me of the acts of omission and commission in the newspaper world. Another section, "Spectacular Reverse Ferrets", shows how the newspapers which crucified Sunak during the leadership contest now carry obsequious pieces about the new PM. The Daily Mail extolled Truss's "boldness, vision and strength of conviction" on August 3. But, on October 21, signalled the switch in allegiance: "Truss was a disastrous dalliance who served only to remind us what a real leader looks like." The Sun's front page hailed Truss on September 6, "The radical PM we need for this crisis," only to do an about turn on October 21, "After the historic fiasco of Liz Truss's fleeting but disastrous premiership, Britain is in dire need of genuine leadership and stability."
Celebrations continue
This year's Hinduja Diwali party had the customary mix of senior politicians and captains of industry. But the most important guest by far was Sir Clive Alderton, King Charles's private secretary. He strolled down The Mall from the Buckingham Palace to the Hinduja mansion in Carlton House Terrace, to be greeted by Gopi Hinduja, flanked by his brothers, Prakash and Ashok. The eldest, Srichand, who often invited me to walk with him in nearby St James's Park and watch him feed birds and squirrels at 6 am, was too ill to attend.
Thanking Gopi, "dear friend, dear neighbour" for his hospitality, Sir Clive was commendably brief: "All I wanted to do on behalf of His Majesty is to wish everyone in the room a very Happy Diwali. It is a community that the king has cared about for many, many years and spent a great deal of time and energy working in this country and around the world to bring communities together. And 'GP' has done that so brilliantly this evening, bringing so many different communities into this wonderful house. So again, on behalf of the king, I would simply say a very Happy Diwali to all." The Hindujas, among the richest in the land, gifted Sir Clive a silver statue of Lakshmi to pass on to the king.
Incidentally, when Rishi Sunak gave his first big interview to The Times, there was a statue of a Hindu deity on the PM's table in 10, Downing Street. From the back, it looked like either Lakshmi or Ganesh.
Top of the game
Apurv Bagri, the president and CEO of Metdist, the copper trading company, called me from Dubai, which, he said, had become a premier global hub for Indian businessmen because of liberal tax laws. The company was founded by his late father, Lord Raj Bagri, who began as a filing clerk in Calcutta where he was born. For an analysis of why so many big companies in the West are headed by Indians, I turned to Bagri, who is also chairman of governors of the prestigious London Business School.
"The thing about the Indian mind is that it is extremely good at multi-tasking, extremely good at managing complex, sometimes contradictory and conflicting challenges," said Bagri. "We can also use those same powers to destroy value as we use it to create value. They're also very good at trying to get our way round every single piece of legislation that exists. But, in general, I would say the reason all these companies are being run by Indians today is because Indians bring focus, discipline and understanding. You could say philosophically that our time has come. Some of it is coincidence. There will be peaks and troughs. But there is a growing appreciation about the talent pool that India has created."
Old loyalties
One thing about Boris Johnson that none can deny is that he is loyal to friends. The word is that in his resignation honours list, he is tipped to give peerage to the CoP-26 president, Alok Sharma, who supported his return as PM (before Boris pulled out). Rishi Sunak stripped Sharma of his cabinet rank and his ministerial position. Sharma has a slim majority of 4,117 in his Reading West constituency which is likely to be lost in the by-election that would result if he was elevated to the House of Lords.
Footnote
Indian stories are being adapted for the London stage. The latest that I saw at the Southwark Playhouse in south London is Noor by Azma Dar. Noor, played by Annice Boparai, tells the gripping tale of Noor-unNisa Inayat Khan (codename Madeleine), who was a wireless operator in Paris for Britain's Special Operations Executive during the Second World War. She was betrayed, captured by the Nazis and executed. Dar has projected her as a "Sufi Muslim heroine".