Spare a thought, and a sweater, for stray animals
The municipal authorities should take steps to shelter stray animals, at least in winter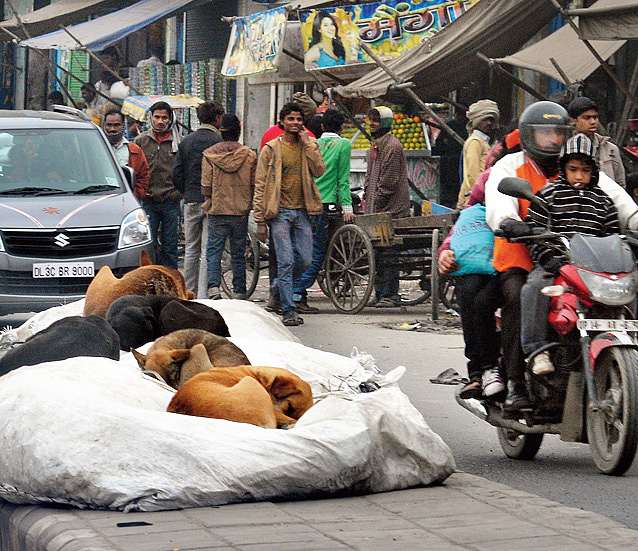 ---
---
Sir — Winters are hard for stray animals. It is not uncommon to see cats and dogs without shelter shivering on the streets during this time. Small gestures of compassion can go a long way towards protecting them from the cold. Old clothes, sweaters, blankets or even gunny sacks can help the animals weather the bitter cold. Another thing to keep in mind is that small strays often seek shelter underneath cars. Banging on the hood before starting the car gives them sufficient time to get out and can be life-saving. The municipal authorities, too, should take steps to shelter stray animals, at least during the cold season.

Shilpi Roy,
Calcutta
Caught unawares
Sir — The year will be ending on a sad note owing to the tsunami that claimed more than 400 lives in Indonesia. The seismic sea wave, which was probably caused by underwater landslides generated by the eruption of the Anak Krakatau volcano, also left thousands injured and damaged property, primarily on the islands of Java and Sumatra ("Volcano waves hit like 'bag of sand in a tub'", Dec 24).
In the days to come, when people around the world will be taking part in festivities, Indonesians will be mourning the loss of their dear ones and trying to rebuild their lives. One hopes that the world will not forget the plight of the Indonesians and extend all possible help in the efforts to get their lives back on track.
P.R. Bhattacharya,
Calcutta
Sir — Indonesia is surrounded by 127 active volcanoes and, as such, is no stranger to earthquakes and tsunamis. There have been two tsunamis just in the past four months. After the tsunami of 2004, when around 200,000 people either died or went missing, Indonesia had put in place precautionary systems and evacuation towers. But maintaining these is expensive business and they have since then fallen into disrepair.
The president of Indonesia, Joko Widodo, has now ordered the Meteorology, Climatology and Geological Agency of the country to purchase tsunami detectors. But these, too, will not come cheap or be easy to maintain. There is little point in taking such knee-jerk measures if there is
no plan to sustain it in the long run.
There is no denying that people become helpless before natural disasters of this scale. But promptness on the part of the government can minimize the loss of life and damage to property.
Saikat Sinha,
Calcutta
Sir — It is unfortunate that the volcanic activity in the Indonesian region killed more than 400 people and injured several thousands. In this time of distress, countries around the globe should come forward to help the people of Indonesia.
Anjum Hasan,
Calcutta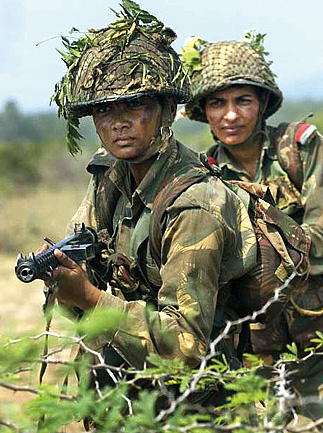 Battle for equality
Sir — It is shameful that while the other wings of the Indian armed forces have begun inducting women in combat roles, the Indian army is still stalling the process of deputing women in combat roles and also granting them permanent commission. The latter at least is under consideration following a directive from the Supreme Court.
Among the many hurdles cited in the path of women being assigned combative roles are culture shock, death in the line of duty and maternity leave. Are these genuine concerns or a way to veil the army's patriarchal mindset?
It is hard to comprehend how a disciplined force like the Indian army cannot train its personnel to respect and accept their commanding officer, irrespective of gender. What is worse, when Bipin Rawat spoke of death in the line of duty and maternity leaves, he reduced women to mere vessels for carrying children.
Motherhood may be a beautiful experience, but it is wrong to assume that all women want to become mothers. Even to a layman, it is easy to find loopholes in the problems cited by the army chief. It is time women, both within and outside the armed forces, raised their voices against such patriarchal diktats.
Teresa Sabu,
New Delhi
Sir — Bipin Rawat is known for shooting his mouth off. But this time he has crossed a line. If the comments quoted in the media are correct, Rawat should be forced to tender an unconditional apology for his sexist parochial statements. Rawat apparently said, "we have to cocoon her," adding that "she will say somebody is peeping, so we will have to give a sheet around her." Women in the armed forces, in the police service and even ordinary women across the country have shown that they can give as good as they get. 'Cocooning' a woman is just another tactic employed by men to keep her from achieving her potential.
The other bit is plain distasteful. First, it suggests that women can only be objects of desire and nothing more. It also puts the onus of what is, in essence, sexual assault on the women instead of punishing or checking the perpetrators. How, then, is he any different from the uneducated politician who says that women who wear certain kinds of clothes are responsible for their own rape? It also seems that Rawat has a very low opinion of his men. He thinks that they cannot work shoulder to shoulder with women without leching at them. The worst part is that this is not a problem for him, it is the women demanding their right that seems unsurmountable to Rawat. This is a shame.
Ranvijay Bindra,
Ludhiana