Sight, oversight: Assam floods 2020
The significant difference this year has been the global attention the calamity has generated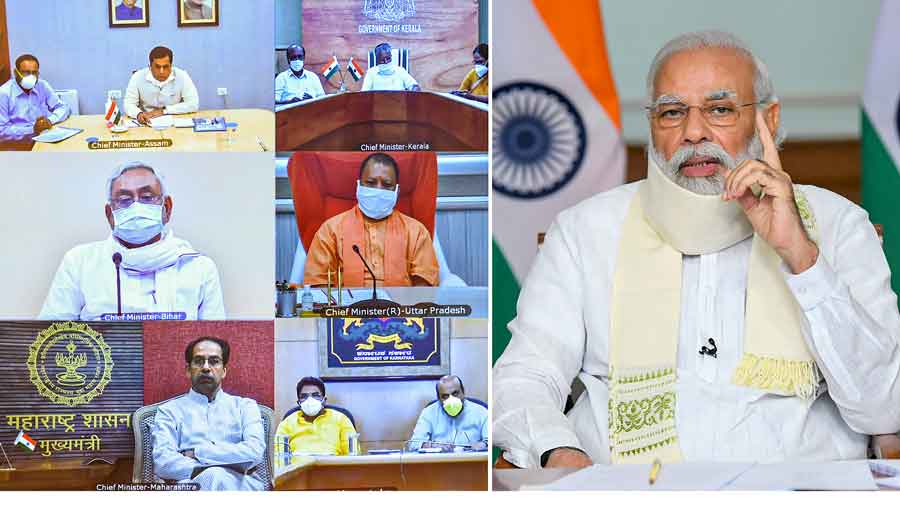 ---
---
The prime minister, Narendra Modi, presided over a virtual "flood meeting" on August 10. He released 386 crore rupees for relief in Assam, where the deluge is an annual calamity that affects lakhs of people and renders thousands homeless. Coming amid the Covid-19 pandemic, this year has been exceptionally traumatic, leaving over 135 residents dead and more than 150 animals killed.
My first experience of the floods in Assam was during summer in the late Seventies. My uncle, a tea planter, was travelling from the north bank of the Brahmaputra to Golaghat to meet his environmentalist friend, Robin Banerjee, and took us along. It was a long road trip and my aunt stopped at a roadside haat to pick up fresh produce, including bananas and vegetables. Shortly thereafter, we ran into floodwaters that grew increasingly difficult to navigate. The thought of turning back after coming so far incensed my uncle so much that he took the bunch of bananas and threw them into the swirling waters, laying the blame on the fruit that is considered an ill omen for journeys!
Since then, I have followed the annual flood scenario with an acute sense of déjà vu and helplessness. Governments promise remedies but none work. Whatever happened to the highlands created at Kaziranga National Park to save the animals from drowning?
The significant difference this year has been the global attention the floods have generated. England's Premier League football team, Arsenal, took to Instagram to express solidarity with Assam, reeling under floods and Covid-19. "We are with you... Stay strong, Assam," it said. Rivals, Chelsea FC, followed suit. "Our thoughts are with everyone affected by the floods in Assam," the London club said in a Facebook post the next day.
The actor, Adil Hussain, immediately took to Twitter to highlight the lack of concern shown towards the floods in Assam, his home state. "Arsenal FC stands with Assamese People. I don't understand why, then, our Celebrities, Mainstream Media, Cricket Stars are not raising their voices in support of Assamese people! So disappointed with you all," he tweeted.
Tripura's royal scion and former Congress leader, Pradyot Kishore Manikya Debbarma, echoed his sentiments. "It's unfortunate. We in the Northeast should become atmanirbhar," he told me. The barbs galvanized a few into action, even as international attention grew.
Teenaged Swedish climate activist, Greta Thunberg, donated one lakh euros (around Rs 8.7 crore) she had received for winning the Gulbenkian Prize for Humanity to flood relief efforts in India and Bangladesh.
On July 28, the actor, Priyanka Chopra Jonas, and her husband and pop star, Nick Jonas, announced they had donated funds for Bihar and Assam flood relief and urged fans to extend support to the disaster-stricken states. Priyanka, who was brand ambassador for Assam from 2016 to 2019, said the state has been "devastated" by floods. "The rapidly rising water level has also flooded the Kaziranga National Park, one of the finest wildlife sanctuaries in the world... They need our attention and support... Nick and I have made a donation to each. Let us support them so they can continue to help those in need. #Assamfloods #PrayForAssam #AssamNeedsHelp," Priyanka said in a statement.
Prince William and his wife, Kate Middleton, too, expressed distress over the devastation in Kaziranga. In a letter to the park's director, the Duke and Duchess of Cambridge said they were heartbroken.
The actor and producer, Anushka Sharma, and the skipper of the Indian cricket team, Virat Kohli, also pledged support to the people of flood-ravaged Assam and Bihar. The Dalai Lama, in a letter to Assam's chief minister, Sarbananda Sonowal, expressed sadness over the floods.
Modi has announced two lakh rupees for each flood death. Time for their customary aerial survey, perhaps, now that the waters are receding and Lord Ram has been propitiated? Or should that be virtual too?