Selective memory: 1971 war
It's also time to reflect how India once embraced some of the planet's most vulnerable people in their hour of need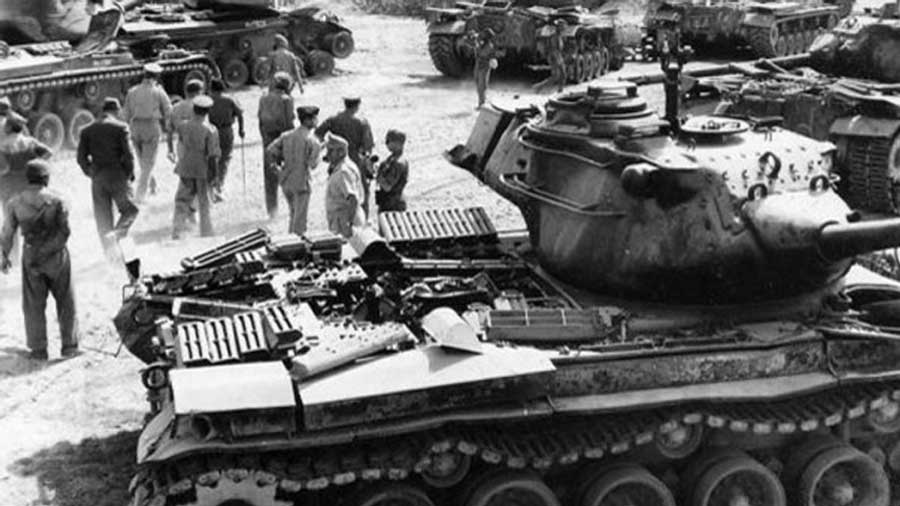 Indian troops during the 1971 war.
File photo
---
Published 29.12.21, 01:54 AM
|
---
Earlier this month, the Indian subcontinent marked the 50th anniversary of one of its most dramatic and pivotal moments: the 1971 war and the creation of Bangladesh. For many Indian politicians and military veterans, this was an occasion to relive the defeat of Pakistan. For Bangladeshis, it was a moment to savour, while remembering the sacrifices of so many.
Yet, amidst the celebratory drumbeat focused on a war that India won comprehensively, a central feature of New Delhi's approach to the crisis to its east has largely been ignored, at a time when that legacy is more relevant than ever.
As Pakistan's army and violent militias led a genocide in what was then East Pakistan in order to crush a growing movement for independence, India opened its arms. The United Nations estimates that 10 million refugees crossed over. India didn't have much to offer them — it was a poor country with a GDP that, at $67 billion, was not even 3 per cent of what it is today. For context, India's two richest men, Mukesh Ambani ($89 billion) and Gautam Adani ($77 billion), are each worth more today. Yet, across the country, communities collected blankets, clothes, medicines and food that were sent to refugees to help them tide over a bitter winter.
Fifty years later, an India that is quick to claim the legacy of 1971 is simultaneously crafting a new and very different chapter in its approach to crises in the neighbourhood. Last week, the foreign secretary, Harsh Vardhan Shringla, visited Myanmar for what was New Delhi's most direct diplomatic tête-à-tête with the Southeast Asian nation's military junta since the coup in February.  
Shringla made it clear to the Myanmar government that it favoured a rapid return to democracy. He urged the military regime to free political prisoners, including the Nobel laureate, Aung San Suu Kyi, whose party had just been re-elected to office when the generals decided they wanted to return to power. In a neighbourly gesture, Shringla offered a million doses of Indian-made Covid-19 vaccines to Myanmar.
But a centrepiece of his conversations in Myanmar with top leaders — including the coup leader, General Min Aung Hlaing — was India's concern about the porous border between the two nations. In November, an Indian colonel, his wife and their eight-year-old son were killed by militants who had infiltrated from Myanmar. A flood of refugees has entered India since February, as the Myanmar military targeted groups and individuals that were challenging its rule. New Delhi, which earlier this year asked India's northeastern states to crack down on illegal migration from Myanmar, wants the junta to help stop the flow of people across the border.
Separately, India has witnessed a crush of requests for visas from Afghans looking to escape the Taliban since the militant group's power grab in Kabul in August. But it has largely avoided issuing visas to desperate Afghans — even those who have studied and trained in India.
Over the past four years, India has also tried to expel Rohingya refugees back to Myanmar, a country where their existence is under threat. And, of course, the controversial Citizenship (Amendment) Act imposes, for the first time, a religious test on those migrants seeking Indian nationality expeditiously.
To be sure, it is easy to look back at 1971 with rose-tinted glasses, when, in fact, it was a traumatic time for millions of Bangladeshis whose arrival in India also placed this country's resources under immense stress. Sacrifices were made. It is also true that the presence of Bangladeshi refugees in India has over the past half century stoked multiple political challenges — such as the agitation against outsiders in Assam. It is indeed important for India to curb illegal migration. Yet, any true remembrance of the events of that year would be incomplete without reflecting on how the world's largest democracy once embraced — instead of turning away — some of the planet's most vulnerable people in their hour of need.
To forget that is to memorialize 1971 selectively. As we bask in the glory of India's decisive leadership 50 years ago, it's worth asking: would we be as proud today if we had shut our borders to millions escaping death — as we are doing now?
Charu Sudan Kasturi is a senior journalist who writes on foreign policy and international relations