A democratic State against its own people
Profiles of those charged with sedition show the type of people that governments, usually led by the BJP, wish to muffle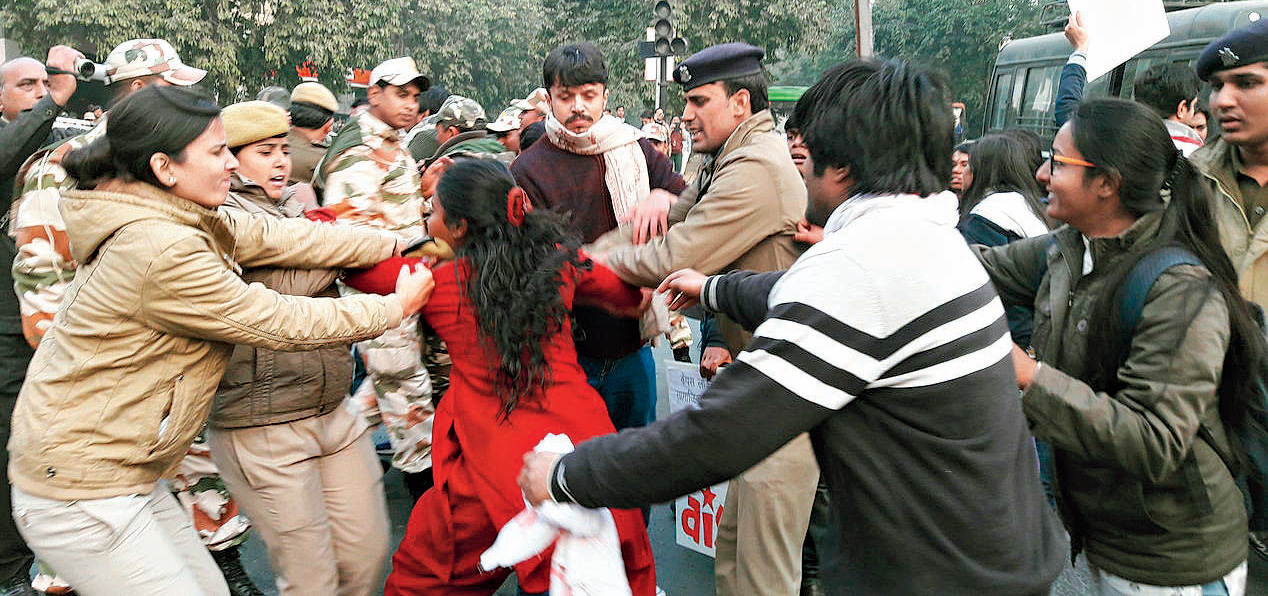 Protest at Jawaharlal Nehru University, New Delhi. The Supreme Court made clear in 1962 that without inciting violence against the State, no one can be considered seditious, but that does not deter politicians when they want to silence dissenters.
The Telegraph picture
---
Published 18.01.19, 03:25 AM
|
---
Sedition is blossoming in India. Or so the state and Central governments would have people believe. The law against sedition was formulated by India's imperial rulers to keep their subjects under control. It does not say much about successive elected governments in independent India that this law, enshrined in Section 124A of the Indian Penal Code, continues to exist unchanged, although Britain withdrew its own law against sedition in 1977. Since the phrasing of Section 124A is vague enough to allow the State to arrest anyone expressing criticism of and dissent with the government, the Supreme Court made clear in 1962 that without inciting violence against the State, no one can be considered seditious.
This does not deter Indian politicians when they want to silence dissenters. Arrests under Section 124A have burgeoned since 2014, although Binayak Sen, a critic of the Chhattisgarh government's violent policies, was arrested in 2007 for allegedly carrying letters from one Naxalite accused to another, which was construed as conspiring to overthrow the State. The Supreme Court granted him bail, while reportedly stating that sympathy for Naxalites, if that occurs, is not sedition. Sedition charges have now been framed against Kanhaiya Kumar and nine others, a few from Kashmir, accused of supporting terrorists and raising "anti-India" slogans at a meeting in Jawaharlal Nehru University almost three years ago. Although two former Akhil Bharatiya Vidyarthi Parishad members have claimed that this was a frame-up, the police reportedly have video footage of the slogans and letters indicating conspiracy. Letters of conspiracy between those accused under various heads, as in the case of the activists, teachers, journalists,writers and lawyers arrested for allegedly inciting the Bhima-Koregaon violence in 2018, seem to be regularly wending their way to the police. The techniques of repression lack originality, but the State keeps on pretending to implement the law in defiance of the Supreme Court's interpretation of it. Hiren Gohain, the well-known writer and critic, was charged with sedition with two other activists in Assam last week for protesting against the citizenship amendment bill, 2016 that is based on sectarian discrimination. The profiles of those charged indicate the type of people which governments, usually led by the Bharatiya Janata Party, wish to muffle. In 2014, 55 people were arrested for sedition, in 2015, 73 and in 2016, 33. Such lawless use of the law is truly dangerous. A democratic State is fighting its own people.