Break the silence
Sir — At long last, the silence around sexual misconduct towards women has been broken. Patriarchy has enabled the abuse of women under any pretext. Men around the world, from industries such as entertainment, journalism and, in the United States of America, even the judiciary, have been accused of this offence.
People occupying high positions in organizations often enjoy immunity because survivors do not file complaints against them for fear of further harassment, ignominy or losing their jobs. Even if they do lodge a complaint with the police, they face a barrage of embarrassing questions, along with having to disclose their identities.
Ironically, accusers are seldom supported by their colleagues, and they have to fight their battles alone. So they speak out later, when they are not bound by these compulsions any more. Only a few women, with exceptional courage, speak up instantaneously. The situation is even more dismal for women working in the unorganized sector.
In this context, the MeToo movement, which originated in the US last year, has played an important role in encouraging women in India to protest against harassment. It began with the list made by a law student, Raya Sarkar, naming more than 50 academics who allegedly sexually harassed women, and gathered greater momentum recently with the allegations made by the Bollywood actor, Tanushree Dutta, against her colleague, Nana Patekar.
Following that, several others have come forward to reveal their ordeals with respect to sexual exploitation at workplaces on social media. However, most of these charges have not been followed up with legal action. If these crimes are to be stopped, revelations on social media will not suffice. The movement will gain full credence only if sexual predators are brought to book at the earliest and on the basis of substantial proof. Vilification should not be the modus operandi of the movement.
Chanchal Nandy,
Burdwan
Sir — With the MeToo campaign in the limelight, people are finally getting an inkling of the adversities that women face in our apparently progressive society when it comes to working on equal terms with their male counterparts. Some people claim that women have it easy in the world, with privileges such as reserved seats on public transport. Such statements are illogical. For every tiny 'advantage' that women get, they have to overcome a thousand hurdles: from conservative families limiting their hours outside the house to companies whose recruitment policies are biased against women.
Now it has become evident that a large number of women have faced sexual harassment in the workplace, and, in most cases, have had to put up with it for the sake of keeping the job. It is time that we stopped pretending that women enjoy the same opportunities and freedom in the workplace as men do, and address the various issues that create this inequality. For this, a fundamental change in the societal mindset is required. All employees should remain alert to behaviour that is inappropriate.
Aishi Bhattacharjee,
Calcutta
Sir — The MeToo campaign in India is an intrepid movement where women are coming out and raising their voices against the sexual harassment that they faced, mostly in their professional lives. This has caused a sense of fear among sexual predators who had been dismissive of the courage of women and the power of social media for so long. Such movements should be promoted on a wide scale and with honesty.
It is a matter of shame that women continue to be exploited in a civilized society. For example, in the film industry, even if they are projected in a respectful light on screen, the reality behind
the curtains is quite different. One should appreciate women like Tanushree Dutta who are speaking up against the harassment they endured. The authorities should investigate all cases with utmost care. Offenders should be given exemplary punishment if such crimes are to be curbed.
M.U. Qasmi,
Mumbai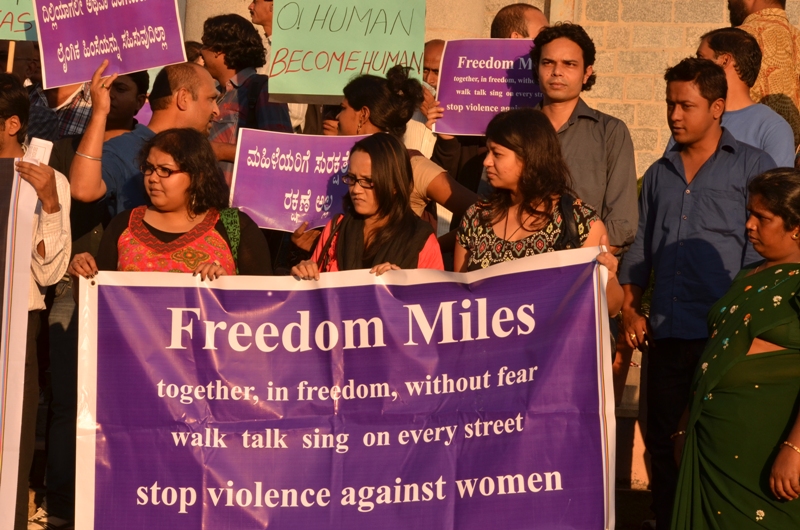 File picture of a protest in Bangalore Jim Ankan Deka / Wikipedia
Sir — India was once a land of famous court jesters who were respected even by kings. While Raja Birbal was made an adviser by the emperor, Akbar, the title of Vikatakavi was bestowed on Tenali Ramakrishna by Krishnadevaraya of the Vijayanagara empire. Even medieval Bengal celebrated Gopal Bhar. But now, cartoonists and comedians are harshly criticized for drawing people's attention to social issues. Political parties even try to get bans imposed on jokes. If cartoonists such as R.K. Laxman and Shankar were around today, would they be honoured or hounded?
H.N. Ramakrishna,
Bangalore