Sands shift: UAE-Israel bilateral ties
The word is that Bahrain and Oman could be the next in line to bury the hatchet with Israel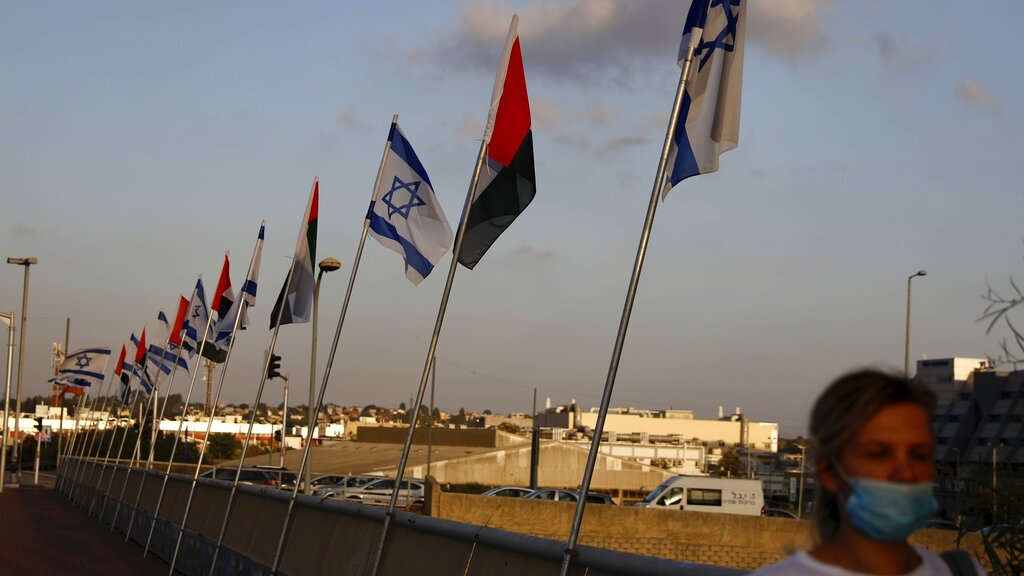 A woman wearing a face mask against the coronavirus walks past United Arab Emirates and Israeli flags at the Peace Bridge in Netanya, Israel, Sunday, Aug. 16, 2020.
AP Photo/Ariel Schalit
---
Published 19.08.20, 03:07 AM
|
---
A telephone call, under ordinary circumstances, is mundane. But this is not the case when telephone lines between the United Arab Emirates and Israel come to life. The buzzing network could be a testament to the commitment of the UAE and Israel to normalize bilateral ties. The thaw seems promising, at least on paper. The crown prince of the UAE has stated that the historic rapprochement — the UAE is only the third Arab nation to have inked a deal with Israel — implies that Israel would halt its plan of further annexation of the West Bank. Benjamin Netanyahu, the Israeli prime minister, is seemingly amenable to a 'provisional' suspension. If the agreement lasts, it would strengthen Abu Dhabi's claim on the pole position in the Arab world hierarchy. Israel, too, would benefit from a toehold in UAE's security and economic segments. If it plays its hand well, Tel Aviv could even hope that the partnership with Abu Dhabi would cement a broader peace deal for the Middle East. The president of the United States of America, Donald Trump, who helped broker the agreement, has, predictably, made a lot out of it. This perhaps has something to do with the momentum that has already been generated. The word is that Bahrain and Oman could be the next in line to bury the hatchet with Israel.
But there are significant impediments that remain. Iran, Turkey and Syria have expressed outrage while the Hamas — it has a strong presence in the West Bank — has described the deal as a betrayal. Moreover it would be naïve to argue that the accord is an example of altruism triumphing cold diplomacy. This is because the stakeholders in the deal are equally desperate to consolidate their individual agenda. Mr Trump, facing tough presidential re-election, is keen to project the deal as a rare example of success in US foreign policy under his watch. It remains to be seen whether the US, beset by a raging pandemic and plunging economic prospects, is willing to remain interested in Middle Eastern intrigues. Israel and the UAE also have a common axe to grind: Iran. Tehran's alleged expansionism has been a source of concern for both Abu Dhabi and Tel Aviv. New Delhi should follow the developments closely. The UAE-Israel bonhomie could be used to leverage India's strategic, economic and security interests.