Sage advice
EYE ON ENGLAND | Bappi Lahiri's song for the Queen, Boris Johnson's appeal in Russian, Rishi Sunak and Partygate scandal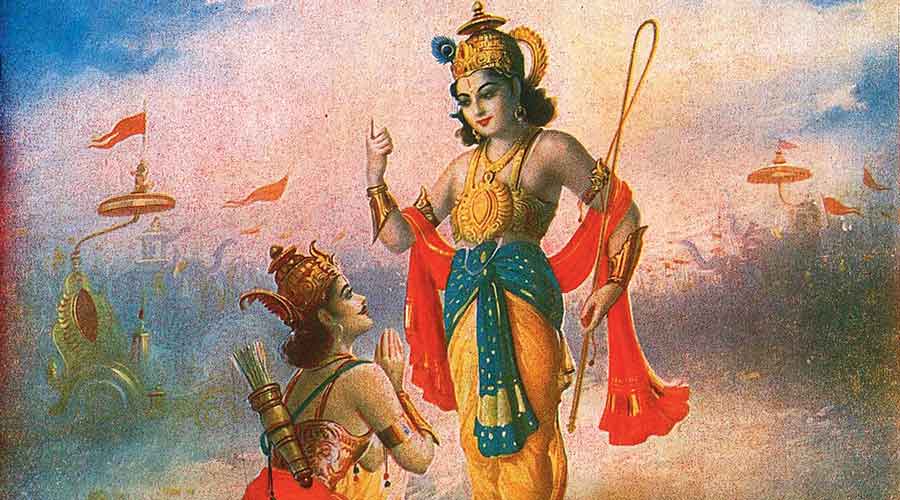 An illustration from The Bhagavad Gita.
Wikimedia Commons
---
Published 05.03.22, 01:03 AM
|
---
 As the Russian president, Vladimir Putin, unleashed a brutal war against Ukraine, the Vaishnava Hindu theologian, Akhandadhi Das, cited the discourse between Krishna and Arjun and urged Boris Johnson and other NATO leaders to look to the Bhagavad Gita for wisdom. Das — formerly Martin Fleming from Belfast — was speaking on the "Thought for the Day" slot on BBC Radio 4's Today programme.
 
"Although dating back several thousand years the context in which Hinduism's Bhagavad Gita was first spoken, is strikingly similar," Das told listeners. "Set on a battlefield there, we find the military leader Arjun distraught, seeing the opposition so determined for war, with no regard for the inevitable loss of life and destruction of society. Arjun's heart is shattered, for he can discern no clear way forward," Das continued. "He turns to his friend and mentor Krishna, who explains, 'This is not the state of mind in which to make decisions or respond to such crisis.' Krishna offers an analysis of a dictator's mindset, arising from their pride and ego. Just as his opponent may be irrationally driven by fears and ambitions, so Arjun's preoccupation with its own emotions might also cause him to respond feebly, or with even worse consequences. Krishna coaches Arjun, not just to return to his previous mental fortitude, but to adopt higher characteristics of wisdom."

Das concluded: "The ramifications of President Putin's action will ripple throughout Europe... NATO countries face enormous challenges in responding to this crisis. So I pray that their decisions may not compound the irrationality." In other words, should the west impose a no fly zone over Ukraine — and risk escalating the conflict with Putin? Or take no further action, and thereby encourage a greater war?

Royal mail
 With everything that is going on in Ukraine, I mustn't forget the late Bappi Lahiri. In the summer of 2013, he called me, breathless with excitement, from the St James Court Hotel in London and offered me a "scoop". He had written and recorded a song, "Long Live Our Queen", to mark the 60th anniversary of Elizabeth II's coronation — and sent her a CD. At his hotel, Lahiri performed the song, which he had also offered to sing before the Queen, for me.

What surprised me was that he received a kind reply, written by Jennie Vine, the monarch's deputy correspondence co-ordinator, on embossed Buckingham Palace notepaper: "The Queen has asked me to thank you for your letter... Your thoughtfulness in offering to perform your song personally for Her Majesty is very much appreciated, but I am afraid that it will not be possible to take up your very kind suggestion. I am to say, however, that The Queen has been greatly supported by the loyalty and affection she has been shown throughout her long reign, and I am to thank you for your good wishes which Her Majesty greatly appreciates."


Potent words
 With Europe at war, I have gone back to my copy of Philip Knightley's The First Casualty: From the Crimea to Vietnam — The War Correspondent as a Hero, Propagandist and Myth Maker. Poland, now very much on the frontline, was once part of my beat. "Where are you from?" a taxi driver at Warsaw airport asked me. "India," I said. "In that case," he shook his head, "you won't tell the truth about Russia." Today, social media is very much part of the propaganda war. While Vladimir Putin issued a clumsy call, urging Ukrainian soldiers to overthrow their government, Boris Johnson has been more sophisticated. The British prime minister posted a video, telling the people of Russia in their language: "I do not believe this war is in your name." 
Johnson's Russian seemed pretty fluent. His words may also strike a chord. It was the 'body bag count' that ultimately forced the Soviet Union to withdraw from Afghanistan in 1989. It is estimated that 15,000 of its soldiers were killed, and 35,000 wounded in Afghanistan.

Mister Clean
 Those backing candidates other than the chancellor of the exchequer, Rishi Sunak, for PM are getting worried. They leaked a story that Sunak, who does not drink, has received a questionnaire from the police quizzing him about a party with the PM held in the cabinet room at 10, Downing Street on June 19, 2020. No one seriously expects Sunak to be fined — he has a clean image — but this is the first time the chancellor has been drawn into the Partygate scandal.

The Daily Telegraph reported: "Tory MPs have said that if Mr Johnson is found to have broken the rules set by his own Government, he should resign. The same may apply to Mr Sunak, damaging his chances in any future Conservative leadership race. The Chancellor is considered one of the two frontrunners to replace Mr Johnson, alongside Liz Truss, the Foreign Secretary."
Footnote
 Russian oligarchs such as the Chelsea Football Club owner, Roman Abramovich, are currently under the cosh. But in London, an exception may be made for the peer, Evgeny Alexandrovich Lebedev, who owns the Evening Standard and The Independent — and backs the Tories. He had a pet wolf called Boris, named after the former Russian president, Boris Yeltsin. Evgeny's father, Alexander Lebedev, was once a KGB officer.