Row over US Supreme Court's verdict on abortion
AMERICAN DIARIES: 12-foot-tall puppet arriving in New York City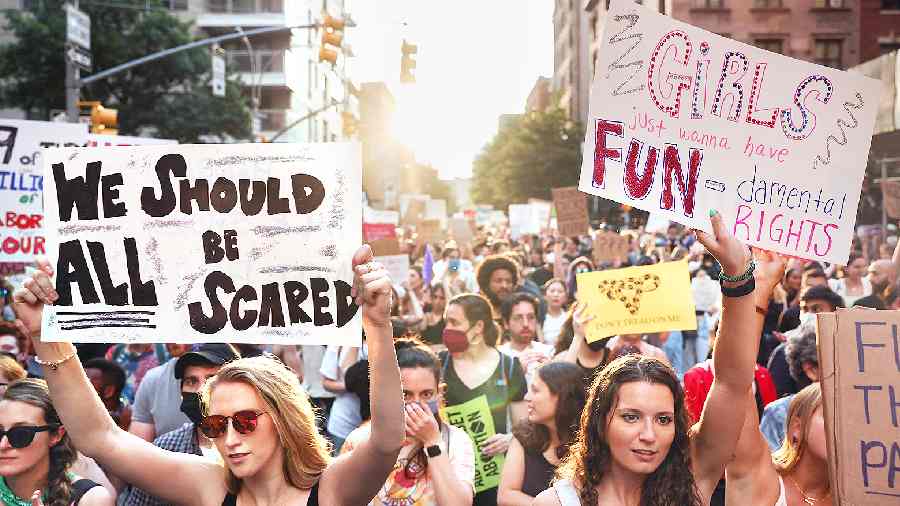 California and Washington, DC have indicated that they intend to protect the right to access to safe abortion of non-residents.
File picture
---
Published 02.07.22, 02:37 AM
|
---
In crisis
Last week, the Supreme Court of the United States of America decided to overturn Roe vs Wade, a landmark judgment that legalised abortion in the country. Now, the right to legislate on abortion laws has shifted to the state governments and several Republican-led states have outright banned abortion, for some even in cases of rape and incest. 
California and Washington, DC have indicated that they intend to protect the right to access to safe abortion of non-residents. Planned Parenthood, the 106-yearold non-profit organisation that provides reproductive healthcare including abortion services, has already started filing lawsuits in some states.  Thousands of people took to the streets across the country, including those who are protesting the court's decision as well as anti-abortion activists. In Washington, DC, crowds gathered outside the Supreme Court; in New York City people took to Washington Square Park and Union Square; in Philadelphia people assembled outside the City Hall; and in other states people protested outside government buildings. The NYC Pride Parade that was held on June 26 called attention to abortion rights, with Planned Parenthood leading the march. 
Tough job
A 12-foot-tall puppet named Amal is coming to NYC this September after travelling the world. The giant puppet is of a 10-year- old Syrian refugee girl — she is based on a character in the OffBroadway play, The Jungle. Amal has travelled over 5,000 miles in Europe and will come to visit the five boroughs in NYC, ending the journey at the Statue of Liberty. She is meant to symbolise international human rights, specifically highlighting the hardships faced by refugees.  According to The New York Times, Amal, who was designed by a puppet company based out of South Africa, is operated by a total of three people (including one person on stilts). Her arms and body are created with bamboo canes, making her very fragile and difficult to travel with.  During the world tour, Amal has 'met' civic leaders, people in migrant camps, children in Ukraine fleeing the border, and even the Pope. In NYC, the puppet will visit the Brooklyn Academy of Music, Lincoln Center and the Classical Theater of Harlem, among other locations. The visit, which has a budget of $1 million, is set to end in early October.  Amal recently began her tour of the United Kingdom which coincided with World Refugee Week. She aims to spread awareness about the refugee crisis and provide messages of resilience and hope.
Stiff competition
The 146th Westminster Kennel Club Dog Show took place last week on an estate in Tarrytown, New York. It is the second-oldest continuously-running sporting event in the US, after the Kentucky Derby. Over 200 different breeds of dogs compete for the title of 'Best in Show'.  The dogs are closely scrutinised by the judges during the televised event. This year, the crown went to a four-year-old Bloodhound named Trumpet. This is the first time that a Bloodhound received the top prize. The largest Westminster entries by breed were Golden Retrievers (70), Labrador Retrievers (49), Pugs (46), Rhodesian Ridgebacks (43), and French Bulldogs (41).  The first show was hosted in 1877 at Gilmore's Garden — it is now known as Madison Square Garden — in NYC, which was attended by 1,200 dogs. As mentioned on the club's website, "The dog show has survived power outages, snowstorms, a national depression, two World Wars and a tugboat strike that threatened to shut down the city..."
Food for thought
It seems that discussing art and culture over steaming bowls of curry is the perfect way to spend an afternoon at a museum for some people. Now, you can do so at the Wrightwood659 museum in Chicago as part of the exhibition, Rirkrit Tiravanija: (who's afraid of red, yellow, and green), by the Thai artist, Rirkrit Tiravanija.  Three different types of Thai curry will be served everyday during lunchtime at the exhibition; visitors are encouraged to grab a bowl and then enjoy and discuss the art. The art installation itself consists of murals depicting scenes from various protests that have happened in the US — Black Lives Matter and Black Panther rallies, among others — alongside scenes of Thailand's own anti-government protests in 2009. The installation was first presented at the Hirshhorn Museum and Sculpture Garden in Washington, DC, which has loaned the exhibit to Chicago.  Tiravanija is known for his unorthodox work, challenging the preconceptions of how a museum space should be used. In 1989, he first presented his work as part of a show in New York that displayed the remnants of a Thai green curry-based meal. His goal is to allow people to converse socially and openly interact with art by breaking down barriers through food. 
Footnote
If you have thought about building a house, you may just be able to get $100,000 for it if the idea is weird enough. Airbnb has launched a programme where you can win this sum out of a $10 million pool if you can create the most ridiculous house ever that can find a spot in its 'OMG!' category under home types in the website. People can submit their ideas till July 22 on the OMG! Fund page. Each entry will be judged by a group of four experts, with backgrounds in architecture, interior design and other creative fields.