Letters to the editor: repercussions of global warming are being felt across the globe
Readers write in from Bengaluru, Chennai, Ujjain, Mumbai and Calcutta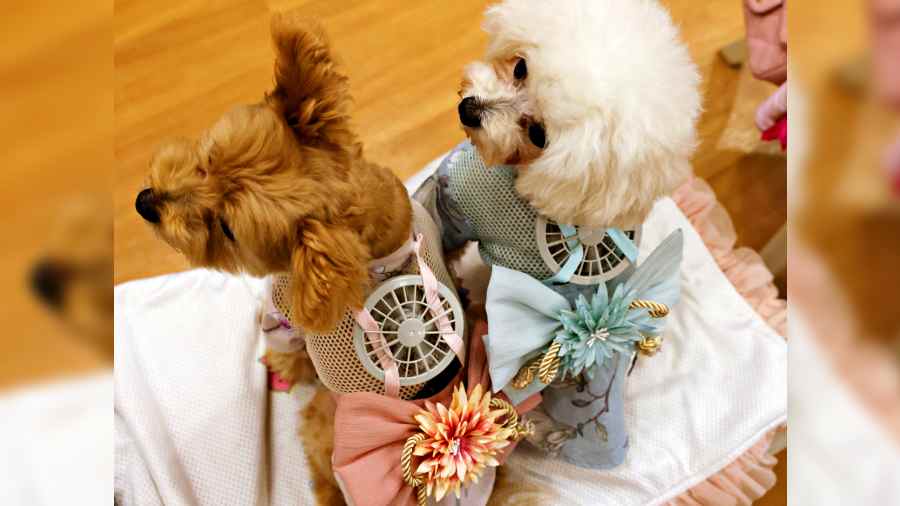 ---
Published 03.08.22, 04:28 AM
|
---
Simple steps
Sir — The repercussions of global warming are being felt across the globe. As unprecedented heatwaves sweep across countries that have historically experienced mild summers, people are trying to find ways to keep themselves cool. But what about our four-legged friends? Reports indicate that many animals have died because of the heat. A company in Japan has thus come up with wearable fans for pets — the device comprises a breathable mesh outfit with a battery-operated fan attached to it. However, providing relief to animals, especially strays, during the summer need not be expensive or complicated. People in tropical countries provide drinking water and cool, accessible places for stray animals to rest during summers. Even small gestures can save many lives. 
Antara Moitra,  Calcutta
Careless word
Sir — The Delhi High Court has concluded that neither the Union minister of women and child development, Smriti Irani, nor her daughter, Zoish Irani, owns the Silly Souls Cafe & Bar in Goa. It seems like the charges levelled against them by Congress leaders were baseless. The court has directed Jairam Ramesh, Pawan Khera and Netta D'Souza to remove their posts on social media pertaining to the allegation.
While it is crucial that the Opposition holds Bharatiya Janata Party leaders accountable for their missteps, false allegations will only erode the former's credibility. Smriti Irani has now filed a defamation suit against Ramesh, Khera and D'Souza. This will add to the woes of the Congress. 
K.V. Seetharamaiah,  Bengaluru
Sir — The Congress should have thoroughly investigated whether Smriti Irani or her daughter owns the Silly Souls Cafe & Bar before accusing them of financial misdealings. The verdict of the Delhi High Court has put the Congress in a tough spot. Hopefully, the courts will take appropriate action against Congress leaders for wilful defamation. 
N. Mahadevan,  Chennai
Long wait
Sir — More than one lakh crore rupees of around 13 crore investors have been stuck for years with several Sahara India entities. The Securities and Exchange Board of India has been able to return an aggregate amount of Rs 138.07 crores so far. A sum of more than Rs 47,000 crore is stranded with Sahara Credit Cooperative Society Limited and over Rs 19,000 crore with Sahara India Real Estate Corporation Limited. The bondholders of SIRECL and Sahara Housing Investment Corporation Limited were advised to apply to Sebi for a refund but many are yet to receive their dues.
The refund process for Sahara India has been moving at a snail's pace. While replying to a query during the monsoon session of the Lok Sabha, the minister of state for finance, Pankaj Chaudhary, outlined the amount that has been paid and the sum still due to the stakeholders. It was a relief to hear that the government is trying its best to ensure that Sahara India returns the money owed to the investors in full. 
Divya Rana, Ujjain
Tragic end
Sir — At least eight people lost their lives after a massive fire broke out at a private hospital in Jabalpur in Madhya Pradesh. Several people were injured during the incident — some of them critically — and have been shifted to a nearby hospital. All patients admitted to the hospital have been evacuated.
Preliminary investigation indicates that the fire was caused by a short circuit. The chief minister of Madhya Pradesh, Shivraj Singh Chouhan, has directed the authorities to investigate and take appropriate action against the guilty. It is shocking that a fire broke out in a hospital that started functioning only in January 2021. This raises several questions about whether safety and security guidelines are being followed during the construction of new hospitals. 
Iftekhar Ahmed,  Calcutta
"Sir — One cannot help but conclude that it was sheer negligence on the part of hospital authorities that led to the untimely demise of at least eight people in a sudden blaze in a private facility in Jabalpur. Although it is being presumed that a short circuit led to the fire, it is essential to investigate why it occurred, especially in a newly-constructed building. The chief minister has announced an ex gratia grant of Rs 5 lakh each for the next of kin of those who lost their lives in the tragedy. The government must thoroughly investigate the matter and penalise the guilty.
Bhagwan Thadani, Mumbai
Slow death
Sir — The National Green Tribunal has asked the West Bengal government to phase out private and commercial vehicles that are over 15 years old as well as all public transport vehicles below Bharat Stage-IV within six months ("Breathe easy", Aug 1). In 2020, the annual mean PM2.5 level of Calcutta was 9.4 times higher than the annual permissible limit. The city is also often among the top 10 places in the world with the worst air quality.  
The Calcutta High Court order of 2008 and the NGT recommendations of 2016 to the same effect were disregarded by successive governments. The Mamata Banerjee government now has the tough task of phasing out 92 lakh vehicles, including more than 9 lakh commercial ones, within six months. This is unlikely to happen. Nonetheless, the Bengal government should prioritise the phasing out of old vehicles and devise a realistic plan that can be executed in a timely manner. 
Jahar Saha, Calcutta
Sir — Vehicular pollution is responsible for two-thirds of all deaths caused by air pollution in India. People living along the route of a polluting vehicle and those within 500 metres of the vehicle are at the highest risk from the pollutants. The government must take strict measures to curb air pollution. 
Sankhalita Patra, Calcutta