Special bonds
Remembering some teachers and their students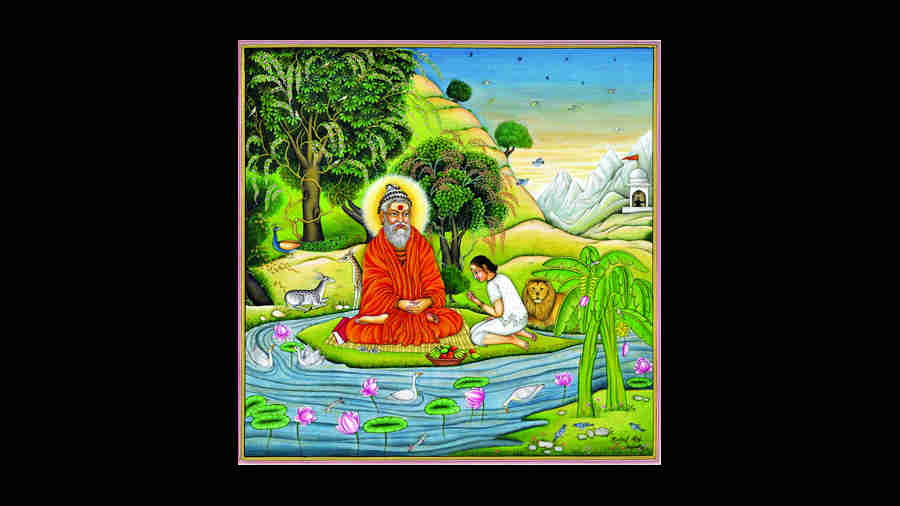 Representational image.
Wikipedia
---
Published 13.09.21, 01:24 AM
|
---
Teachers' Day was celebrated on September 5. It is perhaps felicitous to recall some notable relationships between teachers and students, both within and outside the academia. In modern times, the relationship between Ramakrishna Paramahamsa and Swami Vivekananda is well-known. The teacher-student relationship between Rabindranath Tagore and Mahatma Gandhi is relatively less-known. However, both cases share a common feature — the guru is looking for the shishya. Another relationship in this category is between Kalidas Bhattacharyya, a senior and well-known professor of philosophy and former vice-chancellor of Visva-Bharati University, and C.S. Rao, an unknown young philosophy teacher from Sri Venkateswara University, Tirupati. Rao later changed his name to Vaddera Chandidas. This relationship also remains largely unknown to the public.
The encounter between the Paramahamsa and the Swami was accidental. Constraints of the Indian freedom struggle guided the connection between Gurudev and the Mahatma. The meeting between Bhattacharyya and Rao turned out to be rather dramatic, with Bhattacharyya discovering an exciting new philosophical manuscript. Bhattacharyya then proceeded to prepare the text for publication by writing an introduction.
This journey began in 1972 with the University Grants Commission appointing Bhattacharyya to evaluate the Department of Philosophy of Sri Venkateswara University. He considered various aspects of the department and expressed a desire to meet all the faculty members individually before writing the report. He met all of them except Chandidas but he insisted on meeting him before leaving. A meeting was finally arranged on the morning of the last day of his stay. It did not begin well as a reluctant Chandidas was not forthcoming with answers. Bhattacharyya, however, persisted in probing Chandidas about his interests — both within academia and outside of it. His perseverance paid off, and Chandidas finally told Bhattacharyya of a manuscript he had been working on. After a quick read, Bhattacharyya found the unconventionally written text to be stunningly original. He postponed his return journey from Tirupati and began reading the text seriously. Realizing it was novel and dense, he asked for a typed copy to be sent to Santiniketan.
He spent more than a year studying the manuscript and wrote a long introduction. During this period, he wrote 12 letters. They were imbued with a deep affection reminiscent of the Paramahansa's attitude towards Vivekananda. Reading these letters can bring tears to one's eyes. There are two aspects to Bhattacharyya's assessment of this text: its originality and philosophical density. Regarding the former, he declared in his introduction that he was surprised to find — amidst all the hostility towards metaphysical thinking and the spread of historical scholarship in India — in this text "a new complete system of metaphysics, presented though in an extraordinary concise form, almost in the way of ancient Indian Sutras." In one of the letters he writes, "All costliest gems are very artistically arranged into a cosmic necklace — or, better, a profoundest swinging necklace perpetually throwing into radiance the freeze-point pearls."
Regarding the philosophical depth of the text, he says, "As I began to read the typescript, within five minutes I got lost in its profundities… such is the wonderful style of your writing." In another letter, he admits, "I can't read your paper for more than three hours a day at a stretch — it is so thought-provoking at every step, indeed at every word, and the last few pages are literally staggering. Do you know that after these three hours, I read, for nine hours, lighter things to ease myself? This is not an exaggeration, no patronizing — far less any flattery."
Regarding the impact of the text on him, Bhattacharyya says, "I often boasted that I carried with me a philosophical map where I could easily place every philosopher in his fitting position. I have been humbled. This is the first time I feel I have to recast the whole map that I have drawn so carefully... to place you in the proper place."
These show the two essential characteristics that made Bhattacharyya a remarkable teacher. One is his ingenuity in finding a new philosophical text from an unknown young philosophy teacher which is rare. Two, his perseverance in trying to understand and evaluate the text and prepare it for publication. Without the contribution of Bhattacharyya, it is not possible to think of Chandidas's Desire and Liberation: The Fundamentals of Cosmicontolgy, first published by the author in 1975 and reprinted by Oxford University Press in 2018.  
There is something special about Bhattacharyya's contribution. Modernity was brought to India by colonialism. Behind Macaulay's façade of modernity was the other face that legitimized colonialism. His education policy erased anything Indian, including its philosophies, and attempted to replace them with Western ideas. Subsequently, many Indian scholars did capitulate and the academic syllabus was inundated with Western philosophy. In response, some Indian academics presented the history of Indian philosophers. Some others, like Ganganath Jha, translated many classical Indian philosophical texts into English.
Here it is necessary to recognize that Macaulay had not only discarded everything from India when proposing modernity; modernity, in turn, had ruthlessly discarded everything from the past, including Greek metaphysics and Christian theology. So the texts from India that sought to counter this imposition from the West had to consider Macaulay and modernity.  
Bhattacharyya's contribution fell outside these domains. He did not turn to the past. Further, he did not propose a new philosophy like Lord Buddha or offer a new interpretation like the Adi Sankara. He trod a new path of discovering an unknown text. This path provides important challenges to explore. It demands rigorous discipline in polishing writings and texts from modern India and preparing them to be launched to a larger audience.
I was drawn towards this path laid by Bhattacharrya very early in my career. Since then, I have not looked back as I find this path both productive and rewarding. And I remain in debt to Bhattacharyya, an 'exemplar'.
Teachers' Day was a propitious occasion to remember the contributions of Kalidas Bhattacharyya "Mahasaya," who was in line with the Paramahamsa and Gurudev in identifying and nurturing new talent. Further, it is befitting to recognize the contribution of a philosopher on this occasion as it also is the birth anniversary of another renowned philosopher, Sarvepalli Radhakrishnan.
A. Raghuramaraju teaches philosophy at the Indian Institute of Technology Tirupati