Regular patrolling can help prevent whale deaths
Special task forces equipped to help the stranded creatures should be kept on standby all year round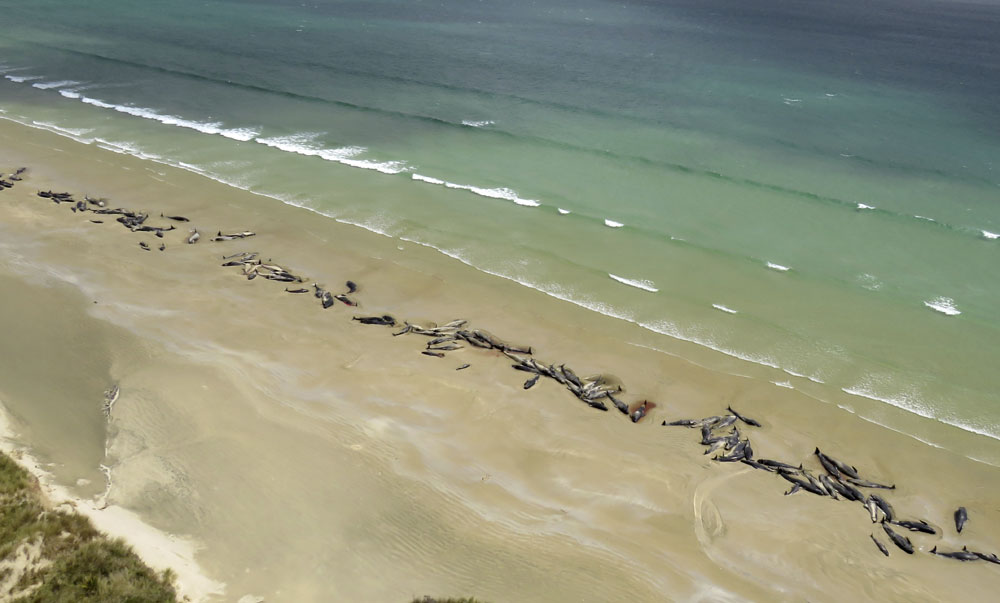 ---
---
Terror strike
Sir — The Punjab police should be lauded for solving the case regarding the grenade attack on Nirankari Bhawan that took place recently in Amritsar. The chief minister of Punjab, Amarinder Singh, has claimed that Pakistan's Inter-Services Intelligence backed outfit, the Khalistan Liberation Force, is behind the attack. If this is true, it is a shame. Instead of making tall claims about peace, Pakistan should practice what it preaches. New Delhi must try to negotiate with Islamabad in this matter.
Mohd. Faheem,
Mumbai
Sir — The incident of grenade attack at Nirankari Bhawan is condemnable. Strict action should be taken against extremists who carry out such attacks. It is a tough time for the people of Amritsar. They should not let terror win by losing their calm during a crisis.
Tariq Khan Qasmi,
Amritsar
Parting shot
Sir — The pollution of the lake by Chhath worshippers is unfortunate. This was a violation of the National Green Tribunal's order. On the face of it, this is an administrative failure. But, in reality, it is a tactic of the ruling party to woo Hindi-speaking voters. Until a few years ago, Ganesh Chaturthi and Ram Navami, popular festivals elsewhere, were not significant events in the state. But now these festivals are celebrated with fanfare across the state with active patronage from the political parties.
B.D. Chattopadhyay,
Burdwan
Sir — It is unfortunate that around 145 whales died in a mass stranding on a remote island in New Zealand. Reportedly, an average of 85 such incidents occur every year in New Zealand. One would hope that the authorities would be better prepared to deal with such a situation given the frequency of its occurrence. Since conservationists cannot predict the exact reason behind mass strandings of whales, there is no way to eliminate the cause. The government should organize regular patrol of all beaches in the country. Special task forces equipped to help the stranded creatures should be kept on standby all year round.
Mohona Sen,
Calcutta
Gender politics
Sir — In the article, "Still in the wings" (Nov 24), Ramachandra Guha sets forth his argument in favour of a women's reservation bill. There is no doubt that reservation for women in the assemblies and Parliament is necessary to increase representation. But the concept of reservation comes with inherent flaws. Guha thus rightly highlighted that while quotas for women's representation in politics exist at the panchayat and municipal levels, this does not really benefit them. Women continue to hold the posts but are bereft of any authority, as in most cases the charge is in the hands of male family members. This may help the cause of statistics but will do nothing to achieve the lofty ideals that Guha outlines.
In order to empower women, one needs to start from scratch. First, the condition of women's education in India needs to be improved. Many families give preference to the education of male children. This not only gives rise to a sense of entitlement among men, but also perpetuates patriarchy. It also leads to the poor participation of women in the workforce.
Moreover, the political arena in India has become the fief of a few powerful families. A simple reservation would only mean that more women from these families would get an opportunity in politics. The underprivileged are unlikely to benefit.
Subodh Jha,
Patna
Sir — While discussing the role of women in Indian politics, as Ramachandra Guha does in his article, the efforts of leaders like Ishwar Chandra Vidyasagar, Raja Ram Mohan Roy, Bankim Chandra Chattopadhyay and Rabindranath Tagore cannot be ignored. Many women were inspired by these leaders and their work to join the freedom struggle.
Undoubtedly, a greater participation of women in politics is the need of the hour. They would be better equipped to speak on the problems that women all over the country are facing at present. The demand of the Odisha assembly to reserve 33 per cent seats for women in the legislature is thus justified. Other assemblies, too, should pass such resolutions.
Alok Ganguly,
Nadia
Sir — Ramachandra Guha's article makes for enjoyable reading. Guha's tracing of the changing fortunes of women politicians in India and in the West is interesting. While women had more representation in politics during the freedom struggle compared to their counterparts in Western countries, the situation is now reverse.
It is clear that the current crop of political leaders are not interested in the uplift of women. This is evident from their apathy towards the women's reservation bill. Guha has also rightly observed that none of the two major political parties at the Centre has the will to promote empowerment of women. It is time society demands that at least 50 per cent of each political party should comprise women members. If significant numbers of women representatives are present in the two Houses, only then can one hope that legislations favourable to women would be passed.
Sanjit Ghatak,
South 24 Parganas