Sir — During India's Wildlife Week, it was revealed that 23 Asiatic lions died within a month in the Gir Forest National Park, home to the world's last few Asiatic lions. Initially, officials said that the deaths were due to 'infighting' between prides. But as the death toll rose, they blamed the canine distemper virus. Gir lions have always been susceptible to viruses as they share territory with tribal herdsmen and their cattle and dogs. But has any long-term epidemiological study been conducted in Gir? Lions do not just die of virus attacks unless they have low immunity. The exact reasons behind the deaths must be made public.
Shovanlal Chakraborty,
Calcutta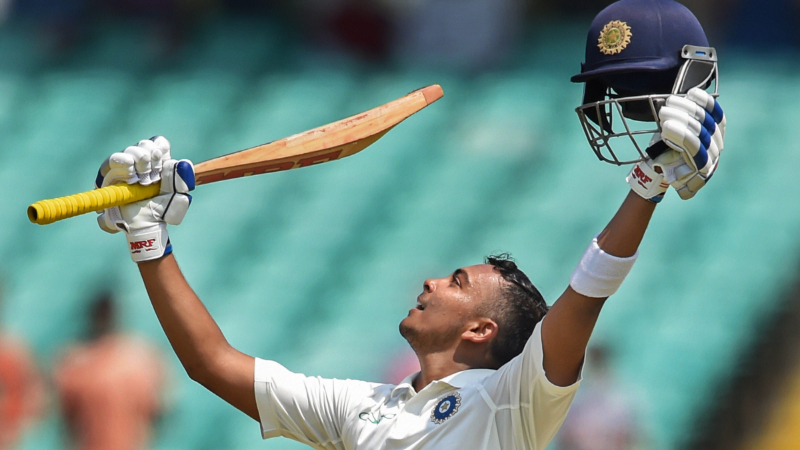 Rising star: Prithvi Shaw Image credit: PTI
On the rise
Sir — The performance with the bat put up by the young debutant, Prithvi Shaw, against the West Indies in the recently-concluded Test match in Rajkot made India proud. He is the youngest Indian to score a century — 134 runs, to be precise — on Test debut, and has proved that he has the potential to become a great batsman ("Superb temperament: Sourav on Shaw", Oct 5). Shaw's performance also proves that there is no dearth of cricketing talent in India. His batting was incredible: he made the most of the docile track and a bowling attack that lacked sting. Shaw played his repertoire of shots, cutting through point and hammering the ball through covers. It was a joyful experience to watch him hit 19 boundaries. One hopes that he will keep playing like this for the rest of his career.
Mohd. Usmani,
Mumbai
Sir — Prithvi Shaw has certainly made a mark on Indian cricket by scoring a brilliant century in his first international Test match. His 99-ball ton is the third-fastest scored by any batsman on Test debut. He was absolutely untroubled right from the start, hitting his shots confidently and not allowing the West Indian bowlers to gain control. He is a good prospect for the future of Indian cricket.
Subham Nagar,
Howrah
Sir — The splendid batting of the 18-year-old Prithvi Shaw in the first Test against the West Indies made cricket lovers in India ecstatic. He is the second-youngest Indian to score a Test ton after Sachin Tendulkar. Even though the West Indies bowling attack was far from threatening, due credit must be given to Shaw, who batted like a seasoned player in his first match for India. His back foot play off the pace deliveries was a treat to watch. When the spinners came in to play, he was not at all afraid to use the long handle.
Shaw reached 100 runs off just 99 balls, adding to the records he already holds in his blossoming career. One hopes that he will flourish and create more records in the days to come. More such cricketers should be given a chance to play in the national team, so that India become unbeatable on the world stage.
A.K. Chakraborty,
Guwahati
Sir — Prithvi Shaw's achievement in Rajkot reminded me of the legendary Sourav Ganguly, who also scored a century on his Test debut. Moreover, Ganguly reached his milestone — against England in 1996 — at the famed Lord's cricket ground, largely believed to be the Mecca of cricket. Everyone seems to be comparing Shaw's feat to that of Tendulkar, but drawing a parallel with Ganguly is more appropriate.
This was Shaw's third century on debut. The first two times were during his maiden Ranji and Duleep trophy matches. One hopes that Shaw will receive guidance from Ganguly in the course of his career. Advice from one of the best captains India has ever seen can only stand the young cricketer in good stead.
Atreyee Banik,
Calcutta
No surprise
Sir — Sankarshan Thakur ought not to have been surprised by the words of the army chief, Bipin Rawat, as he seems to be in his article, "The government borrows shine from the soldier" (Oct 3). The army is called upon at the drop of a hat, not only to help the civilian administration during extreme natural calamities, but also to restore law and order when a lazy and inefficient police force fails. We forget that the army is trained to treat any kind of opposition aggressively — its present chief clearly wants it to be feared — and the treatment meted out to any civilian who comes into conflict with an army unit bears testimony to this. Even a stone thrown at the army is seen as deserving of a bullet in response. In spite of this worrisome attitude, the army is given unbridled powers — the draconian Armed Forces (Special Powers) Act is a case in point — and gross misdeeds by soldiers and other army personnel go unpunished in the name of protecting their 'morale'. The army's fig leaf is that it is either fighting a 'hostile neighbour' in the Kashmir Valley or 'insurgency' in Manipur.
Is it any wonder, then, that the words of its chief seem to indicate that he believes the civilian government is subservient to the army? Let us not forget that the governments of some of our neighbouring countries were taken over by their armies in order to 'save' the nations from 'disorder'. So far, India seems to have escaped this fate because of its size and regional complexities. Let us hope that our luck will hold.
Anjan Kumar Sen Sarma,
Calcutta