Reach for the horizon
GINGERLY YOURS | Journeys in local trains to visit a district town or a village are what one longs for the most now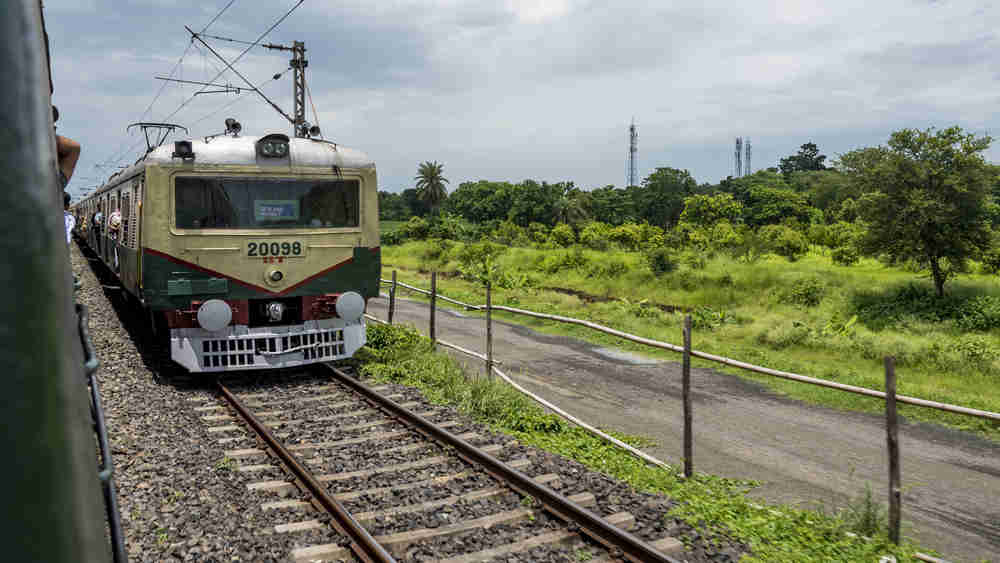 Representational image.
Shutterstock
---
Published 19.07.21, 01:45 AM
|
---
What I miss the most during the lockdown are the little trips that would take me away from Calcutta for a day. Yes, I would love to stand before the Himalayas again and meditate on my littleness, or to go to New Zealand, just to know how it feels to have someone like Jacinda Ardern heading the state. But the journeys in local trains to visit a district town or a village are what I am longing for the most now. Because they still seem within the realm of the possible (although they may not be), and create inside my head a sense of space which is being crushed every moment every day by the four walls of my room.
One such journey stands out in my mind. Three years ago, two of my dearest friends and I had set out for Santipur in Nadia after Kali Puja to see the bisarjan ceremony. The closest can be the most unfamiliar, and I am not going to quote Tagore here, but just mention that "unheimlich", the "un-homely", the uncanny, is a favourite word of one of the two aforementioned friends.
In Santipur, the goddess, Kali, looks very different from the way she does in Calcutta. Her idols are huge, even double in their dimensions than the average Calcutta idol. Gigantic, dark, fierce, powerful and beautiful, they seemed to remind us of a past that the city has either forgotten or been made to forget, maybe with the 'civilizing' by its former colonial masters.
In any case, after a long train journey, a large, paralyzing Bengali goat meat lunch at a Krishnanagar hotel and a bus journey that rattled every bone in my body, we reached Santipur a few hours before sunset. Getting down at the bus stop, I immediately realized that everything had gone haywire inside me. My shoulders were almost frozen, I had a shattering headache, I needed to go to the toilet and I felt immobilized with pain and discomfort.
My other friend carries a large tote bag, which I knew contained magic, but I was not aware of the particular items. From its depths first emerged the iconic Amrutanjan, for my headache. Then a Pee Safe spray. Then a tube of Volini, the contents of which were squeezed out and shared equally by my friends. One of them pulled the neck of my kurta down to expose my shoulder and began to apply it vigorously on the naked patch.
Now both my friends had been assigned the male gender at birth and bore traces of it, more or less, and I was assigned the female one at birth, and bear strong traces of it, and we must have presented an arresting sight. But I was too far gone to notice and the massage was life-giving. I began to feel like myself in a few minutes. Next I was given some Digene.
I presented my final problem: a very disturbing chunk of meat had remained stuck between my teeth since lunch. My friend dug into the bag again and out came a pack of dental floss. In a moment, I spat out the offending meat into the drain.
At this point a fruit seller, who had been watching us intently, asked us: "Apnara kotha theke eshechhen? (Where are you from?)" It was not a question but an admonition. I think we had "transgressed" our gender roles — and had used our class to do it. "Calcutta," we replied and took a Toto to leave for the bisarjan procession.
As the sun set, the giant Kali idols began to loom on the dark horizon. Again I felt that they had emerged from another time, their dimensions incompatible with our times, their power savage and benign and unknown. Their shapes, though dazzlingly lit atop vehicles, seemed to roll out from the dark sky itself, dreamlike, and deeply moving. The humans walked below in an almost silent procession.
I felt that the horizons had opened up. And that feeling is mixed up in my mind with the generosity of my friends — and of the bag.