The radical Raja
The remarkable history of Rammohun Roy's crusade against superstition and oppression remains relevant in today's world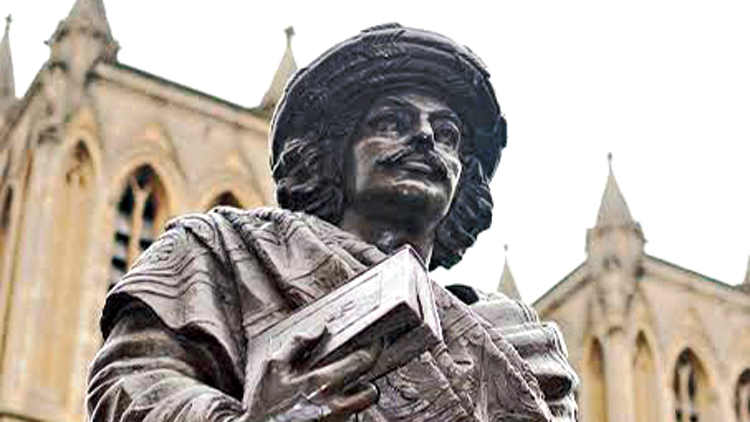 Raja Rammohun Roy.
File picture
---
Published 19.07.21, 01:26 AM
|
---
On April 27, 1832, in a letter to an English friend, Rammohun Roy spoke of the ethical relevance of political and religious reform. What he wrote is worth quoting: "The struggles are not merely between the reformers and anti-reformers, but between liberty and oppression throughout the world; between justice and injustice, and between right and wrong… From a reflection on the past events of history, we clearly perceive that liberal principles in politics and religion have long been gradually but steadily gaining ground…" In his letter, Roy alluded to some of the reforms that were then being introduced in India and in Britain. It offers a glimpse into Roy's cosmopolitan outlook and his firm commitment to the idea of freedom.
Today, Rammohun Roy is remembered primarily for his successful campaign against sati — the immolation of widows on their husbands' funeral pyres — and for his pivotal role in the inception of the Brahmo Samaj, a reformist religious group.  What we need, however, is a broader and deeper understanding of his persistent insistence on the importance of intellectual, social and political freedom. This year, his 249th birthday, which fell on May 22, passed largely unnoticed. Now that the 250th year has begun, a serious effort should be made to revive his legacy through a re-evaluation of the remarkable life he lived.
A confluence of diverse cultural influences shaped Roy's thoroughly unconventional worldview. He learnt not just Bengali, his mother tongue, but also Sanskrit, Persian, Arabic, English, Greek and Hebrew. His exposure to Persian education and, subsequently, his encounter with Christianity and modern Western thought deeply influenced his mode of thinking and reasoning. Roy's proficiency in several languages and his in-depth understanding of Hindu scriptures, Buddhism, Islam and Christianity enabled him to cultivate a rare comparative perspective on religious issues. In Tuhfat-ul-Muwahhidin (1804), a treatise written in Persian, Roy spoke out against superstition and dogma in all established religions.
A thinker and a doer, Roy had the courage to interrogate age-old ideas and practices within a social milieu that was largely unwilling to tolerate deviations from conventionality. Not surprisingly, his arguments provoked angry responses from representatives of orthodox religious groups. Although Roy could not envision an immediate dissolution of colonial rule, he certainly felt that the colonized nation needed to prepare itself for empowerment and progress. He felt that it could rejuvenate itself by rejecting irrational or unethical traditions such as sati.
Nevertheless, his effort to envisage a reformed religious outlook remained rooted in his country's spiritual inheritance. What Roy advocated was obviously not the creation of a new religion but a return to the spirituality of the Vedanta. In order to translate his ideas into praxis, he established the Atmiya Sabha in 1815 and the Brahmo Sabha in 1828. Through these efforts, Roy initiated a movement that later culminated in the emergence of the Brahmo Samaj as an important reformist organization.
Few of us remember that Roy played a key role in the rise of a culture of criticism and protest in colonial India. In 1822, it was he who argued against the law that deprived women of their right to inherit property. He protested when in 1823 the colonial government attempted to curb the freedom of the press.  Later, he actively participated in the movement against the infamous Jury Act that had a discriminatory bias against non-Christians. As he pointed out, the government "ought to treat the various classes of its subjects… as one great family, without showing any invidious preference to any particular tribe or sect…" Again, in 1831, he spoke out against the exploitation of the peasants by the landowners and the colonial government.
Roy's political thinking did not, however, remain confined to debates related to India. He could easily traverse political and cultural boundaries and align himself with many of the political movements that were taking place in other parts of the world. In a letter written on August 11, 1821, Roy emphatically remarked that "enemies to liberty and friends of despotism have never been, and never will be ultimately successful". In that letter, he was responding to the news of political unrest in Naples, which was then a part of a kingdom in southern Italy. A decade later, he whole-heartedly supported the Reform Bill (1832) that gave English middle-class men the right to vote.
Roy argued in favour of international cooperation and fraternity in an era when travelling overseas was a taboo in his country. In a remarkable letter written to the French foreign minister in 1832, he envisaged "all mankind" as "one great family". Within the framework of his spiritual thinking, Roy rejected narrow sectarianism and chauvinism by articulating his universalist idea of a single formless god who could be worshipped by all irrespective of race and creed. In 1830, he drew up a trust deed where he outlined the purposes of the Brahmo Sabha. The trust deed explicitly prohibited religious intolerance and, in fact, insisted that one of the purposes of the Sabha was to establish harmony among diverse religious communities.
Not surprisingly, Roy has been hailed as the originator of a renaissance in modern India. While it is true that the tendency to posit a single origin or originator can be based on a reductive interpretation of history, it is nevertheless important to acknowledge that he played a pivotal role in ushering in a rational and ethical perspective on a range of culturally and politically significant issues.
Moreover, Roy does not just belong to a past that is dead or obsolete. He can still be a source of inspiration for those who seek to defend and uphold principles like unity, inclusivity and freedom. The remarkable history of his crusade against superstition and oppression remains relevant in today's world where the clash between liberal values and illiberal ideologies continues unabated.