Quad Summit: Four friends in need
For the coalition to survive and thrive, it will need a much broader mandate than a focus on China to ride out the inevitable balance between cooperation and competition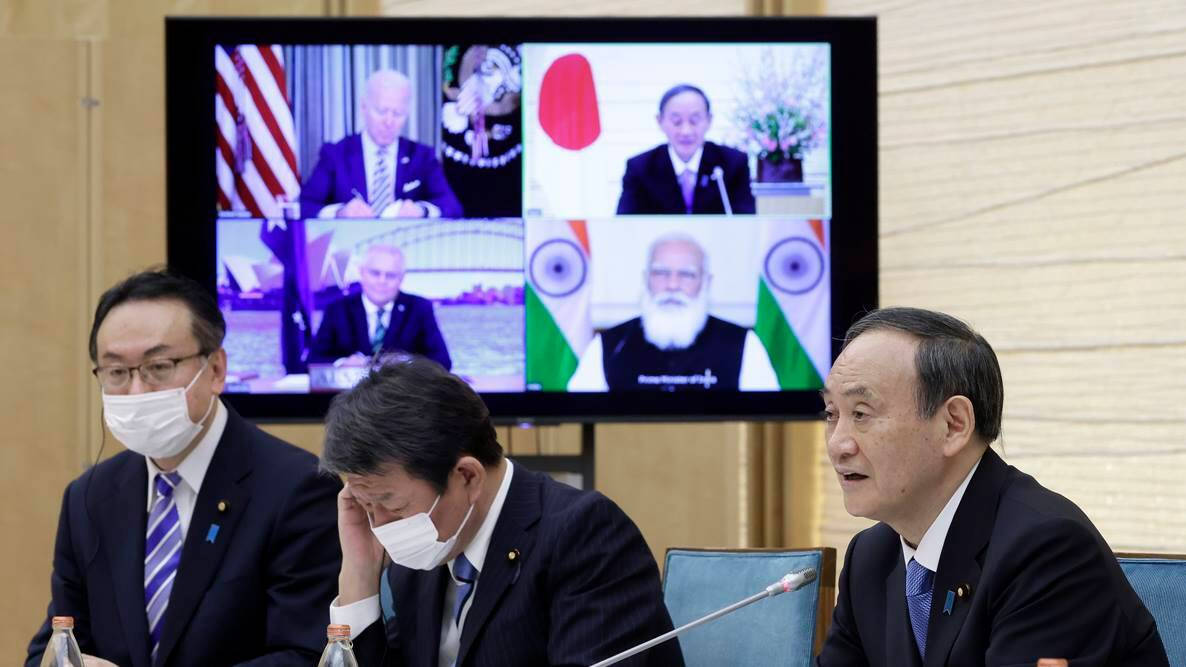 ---
---
"It is good to be among friends." That's how Prime Minister Narendra Modi started his address to the leaders of the United States of America, Japan and Australia at their first-ever summit (albeit virtual) earlier this month. At a time when Washington, Tokyo, Canberra and New Delhi all view Beijing as their biggest challenge, the meeting of the so-called Quad was indeed an important marker of priorities for four of the Indo-Pacific region's largest democracies.
But in an era where hyperbole is routine and social media amplification can make everything seem 'unprecedented', it's important to remember that we've seen this script before. There's a reason they say that talk is cheap. If America, India, Japan and Australia truly see the Quad as a pillar of their joint strategy to counter China's ambitions, their real test will start now.
Although China was never mentioned in any of the public statements made during the Quad summit, it was clear that the dragon in the room was the glue bringing the US, India, Japan and Australia together. The conclave was followed by visits by the US secretary of state, Antony Blinken, and the secretary of defence, Lloyd Austin, to Tokyo and Seoul, both allies of Washington. Austin also visited New Delhi. In the midst of these frenetic diplomatic engagements, Blinken and the US national security advisor, Jake Sullivan, hosted their Chinese counterparts, Wang Yi and Yang Jiechi, in Anchorage, Alaska.
There was never going to be any thaw in the sub-zero temperatures of Alaska, although both sets of diplomats blew off plenty of steam. And China has understandably read Washington's frenetic diplomatic activity over the past two weeks as a thinly-veiled attempt at cornering Beijing.
Since the Alaska talks, China has already sent three naval vessels near Japanese waters as a reminder of its maritime might. The US and Japan plan to hold military exercises off the disputed Senkaku Islands (which Japan holds but China also claims) in a counter show of strength. China is Australia's biggest trade partner. Expect Beijing, which has been waging a tariff war against Canberra over the latter's criticism of China's human rights record, to tighten the screws further. And while India and China have pulled back from their stand-off at major spots along their disputed Ladakh border, other sores in their relationship still fester.
It would be naïve to assume that the US under President Joe Biden will continue with an endless battle of diplomatic attrition with China if there's nothing tangible to show for it. His predecessor, Donald Trump, tried it with his trade war, but American businesses suffered as much as their Chinese counterparts. History shows that America — justifiably from its perspective — will eventually seek a deal with China.
Exactly a decade ago, in 2011, the then president, Barack Obama, (Biden was then vice-president) instituted a pivot to Asia. He committed to strengthening American naval presence in the Indo-Pacific region, publicly took on China over its aggressive behaviour, sought to strengthen ties with other Asian countries wary of China and joined the East Asia Summit — a collective of 18 nations spanning Southeast Asia, East Asia, India, Australia, New Zealand, Russia and the US.
But the death of the then North Korean leader, Kim Jong-il, in December 2011, a month after Obama visited Asia, made the US reassess its options. Washington needed to reach out to the new leader in Pyongyang and seek a détente between North and South Korea. For that, it needed to work with China, which wields influence over North Korea. Later, Obama worked with China again over the Iran nuclear deal and the Paris climate change agreement. While Biden is ready to play hardball at the moment, he too will ultimately know that the success of any major global project — whether it's withdrawing from Afghanistan, resuscitating relations with Iran, negotiating with North Korea or truly combating climate change — will need America and China to cooperate.
For the Quad to survive and thrive, it will need a much broader mandate than a focus on China to ride out the inevitable balance between cooperation and competition that each member will need to strike with Beijing. And there's no better approach for the collective to adopt than to look back at its roots. First envisaged in the aftermath of the 2004 tsunami, the Quad would do well to systematically establish itself as the most reliable set of first responders to any crisis — natural or manmade — in the Indo-Pacific region. We're seeing some signs of this approach, with Quad nations promising a joint Covid-19 vaccine donation campaign for Indo-Pacific nations. At the same time, Quad members must recognize that some of the countries taking the boldest positions against China — such as Vietnam — are outside the grouping. The Quad will benefit if it constantly looks to expand its horizons and find new partners.
None of this will be easy. And the task will be particularly risky for India. Japan, South Korea and Australia are US treaty partners, and Washington is legally bound to defend them in the event of military tensions with China. India cannot count on the same level of support. How New Delhi and its friends walk this tightrope will determine whether the Quad has greater success than Obama's pivot to Asia. Yes, being among friends is good — as long as it doesn't lull you into a false sense of security.