Puffed chest diplomacy
It's all change in Delhi with diplomacy being increasingly used to burnish the ruling leadership's image and score political points over rivals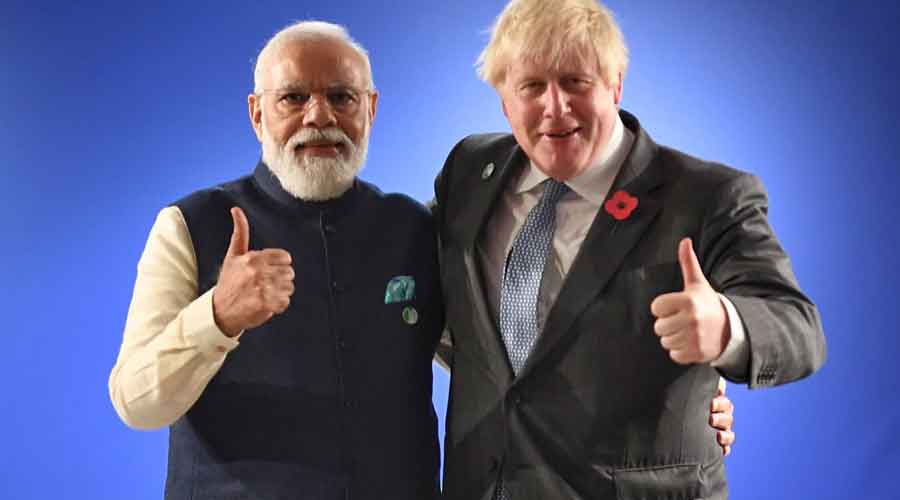 Narendra Modi and Boris Johnson.
Twitter/@narendramodi
---
Published 10.11.21, 12:19 AM
|
---
Sometimes a seemingly small event can capture the zeitgeist. The recent diplomatic feud between India and Britain over Covid-related travel restrictions, which caught unsuspecting travellers off guard and threatened wider bilateral relations, was one such event. It encapsulated a new global trend towards confrontational diplomacy driven by flag-waving 'strong' leaders, a style of diplomacy preferred by Boris Johnson and Narendra Modi.
To recap: the trigger was Britain's decision to require travellers from India, regardless of their vaccination status, to spend 10 days in quarantine. India swiftly retaliated with restrictions for travellers from Britain while announcing that it was pulling out of next year's Birmingham Commonwealth Games' hockey competition citing "discriminatory and biased" quarantine rules. This show of 'strength' worked as London grudgingly backed down to avoid further escalation at a time when it desperately needs allies to 'rebuild' Britain after Brexit. Modi's supporters were quick to hail the outcome as a victory for his firm stance.
Welcome to the new, brassy face of Indian and, by extension, global diplomacy. Back in a gentler age, diplomacy invoked images of warm handshakes, bear hugs, and polite conversations. The whole diplomatic architecture — elaborate etiquettes, conventions and protocols — was carefully designed to facilitate a civilized discourse in international relations. Diplomatic protests seldom went beyond exchange of demarches and notes verbale. For a foreign envoy to be 'summoned' by the host government to be 'reprimanded' simply meant driving down to the foreign office for small talk over tea and croissants. An African diplomat in London once joked that he always looked forward to being summoned to the British foreign office just so he could enjoy their "lovely English tea and cucumber sandwiches". Mind you, it was tactful diplomacy on both sides that prevented the Cold War from slipping into something worse.
Alas, all this now sounds like tales from another era. Today, quiet diplomacy is looked down upon as a sign of weakness — equivalent to 'surrendering national interest'. Strength lies in 'standing up' to perceived enemies. There's even a term for it: 'wolf warrior' diplomacy, a particularly aggressive style of dealing with opponents using diplomatic channels. A style that China under President Xi Jinping has come to be identified with, although he is not the only wolf-warrior in town. In a way, China typifies the drift towards a hardening of diplomatic discourse and brinkmanship under a new generation of nationalist leaders.
Pre-Xi Jinping, China pursued low-key diplomacy: it was called Tao Guang Yang Hui. It favoured cooperation over confrontation. As Deng Xiaoping put it: "Observe calmly, secure our position, cope with affairs calmly, hide our capacities and bide our time, be good at maintaining a low profile, and never claim leadership". A far cry from how China behaves today.
The once 'doveish' India, too, has gone macho. I remember a senior Indian diplomat once lamenting that Indian diplomacy lacked "punch". "We seem to be too keen to be seen as good boys," he said, pointing out how India struggled to get a sympathetic hearing in Western capitals over cross-border terror in Kashmir.
Fast forward, and it's all change in Delhi with diplomacy being increasingly used to burnish the ruling leadership's image and score political points over rivals. But the thing is that countries like India and China are simply following the Western playbook. Over the years, the West has systematically eroded the old idea of diplomacy as an instrument of engagement, using it, instead, as a tool of coercion. The list of countries facing arbitrary Western sanctions, threats of aid cuts, and other forms of humiliation is long — and growing.
What we are witnessing is the slow death of old-fashioned diplomacy.
As I write this, France is threatening to cut electricity supplies to Britain; Britain is threatening the European Union to unilaterally rewrite the Brexit agreement; the EU is threatening to throw out Poland; Russia is threatening to reduce energy supply to Europe; Turkey is threatening to break its agreement with EU on refugees; China is threatening to invade Taiwan. In most countries, diplomacy has become hostage to domestic populist agendas with diplomats left to play the organ grinder's monkey. And they sound awful.
The author is a UK-based commentator