Editorial: Lessons taught
Public mobilizations are often the most reliable manifestation of the spirit of democracy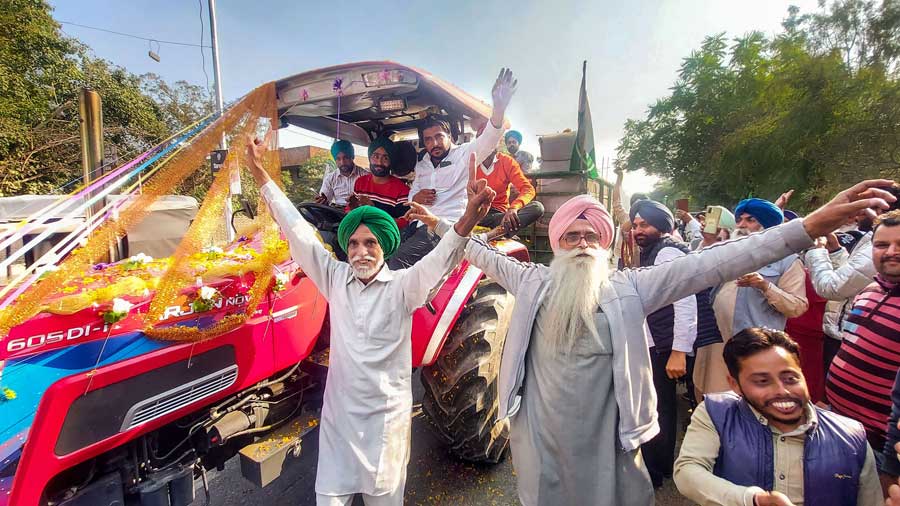 BKU activists dance as they arrive at their hometown after their year-long agitation against contentious farm reform laws, in Bathinda, Sunday, Dec. 12, 2021.
PTI
---
Published 13.12.21, 12:16 AM
|
---
As the farmers who gathered on Delhi's borders return victorious weeks after the Narendra Modi government decided to repeal the three contentious agrarian legislations fearing electoral reversals, it would be instructive to examine the legacy of the farmers' protests. The first, obviously, is a reminder to the nation and to governments that the health of a democracy ought to be measured not merely through free and fair elections: inclusive public mobilizations are often the most reliable manifestation of the spirit of democracy. Be it the farmers' protests or the massive turnout against the controversial Citizenship (Amendment) Act earlier, it appears that Indian democracy has not lost its combative character. But democracy in this part of the world is also riddled with contradictions. The genesis of some of the recent instances of collective mobilizations — the agitation by farmers was one — lies in the incursions into the democratic ethos. The Bharatiya Janata Party has found itself with egg on its face precisely because of Mr Modi's eagerness to push through a set of legislations without adequate consultations with all stakeholders. Worse, confronted with a public backlash, India's ruling regime has not shied away from demonizing protests: those who feed the nation were described as 'Khalistanis'; minorities are denigrated in a similar manner when they mobilize. The BJP's electoral dominance seems to have been weaponized to throttle criticism. It remains to be seen whether Mr Modi has the ability to 'reform' himself into a caring, communicative leader.
What also remains unclear is whether the modus operandi of reform would now turn democratic. Indian agriculture is a distressed segment; reforms are necessary. But what must drive the change is meaningful welfare for farmers. Given the vast, complicated nature of the challenges to agrarian India, a single perspective on welfare or, indeed, reform cannot be allowed to dominate the debates. Reviving agriculture must involve patient, continuous deliberations among farmers, government, policymakers, market forces and the people. If the scope of discussion remains narrow, the return of the farmer to the doors of the capital cannot be ruled out in the future.