Porcupines now run the risk of becoming endangered in SE Asia
Is there no end to human greed and cruelty?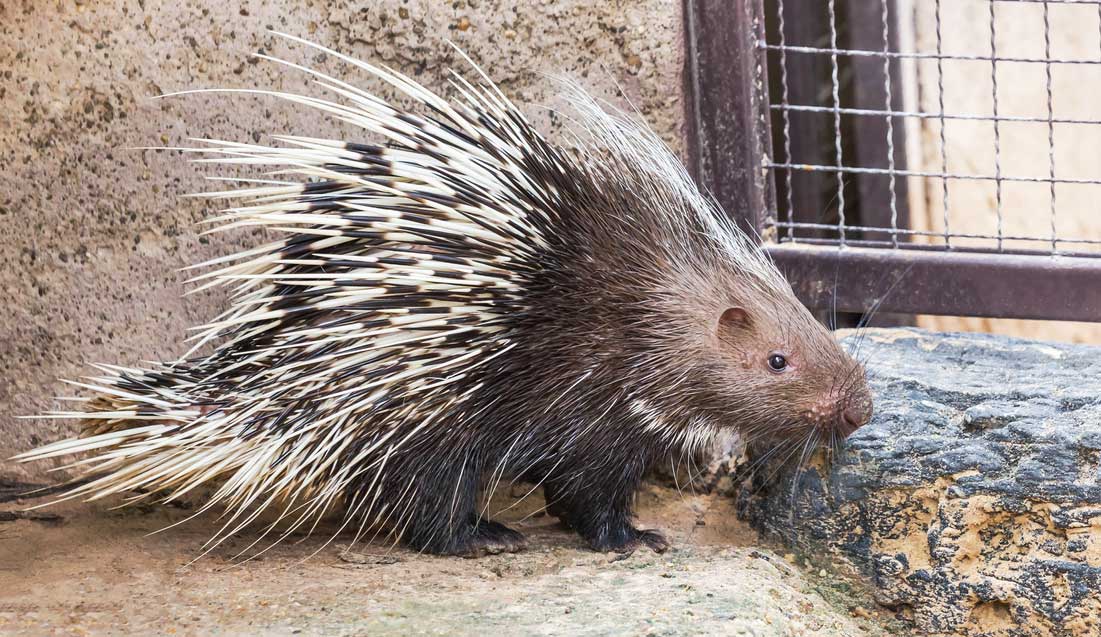 Porcupines are being indiscriminately poached for bezoars, which are masses of undigested plant material found in their gut, believed to have 'medicinal' properties
(iStock)
---
Published 26.03.19, 10:32 AM
|
---
Sir — I was appalled to learn that porcupines now run the risk of becoming endangered across southeast Asia. They are being indiscriminately poached for bezoars, which are masses of undigested plant material found in their gut. Unsurprisingly, these bezoars are largely in demand in China as they are said to contain 'medicinal' properties — they can apparently cure dengue, diabetes and even cancer. The fact that these claims have no scientific basis, and that China has a long history of cruelty towards animals, should tell us all we need to know about the veracity of such claims. Is there no end to human greed and cruelty?

Abhimanyu Roy,
Bangalore
Despicable act
Sir — It was shocking to read about the incident in Varanasi in which Bharatiya Janata Party supporters reportedly 'purified' the statue of Lal Bahadur Shastri with water from the Ganga because the Congress leader, Priyanka Gandhi, had garlanded it. The act was disgraceful and promoted the idea of hatred. It was thoroughly unbecoming of a party that is ruling the country. The BJP supporters in question are also reported to have followed Priyanka Gandhi and shouted slogans such as "Priyanka Gandhi murdabad". Such actions are not in keeping with healthy democratic principles in a nation where all Opposition parties, including the Congress, have the right to campaign freely and without harassment for the upcoming parliamentary elections.
Priyanka Gandhi has already created ripples in the political landscape of the country with her grace, dignity and refusal to make derogatory remarks in her speeches. She stands out in stark contrast to the BJP, the single-point agenda of which is to ridicule the Nehru-Gandhi family. One tends to forget that both Lal Bahadur Shastri and Priyanka Gandhi's grandmother, Indira Gandhi, were prime ministers from the Congress. Under their leadership, India won two wars against Pakistan. Indira Gandhi and Priyanka's father, Rajiv Gandhi, were unfortunately assassinated. These sacrifices must be remembered when the family is needlessly ridiculed by the saffron camp in a bid to gain political mileage. One hopes that the Election Commission will take a stern view of the matter and ensure that Priyanka Gandhi is able to campaign for her party without hassle.
Debasish Chatterjee,
Calcutta
Sir — It appears that the BJP is now scared that Priyanka Gandhi will steal the attention of voters. This was evident when the saffron party's supporters washed the statue of Lal Bahadur Shastri in Varanasi with water from the Ganga after she garlanded it as a mark of respect. Every Indian has a right to garland the statue. The mindset of the BJP and its followers is so archaic that it surprises reasonable citizens as to how voters can possibly want such a party to come back to power. If the BJP wins the general elections, India will, without a doubt, be set back by many decades. The nation has already lost favour with foreign investors, who are wary to come to India. We are also set to lose out on tourism if we do not change our collective mindset and bring forward-thinking leaders to power at the Centre.
B.K. Nundee,
Calcutta
Well done
Sir — The professional football club, Bengaluru FC, deserves the heartiest congratulations for winning the fifth edition of the Indian Super League. In the final match, they defeated the star-studded Goa FC 1-0. Rahul Bheke scored the all-important goal in extra time.
The Bengaluru team have witnessed a meteoric rise. In the last edition of the ISL, they were defeated by Chennaiyin FC in the final match. They are a young club, put together in 2013. During this short span of six years, they have achieved commendable success led by none other than the captain of the national team, Sunil Chhetri. The club has won two I-League titles, two Federation Cups and one ISL trophy. This is a stupendous achievement. They have also raced well ahead of the two Calcutta football giants. Sponsored by the Jindal Group and Kia Motors, the team's improvement should serve as an inspiration to other clubs. Bengaluru FC has recruited six good Spanish players along with a Spanish coach, and have started playing the tiki-taka style of football. It is a squad that can pose a challenge to any good team in South Asia. The contributions of the former coaches, Albert Roca and Ashley Westwood, are also worth remembering.
Indranil Sanyal,
Calcutta Fading beauty
Sir — It is ironic that March 20 is observed as both World Sparrow Day and International Day of Happiness. House sparrows, once a common guest to our homes, are becoming harder to spot by the day. Shrinking urban nesting spaces on account of indiscriminate construction, felling of trees, pollution, changes in agricultural practices and electromagnetic radiation have threatened their existence. How can we celebrate World Happiness Day when we have failed to protect sparrows? The destruction of a whole avian species cannot bring joy. We must strive to help them survive and grow in numbers if we are to be happy.
A.K. Chakraborty,
Guwahati