Policing with a heart in India
The country's police system is plagued by the lack of accountability and the absence of effective mechanisms to deal with excesses committed by police officials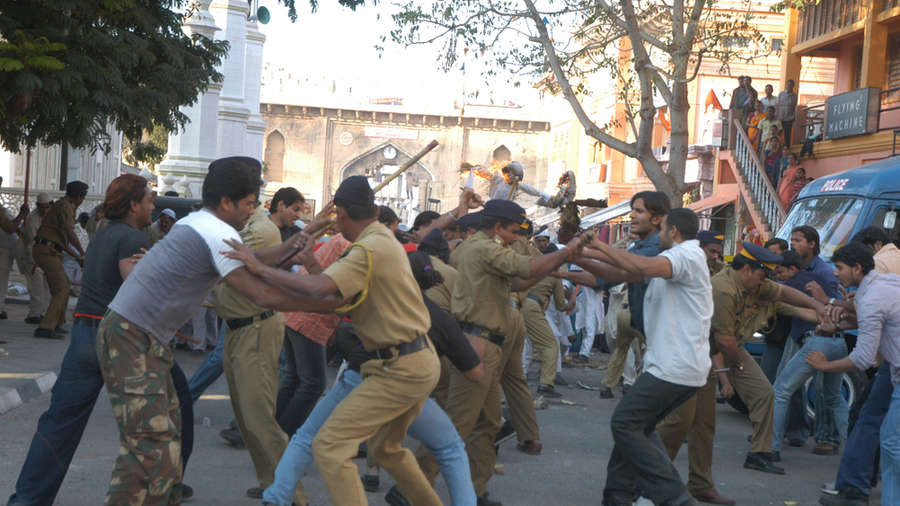 Police officers clash with public on 25 November, 2018, in Hyderabad. (Image used for representational purpose)
Shutterstock
---
Published 04.08.20, 02:12 AM
|
---
Even as the world was recovering from the George Floyd tragedy in the United States of America, India witnessed a similar incident of police brutality in near Chennai. Two men without criminal antecedents were beaten while in custody, resulting in their death. The latest annual report of the National Human Rights Commission says that nine people die in police or judicial custody every 24 hours. The indiscriminate use of lathi-charge during the lockdown, the crackdown on anti-CAA protesters and the refusal to register a first information report in the Hyderabad rape case have led to intense scrutiny of the police as an institution.
India's police system is plagued by the lack of accountability and the absence of effective mechanisms to deal with excesses committed by police officials. Expressing dismay over the state of police brutality, the Supreme Court, in Prakash Singh vs Union of India, issued several directions to the Central and state governments. Along with other directions, the court emphasized on the establishment of a separate and independent complaints authority to entertain grievances against police officers. However, the court's directions have not been fully implemented by states.
Police reforms have been proposed for decades. But few have been put in place because many of them involve making officers less vulnerable to political meddling. Police reforms are immediately warranted; otherwise public faith in the justice system will wither away. Policing needs a complete overhaul in order to stop the violence and other human rights violations by men in uniform.

Urgent need
There is an urgent need to establish an independent investigative body to look into the cases of police abuse. Currently, there exists a complex procedure regarding the investigation of complaints against police officials. Police officers are generally not inclined to investigate their colleagues and peers. The psychologist, Ervin Staub, based at the University of Massachusetts, puts it this way: "If, in the system, you're supposed to support your fellow officer all the time and you don't, you're often ostracized... by your fellow officers and even superiors, so the cost of you intervening can be pretty substantial." Data released by the National Crime Records Bureau reveal that in 2018 none of the 89 cases of custodial violence could yield a conviction. Under such circumstances, it is extremely difficult to maintain the accountability of police towards civilians. In addition to the independent complaints body, a civilian review board is also necessary to oversee the functioning of the police. Collaboration between community and police must also be encouraged to facilitate efficacious policing.
Further, police officials need to be trained in order to reduce systemic bias and transform the police into a professional organization committed to serving civilians. Excessive use of force by police officers is of great concern. Quality education and training would prevent officers from employing disproportionate use of force. Experts have also suggested simulation training as an effective tool. A number of simulators are available, focusing on issues like excessive use of force, implicit bias, ethical decision-making and community policing. There is also scenario-based training which employs real-life situations to record the responses of participants. The scenario can be based on discussions among participants. Simulation and scenario-based training must be implemented with a clear idea about the objective of police training. These training modules would definitely help reduce police abuse.
The police play an important role in law enforcement. An effective and accountable policing system is crucial for the rule of law and is a hallmark of democratic society.