Plug the gaps: Aadhar and MGNREGA
Survey by Indian School of Business in Jharkhand reveals mass deletion of genuine job cards during linkage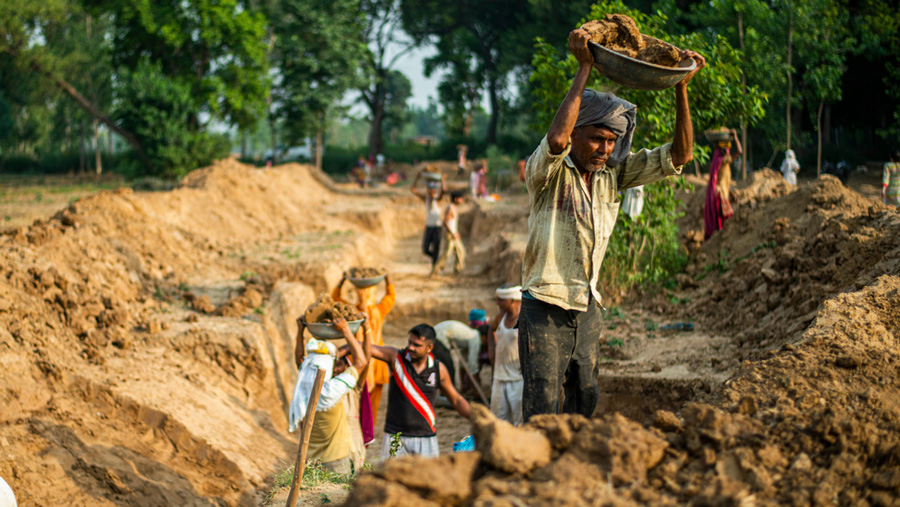 Local villagers working under MGNREGA in Yamuna Nagar, Haryana.
Shutterstock
---
Published 18.09.20, 12:37 AM
|
---
India's economy is going through an unprecedented crisis of unemployment. In these times, the Mahatma Gandhi National Rural Employment Guarantee Programme and other welfare programmes are beacons of hope for India's large rural population. However, the delivery of welfare has traditionally suffered from leakages. Thus, in 2015-16, the Government of India started linking these programmes with the Aadhaar — ostensibly to reduce leakages by deleting duplicate, fake or ghost beneficiaries. According to the GoI, till December 2019, this verification and deletion led to savings of Rs 24,162.09 crore in MGNREGA alone.
But this linkage with Aadhaar involves a trade-off — the effort to reduce leakages can result in the exclusion of genuine beneficiaries. What has been the overall impact of this linking process? We sought this answer through a recent study of MGNREGA in Jharkhand supported by the Digital Identity Research Initiative at the Indian School of Business. We surveyed 2,907 workers in eight villages, three blocks and three districts of Jharkhand from May 2019 to February 2020. In our sample, the job cards of over 40 per cent of the workers had been deleted.
The study revealed some shocking findings. Out of the cards that were deleted, 57 per cent belonged to genuine workers who were alive, living in the village, without any other job card, and willing to do manual work under MGNREGA. In fact, 48 per cent said they were keen on working and wanted their job cards renewed (many of the remaining had already got new job cards made). Finally, nearly 85 per cent of the workers whose job cards were deleted were not even aware of it — they were never informed, let alone asked for consent, before their job cards were deleted. 
Out of the 1.22 crore workers registered under MGNREGA in Jharkhand, 35.15 lakh were deleted by July 2020. Since 57 per cent of these belonged to genuine workers, more than 20 lakh of the valid job cards were deleted. This is more than the combined population of three districts of Lohardaga, Khunti and Simdega in Jharkhand. The increase in exclusion error (excluding genuine workers) is clearly higher than the reduction in inclusion errors (including non-genuine workers). Further, the benefits from the deletion of non-eligible job cards are uncertain since having a job card does not mean money is being spent on it — one needs to show work to get paid. Conversely, the cost of deletion of eligible beneficiaries could be massive; workers who are denied the right to work were unable to access work when they most needed it.
The question is why were so many job cards deleted? While deleting a worker's job card, the official is supposed to choose a reason from various options such as 'Fake Job Card', 'Family Shifted', 'Duplicate Applicant' and so on. Yet, the most common reason mentioned is "Others" (in 62 per cent of the cases where job cards were incorrectly deleted). According to a government official, this mass and erroneous deletion of job cards happened owing to the pressure to achieve 100 per cent Aadhaar linkage within a stipulated time. Strikingly, during our survey, we found that people whose job cards were incorrectly deleted were mostly those from the marginalized and remote communities that depend most on MGNREGA. For instance, in Palamu, we found a remote hamlet of people belonging to particularly vulnerable tribal groups where job cards of nearly all residents were incorrectly deleted.
If the bureaucracy can make such errors in a simple exercise of matching job cards to Aadhaar cards, imagine the errors that can be expected from a mammoth exercise like the NPR or the NRC. If we extrapolate these error percentages, exclusion errors of 22.43 per cent would imply 30.3 crore Indians with proper documents would be denied citizenship simply owing to bureaucratic errors. While we strive to reduce leakages, it is important that we also strive to reduce exclusions. Given the importance of MGNREGA today, these exclusions must be addressed immediately so that the most marginalized people are able to avail of their right to work and live with dignity.