Playing with fire
A draconian law like the Armed Forces (Special Powers) Act is not only a 'blot' on Indian democracy, but also encourages lazy soldiering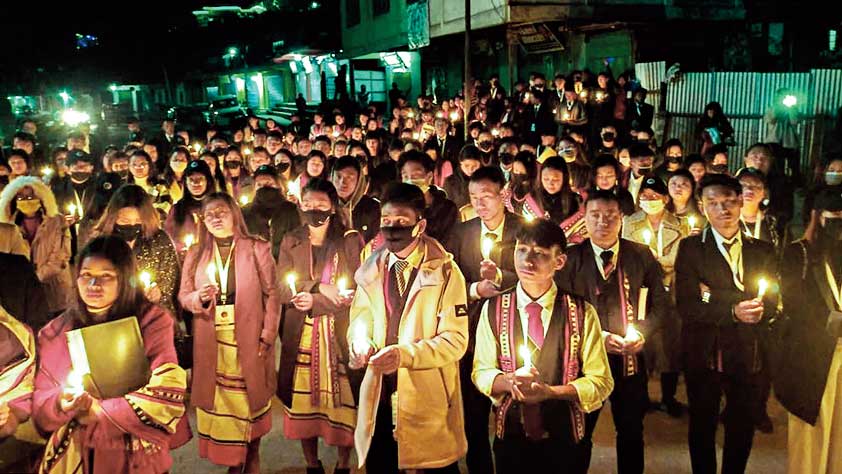 Locals participate in a candle march over the death of 13 people, who were allegedly killed by Armed Forces, in Mon district, Sunday night, Dec. 5, 2021.
PTI
---
Published 30.12.21, 01:59 AM
|
---
Two recent incidents in India's Northeast have raised serious issues about how security forces conduct counter-insurgency operations. In November, separatist guerrillas ambushed a convoy of the Assam Rifles in Manipur's Churachandpur district and killed a battalion commander, his wife and son, and four other soldiers. On December 4, soldiers of a para-commando regiment allegedly opened unprovoked fire on a pick-up truck carrying local coalminers back to their village in Nagaland's Mon district, killing six of them. Eight more civilians and one soldier died in the retaliatory violence.
The Assam Rifles, the specialist counter-insurgency force in the Northeast responsible for guarding the eastern borders with Myanmar, is deployed in both Mon and Churachandpur. But unlike what initial reports suggested, it had nothing to do with the 'unprovoked' firing at Mon. Only when their camps were attacked by an angry mob did the soldiers fire — initially in the air and then into the mob that was setting fire to their camp. Usually, retaliatory atrocities are reported from areas where the force has taken a hit. But there has been no report of the Assam Rifles' atrocities in and around Churachandpur after it lost its battalion commander. That's a welcome contrast to 'Operation Bluebird' unleashed in Manipur's Senapati district in 1987 after NSCN rebels attacked the company headquarters of the Assam Rifles, killing nine soldiers and decamping with guns and ammunition. A reign of terror was unleashed for months, leading to extrajudicial killings of at least 14 Nagas, the burning of dozens of houses, and the blocking of journalists — me included — from entering Naga villages. This time, the force has behaved with admirable restraint.
But the ambush carried out by the Meitei-dominated People's Liberation Army of Manipur and a lesser-known Naga outfit raises important issues. The first is that of intelligence. How could the movement of a big rebel detachment be missed in an area mostly populated by Kuki and Zomi tribesmen? Second, standard operating procedures were allegedly compromised when the battalion commander's convoy was ambushed. Whether it was complacency or the lack of intelligence about rebel movement that led to the killing is something that only a thorough internal inquiry can establish.
A key element in the Indian army's counter-insurgency doctrine has been its emphasis on 'area domination' by large-scale deployment of troops. The sharp drop in northeastern insurgencies notwithstanding, a full corps of the Indian army remains tasked with counter-insurgency operations.
It is time that changes. A switch from 'area domination', which involves a show of force, to a strategy that prioritizes a stronger psychological bond with the local population is the need of the hour. Only when the force is seen as friendly can it generate credible intelligence against rebels from locals and even use them to get the guerrillas to surrender.
A draconian law like the Armed Forces (Special Powers) Act is not only a 'blot' on Indian democracy, as the Nagaland chief minister, Neiphiu Rio, has said but it also encourages lazy soldiering. The blanket cover provided by the AFSPA incentivizes collateral damage. If soldiers get away with murder, they can never befriend the locals without whom it is impossible to generate credible intelligence. The army's remark that the December assault by the para-commandos was "based on credible intelligence inputs" rings hollow since it is clear that they got their targets horribly wrong. In their preliminary report, the Nagaland police, which lodged a case of 'intentional murder', have said that the commandos moved into Oting from their base in Jorhat with fake number plates on hired vehicles. Two survivors told journalists that the firing was unprovoked, without any attempt to stop the miners' vehicle. The 21st Para, shorn of its 'surgical strike' glory following the conduct at Oting, has much to answer for.
Even a fine, professional army like India's has had its share of 'Ketchup Colonels' looking for quick medals by fraudulent means. With the ever-increasing pressure of intensive deployment on the LAC with China, it may be better to leave counter-insurgency operations to other forces. Para-commandos are trained to inflict maximum damage on the enemy in the shortest time. Restraint, target verification, and avoiding collateral damage are not exactly their strength.
Subir Bhaumik is a former BBC correspondent