Pandemic futures
Progress abroad, denial at home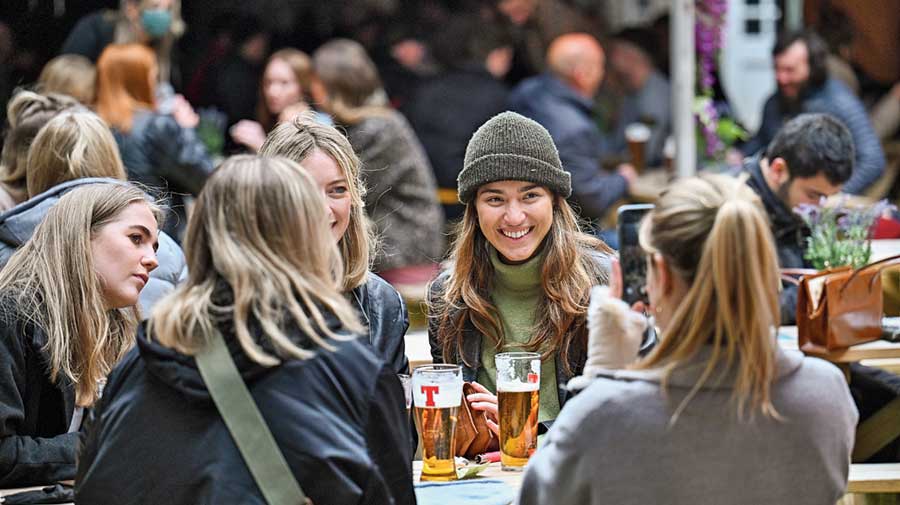 Members of the public enjoy a drink at the Three Sisters Pub in the Cowgate as lockdown measures are eased on April 26, 2021 in Edinburgh, United Kingdom. Cafes, beer gardens, non-essential shops and museums are reopening in Scotland today as lockdown easing continues.
Getty Images
---
Published 16.05.21, 12:36 AM
|
---
This coming Monday, people in England will be allowed into bars, pubs and restaurants. The federal government in the United States of America has issued new mask guidelines for the fully vaccinated, permitting them to go unmasked, even indoors, under most circumstances. Reading these headlines in Delhi is a bit like squinting at another planet.
I wish these aliens well but there's a part of me that wants to tell everyone I know in these countries to mask up and order in instead of eating out. The Centers for Disease Control and Prevention has issued a set of startlingly optimistic scenarios, one of which envisages deaths in the US in the low tens per week in September. Low tens. Official figures in India put the current deaths per day at around four thousand. Bhramar Mukherjee, professor of biostatistics and epidemiology at the University of Michigan, suggests that India's Covid fatalities could be underreported by a factor of between two and five. For the sake of sanity, I am trying not to do the math. 
American optimism is predicated on a massive vaccine roll out. Joe Biden plans to vaccinate 70 per cent of America's adult population with at least one dose by July 4. Similarly, Britain, after a disastrous second wave, has redeemed itself with the efficiency with which it ordered vaccines and administered them. Indians my age are used to thinking of Western countries as safer, healthier places but even so, public health experts haven't exactly covered themselves in glory in the short history of this pandemic.
Anthony Fauci, the chief medical adviser to both Donald Trump and Biden, underestimated the threat from Covid-19 in the early months of 2020, and, along with the World Health Organization, provided inconsistent and misleading advice about the need to wear masks. Epidemiologists have distinguished themselves by disagreeing violently with each other. Professor Sunetra Gupta and her anti-lockdown cohort authored the Great Barrington Declaration, which sounded like the end of a boring English innings but turned out to be a contrarian manifesto that absolutely everyone ignored. Meanwhile, epidemiologists widely dismissed as cranks when they forecast doom during India's first wave have been seemingly vindicated by the horrors of the second.
Which makes you wonder if the British and American decision to open up is the science speaking or a semi-ideological determination to get the economy firing again on the back of miracle vaccines. There is no question that transmission rates have plummeted with the vaccination of a critical mass of people, but given the relentless mutation of the virus into 'variants of concern' it's hard not to wonder what might happen to this new sociability if one of these variants manages to evade the resistance induced by the vaccines. It wasn't so long ago that the South African government returned its entire stock of AstraZeneca vaccines because it was ineffective against the South African variant. What happens if the vaccines administered in Britain don't provide the protection needed against the so-called Indian variant, the B.1.617?
There is something unhealthy, even presumptuous, about medically illiterate laypersons like me even knowing the alphanumeric names of mutated viruses, but given the rate at which this 'highly transmissible' strain is killing desis, this seems like a reasonable question. Experts who ought to know reassure us that the Pfizer, the Moderna and the Johnson & Johnson vaccines are effective against the B.1.617 but this is a judgment based on laboratory tests, not real life data. In vitro, merely, said a doctor friend of mine, worriedly. Not in vivo. Medical Latin is a formidable thing.
We must all pray, though, that Fauci and Co. are right because if countries like the US and Britain can reduce the virus to endemic proportions via vaccines, there's hope for countries like ours. Given the track record of the Indian State thus far, this is a distant prospect, but if the US and Britain carry it off, there will be, at least, a road map to recovery. That said, I can't help thinking that Boris Johnson might do well to ignore Tory cavaliers going on about the liberties of free-born Englishmen and make haste slowly. To open completely as B.1.617 infections multiply feels like tempting fate. 
After his early missteps, the British prime minister took the virus seriously; his near-death experience with it probably helped. He and his medical counsellors held public briefings about the government's pandemic policy virtually every other day. The Indian prime minister favours a remoter style. He appears once in a very long while and in the manner of Old Testament prophets, deals in commandments. Unlike Moses, who happened upon all ten at once, Narendra Modi spaced his strictures out. Thou shalt not deal in large denominations was his first big prohibition. Thou shalt not leave home after midnight came afterwards.
For weeks now, since the end of the West Bengal assembly election campaign, the prime minister has kept his counsel. This is probably just as well because the last time he formally addressed his People, he appeared in full page newspaper advertisements 'heartily' exhorting them to gather at Haridwar for the Kumbh Mela, which became the single largest superspreader event in the global history of this pandemic.
In the aftermath of the Kumbh Mela and the Bengal campaign, the Modi government has used proxies to make its case. V.K. Paul, described as a 'top government adviser', announced at a news conference that two billion doses of various vaccines would be available between August and the end of the year. It was not clear how the government planned to address the acute shortages in vaccine supply between now and August. The delay in vaccine availability wasn't surprising because the government had only remembered to re-order 110 million Covishield vaccines from the Serum Institute as late as April 28. Still, on the glass half-full principle, better late than never.

The government's most credentialed defender was the noted cardiac surgeon and entrepreneur, Dr Devi Shetty. Radiating smiling authority, Dr Shetty assured us that criticisms of the government were misplaced because even the US government 'presented' with India's Covid patients wouldn't have been able to cope. These were, he said, "astronomical numbers" that no country had the infrastructure to manage. And just in case we had missed the medical absolution he was offering the government, he offered it again: "... if the whole country is falling sick there is no health care infrastructure in the world that can manage!"
How silly we were to blame the government! Johnson's pandemic press conferences had misled us into thinking that the basic task of any government was precisely to make sure that the whole country didn't fall sick at once so that its healthcare infrastructure — the National Health Service in Britain's case — wasn't swamped. Johnson could have saved himself a lot of work by taking his cue from Dr Shetty, who deftly re-branded India's hubris-powered, Kumbh-kick-started, election-aided meltdown into a natural calamity or act of god. Thanks to Dr Shetty, Indians who died straining for oxygen have the consolation of knowing that no mortal was to blame.