P.V. Sindhu: She came, she saw, she conquered
Given her current form, one can expect a medal in the Olympic Games to be held in Tokyo in 2020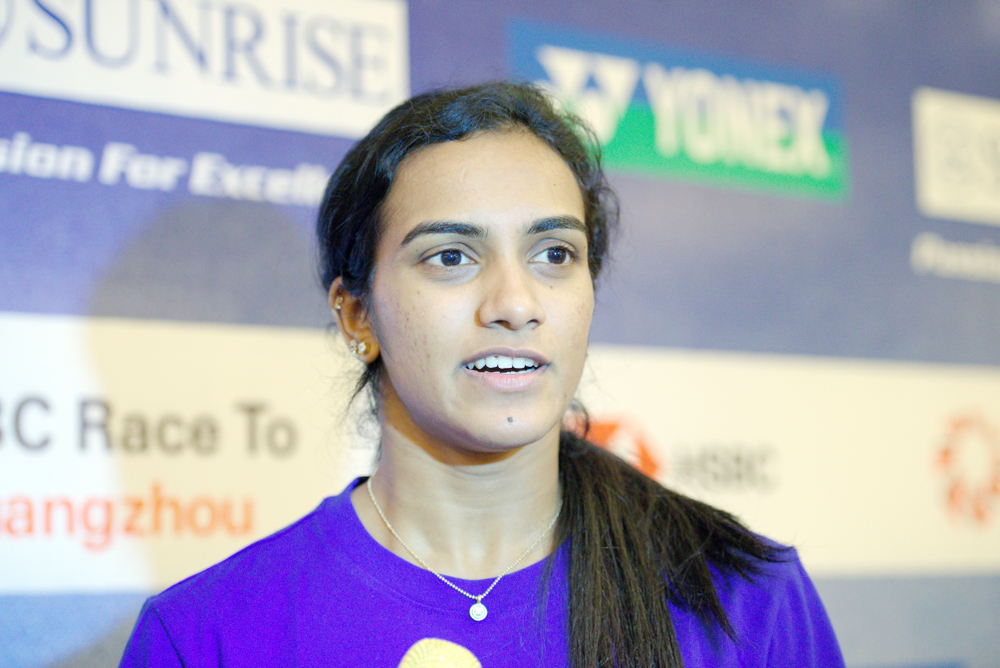 P. V. Sindhu (file picture, March 2019): hard work, rigorous training, and an inspiring victory
(Shutterstock)
---
Published 01.09.19, 09:01 PM
|
---
 Sir — The ace Indian badminton player, P.V. Sindhu, deserves to be lauded for winning the Badminton World Championships in Switzerland. In the past, she won two silver and two bronze medals. But this time, in the final, she left no room for mistakes. She dominated her Japanese counterpart, Nozomi Okuhara, in straight sets 21-7, 21-7. The score lines indicate her firm grasp over the match. Okuhara found it difficult to match Sindhu's shots and court play.
Ever since Sindhu made her debut in the international badminton circuit in 2011, the shuttler from Hyderabad has been earning laurels for her country. Credit should also be given to her mentor and coach, Pullela Gopichand. Sindhu has also won an Olympic silver medal in Rio de Janeiro in 2016. Given her current form, one can expect a medal in the upcoming Olympic Games, slated to be held in Tokyo in 2020.
Indranil Sanyal,
Calcutta
Sir — The Latin phrase, "veni, vidi, vici", which means, "I came, I saw, I conquered", can aptly be used to describe P.V. Sindhu's performance against her rival, Nozomi Okuhara, at the BWF World Championships. Over the years, the two shuttlers have been enthralling spectators with their contests, one of the most notable of which was the time they competed against each other in the World Championship final in 2017.
While that was a nail-biting match, the 2019 final was more one-sided. What also stood out was the fact that in the post-match interview, Sindhu, in spite of all the excitement around her, remembered her country and said that she was "proud to be an Indian". The victory must have been even sweeter for her and her family as the match was played on Sindhu's mother's birthday. Indians should feel proud of the shuttler's achievement.
Soumya Mishra,
Jamshedpur
Sir — P.V. Sindhu created history by becoming the first-ever Indian to claim a gold medal in the BWF World Championships. The determined shuttler defeated Japan's Nozomi Okuhara in just 37 minutes to clinch the title. With this win, Sindhu has exorcised the ghosts of her heart-wrenching losses in the last world championship finals of 2017 and 2018.
Sindhu has been in the limelight globally for several years. Her hard work and rigorous training before the world championship already made her a winner. In the final match, her body smashes reminded one of a fast bowler tormenting a tailender with chin music.
What really did work in the Indian's favour was her ability to keep plugging away without taking her foot off the gas. Moreover, she did not allow Okuhara a minute's room to breathe. The match was a lopsided one and Sindhu's inspiring victory was almost a foregone conclusion.
T.K. Nandanan,
Kochi
Sir — P.V. Sindhu's win brought a great deal of pride to India, as no Indian badminton player has been able to achieve this feat before. Sindhu said that her game plan was to focus on the match itself and not think about whether it could make her the world champion. She dominated every department of the game. Her approach to the net was flawless. A World Championship gold medal had evaded her over the last few years; she won silver in 2017 and 2018, and bronze in 2013 and 2014. The Indian prime minister, Narendra Modi, and the Bengal chief minister, Mamata Banerjee, congratulated her. After the match, Sindhu said that it was a very special feeling to see the Indian flag hoisted and have the national anthem played. One hopes that a dedicated player like her rises further.
Benu Kumar Bose,
Calcutta
Sir — With P.V. Sindhu's victory, India has hit a new sporting high. In fact, on the same day, the Indian men's cricket team trounced the West Indies in their first World Test Championship match at Antigua. With timely and proper assistance and encouragement by the Centre and state governments, many more sportspersons in India — not just those who play cricket — could scale greater heights and make India a global sporting giant.
Prema Viswanathan,
Coimbatore
Sir — P.V. Sindhu scripted history by emphatically winning the BWF World Championships on her mother's birthday. She dedicated the title to her mother. She had already proved her mettle with a gallant display in the semifinal to outclass the world number 3, Chen Yu Fei of China, 21-7, 21-14 in just 40 minutes. It was a great display of skill, stamina and strength. One hopes she continues her winning streak.
P.R. Bhattacharya,
Calcutta
Take heart
Sir — The decision taken by world leaders to put a ban on the commercial trade of the Indian star tortoise, the small-clawed otter and the Tokay gecko — the last is heavily poached and its parts used in Chinese medicine, much like the pangolin — is to be welcomed. It is not often that one gets to hear heartening news related to wildlife and the environment. This is mostly because of the rise of covetous right-wing governments around the world — including in India — which are concerned only with development and profit, to the detriment of biodiversity and animal rights. One hopes that the world leaders' pledge translates into action.
Aloka Bose,
Calcutta