Other wars: Editorial on Peter Seaton's anti-war mural & its repercussion
The artwork apparently suggested to many an equal participation in war that could be resolved by brotherly peace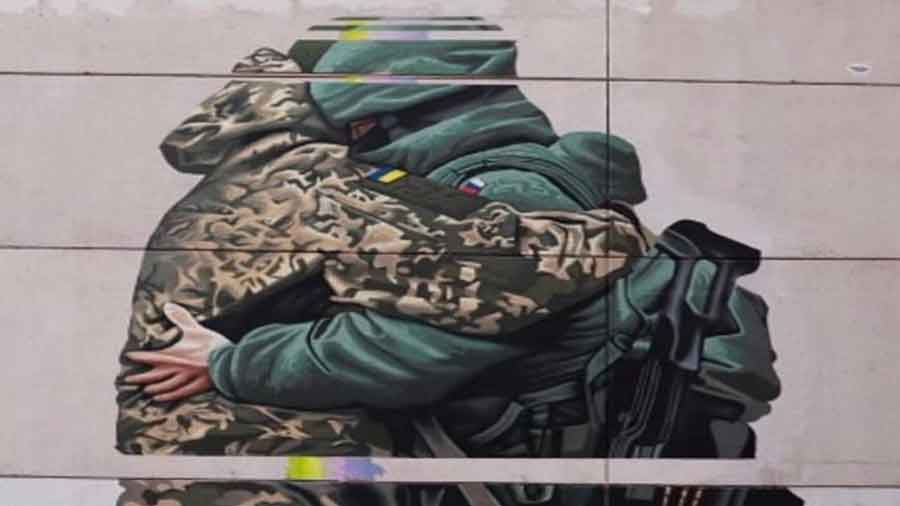 Anti-war art is not necessarily propagandist and it can depict the horrors experienced by ordinary people to communicate an artist's hatred of war, violence and cruelty.
Twitter
---
Published 11.09.22, 03:40 AM
|
---
A hug may give the wrong impression. Not just in real life, but in art too. The Australian artist, Peter Seaton, now knows that to his cost, because he has had to paint over the three-story high mural of two soldiers hugging that he had painted on a building in Melbourne. Mr Seaton was expressing his vision of peace — Peace before Pieces — with this image: one of the soldiers was Ukrainian and the other Russian. This caused such widespread offence that he was compelled to obliterate it, although he believed that the message he had tried to convey was valid, and had been appreciated by some viewers as well. But the mural had hurt Ukrainians; one objection was that it implied moral equivalence of both sides. It was as offensive as the representation of a rapist hugging the rape survivor.
This sounds rather righteous, and art has always had a problem with righteousness. It is true that the inequality of intention and of strength between the two countries is blatant — in fact, there was no warlike intention on Ukraine's part. And this war has too obviously breached notions of natural justice, whatever the finer points of politics may be. The Ukrainians' determined defence of their country against an aggressor compared to Goliath has added to worldwide sympathy, support and admiration. Although this means that the deaths of Russian soldiers have been downplayed, Mr Seaton's mural apparently suggested to many an equal participation in war that could be resolved by brotherly peace. The episode raised a number of questions, especially about the relationship between art and majority response, and the role of art in disturbing predictable judgments. Artists look beyond the present to communicate an insightful, elevating vision through their creations, through images as well as technique. But the process is not simple, for an artist's creation is demanding — it expects viewers to use their senses, imagination and intellect all at the same time.
The other question raised by the incident is about the role of public art, for that is what Mr Seaton's work was. How should public art relate to the prevailing public sentiment of the time, or should it at all? When art is propagandist, however, it does place the artist on one side of an issue or the other, which is why many saw in Mr Seaton's work an attempt to whitewash Russia. But anti-war art is not necessarily propagandist. It can depict the horrors experienced by ordinary people to communicate an artist's hatred of war, violence and cruelty. Francisco Goya's series of etchings, Disasters of War, or his painting, The Third of May 1808 — the last showing French soldiers shooting civilians — are two great statements against war. Like the other unforgettable anti-war painting, Pablo Picasso's Guernica, they represent without comment. Undoubtedly, the world has grown more righteous. Art must find ways to project its vision in spite of that.