One David, two Goliaths
In the past, India hasn't always been supportive of a border deal between China and Bhutan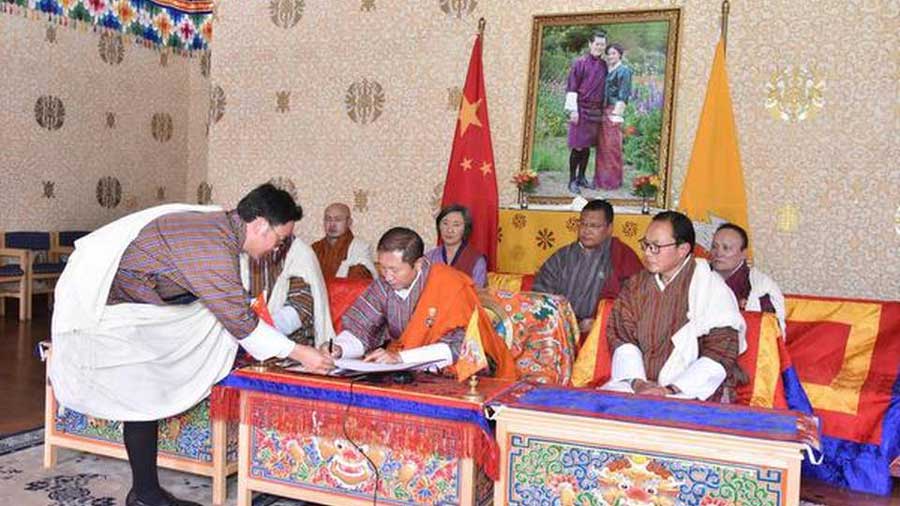 ---
Published 27.10.21, 12:12 AM
|
---
On one of his many trips to Bhutan, Prime Minister Narendra Modi asked a rhetorical question that was meant to highlight the traditional trust that has defined the relationship between India and its small northern neighbour. "Who will not want a friend and a neighbour like Bhutan?" Modi wondered aloud.
Modi was right. The peace-loving Himalayan nation has never posed a threat. It has stood by India even on occasions when New Delhi's tendency to throw its weight around has alienated others in South Asia. Unlike other small nations in the region, it has avoided playing China and India against each other to secure the best deals for itself. At least until now.
Earlier this month, China and Bhutan announced an MoU that puts in place a three-stage process toward resolving their longstanding border differences. This merely represents a statement of intent — not a settlement of their dispute. While New Delhi was aware of the negotiations between Beijing and Thimpu, multiple sources have confirmed to this writer that it was not formally informed of the specifics of the pact before it was announced.
It's easy — and understandable — to look at everything that Bhutan does through the prism of the India-China rivalry. Yet this tiny Himalayan nation might be doing the unthinkable: presenting a test to both its giant neighbours at the same time. 
China's foreign policy approach to the rest of the world might be characterized by its so-called 'wolf warrior diplomacy' — an in-your-face, aggressive use of public platforms to bully those who challenge Beijing's narrative. Yet it has been cautious not to alienate Bhutan through intemperate language, even when tensions between the two nations have been high, as during the Doklam stand-off. Now Beijing wants to go one step further, with a border settlement.
In the 1990s, China struck a slew of border deals with neighbours, including Russia, to settle long-festering disputes. But in recent years, an assertive China has sparked territorial tensions with multiple neighbours across East, Southeast and South Asia, especially through its outlandish claims over the South China Sea.
As Beijing faces a growing pushback in its neighbourhood and across other parts of the world, from Europe and America to Australia and Africa, it would make sense for it to try and fix its border woes one by one, instead of firefighting on multiple fronts all at once. But given Xi Jinping's maximalist approach to relations with other nations, will Beijing be willing to settle for a reasonable border agreement with Thimpu, or will it demand a deal that's unfair to Bhutan? It's a question only China's leadership can answer, and its response could define whether Bhutan emerges as an example of how others can trust Beijing on border negotiations or as evidence that the world's second-largest economy is its biggest bully.
Bhutan's MoU with China also poses a challenge to India. Although Bhutan's economy is dependent on aid from New Delhi, the small but proud nation is increasingly keen to assert its independent stature in the global comity of nations. Bhutan's officials and many of its youth did not like India's heavy-handed approach to the Doklam crisis when New Delhi publicly cited its 1949 security pact with the nation to justify sending troops there. Yes, Chinese troops had grabbed territory contested between Beijing and Thimpu but not once has Bhutan said that it asked India to send its soldiers.
In the past, India hasn't always been supportive of a border deal between China and Bhutan. If it reflexively chooses that path again, it risks standing on the wrong side of history. Talk to young people in Bhutan today and it won't be long before you realize that most appear in support of a border resolution with China.
To be fair, the Modi government's response to the MoU has, so far, been mature. It has merely acknowledged the existence of that agreement, but has refused to pass any verdict on it in public.
What New Delhi must now do is quietly offer Thimpu technical, diplomatic and other support for future border negotiations with China, including satellite imagery or historical maps that Bhutan might need to strengthen its case. India can help Bhutan negotiate with China from a position of strength. That way, New Delhi would force Beijing to demonstrate whether it is genuinely sincere about a fair border deal. Any settlement that leaves Bhutan happy would represent a victory for India. And if talks between Bhutan and China break down, it would serve as vindication of Xi's inability to bring peace to his country's borders. New Delhi won't mind that outcome either.